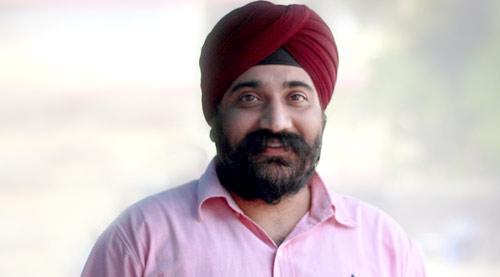 While the name 'Ricky Singh' may not ring a bell to a common man, it is the name that almost every ad agency and celebrity management company swears by. Ricky Singh is their proverbial 'Man Friday' when it comes to signing any celebrity as a brand ambassador. Besides being the bridge between the celebrities and the agencies, the ever-smiling Ricky Singh wants to win the much coveted Oscar for India, a dream that he has been seeing ever since the start of his career. Not just a man of words, Ricky Singh is definitely a man of action, which is visible from a mere visit to his office. He hops, skips and jumps from one country to another with equal ease; such is the 'call' of his job.


"We want to be a one-stop-shop production house" – Ricky Singh
Satish Sundaresan of Bollywood Hungama met Ricky Singh for an exclusive interview. Here are the excerpts.


Ricky, to start with, please tell us something about your two companies?

I have got two companies by the names of 'Passion Film' and 'Elements'. Under Passion Films, we offer 360-degree solution to the clients in terms of filmmaking, photoshoots, VFX & animation, celebrity tie-ups and in-film branding whereby they need not look anywhere for any of their brand needs. As far as 'Elements' is concerned, we work mainly with reputed agencies like O & M, JWT, Lintas and their likes where we mainly produce high quality advertising films for various brands. The company is headed by Vivek Das Chaudhary and me. Our diverse teams in both these companies bring an array of experiences, which makes us 'one-stop-shop' solutions production house to our esteemed clients.


Over the years, how have your companies evolved?

Initially, we used to make ads for meager budgets of Rs. 2-3 lakhs and that too on 35 mm film format. Despite such constraints, I had managed to save money then by planning right. Never did we ever compromise on quality. That is what made our clients always happy and come back to us. Times and situations changed with the genesis of 'Elements'. We started growing as we started producing films for various leading FMCG brands for top agencies.


What do you feel about the market for celebrity management in India?

India as a market is huge and the best way to come into limelight with any product is by brand association with a celebrity. A celebrity is an asset to any brand. It's a long-term investment that garners both brand value and loyalty in the customer's mind. A right association of a celebrity with a brand can create magic. That is what I always aim to achieve for my clients. Today, with celebrities being managed by reputed agencies, the market has become extremely professional which in turn helps in planning year round activities for a brand much in advance.


In your words, what is the USP of your companies?

We, as a company, are not rigid about anything and are always ready to experiment new things and explore new ideas. We never compromise on quality, as we want our work to be nothing less than the best. This unyielding commitment to excel in everything we do is the reason behind our international recognition and awards.


In what way are you different from your competitors?

As a producer, I am primarily concerned about the growth of my client. My aim is to see how I can help in their brand building and in making films that become the most effective clutter breaking communication for their brands. Delivering the best always is a challenge when you do so many films and are working on large volume. But that is the USP of our company. We always strive for excellence and in every job we take up it's our commitment that in the end the agency and the client should be happy and satisfied. Even for films that have humble budgets, we brainstorm to execute the same intelligently by getting the best team in place so that the end product never suffers. Over the years some of our clients have developed such strong trust in us that they rarely give us deadlines, as they know that we are also passionately a part of their brand building. That's the real earning for me.


What is the flip side of being into celebrity management?

Working with any celebrity is always a pleasure and a matter of pride. I will not call it a flip side but the only issue at times is managing time in face of unforeseen circumstances. But like any other industry, here also the key to success is keeping your cool as you are dealing with the people who are the busiest in the business; be it the stars, or the brand officials or the agencies. Filmmaking is a very hard job behind all the glamour and at the end of the day it always helps keeping a positive attitude and a bright smile.


Were you anytime subjected to the starry tantrums of the stars?

So far, I haven't experienced any tantrums by stars. Touch Wood! (smiles). All stars and celebrities I have worked with are extremely professional. It's always been a matter of learning for me whenever I work with them. I try to create an environment that is energetic and warm when they come for a shoot. By doing so, they feel at ease and also extremely comfortable. For example, when we were shooting with Kareena in Dubai, I was so tensed about the production as she is one of the leading ladies of Bollywood and I was shooting with her in a foreign land. But everything went on so smoothly. Not just that. Kareena was extremely warm and accommodating, she also gave us two hours of extra time. It was such a memorable experience. I had similar experiences with Saif Ali Khan, Shilpa Shetty and many others too. The energy that all the celebrities bring to the shoot is unimaginable and that's what makes a successful shoot.


Of all the stars, who, do you think is the most easy going?

Kareena Kapoor... she is simply the best!


From an insider's view, is the glamor industry as glamorous as it looks like?

As I said before, it all depends upon the way you look at it. In my words, the whole glam industry is a mirror. If you feel that it's a positive industry to be in, it will definitely be a positive one. But as I have mentioned before, it's a lot of hard work from every single member that ultimately results in creating the glamour quotient.


Where does your remuneration come from?

Producing ad films is the primary source of my income and by God's grace, we are growing steadily.


Your production company also make behind the scenes of the brand shoot?

Yes, very much. We want to be a one-stop-shop solution provider for all our esteemed clients and hence we provide this additional service too.


What are the parameters that you consider before signing or recommending any celebrity to a brand?

At times, the client comes to us with their requirement and at other times a brand comes to us with their brief for a celebrity requirement. What I always try to see is that how the personality of the celebrity is reflected in the brand and vice versa. I feel that's the key to any successful brand building where the brand and the celebrity become inseparable.


Do you remember your first celebrity-client meeting?

I very clearly remember my first celebrity-client meeting till date. It was in JWT, wherein I met Poonamji (Karisma Kapoor's manager) from the agency 'Matrix'. That led me to my first ever shoot. The brand was 'Priya Gold' biscuits with Karisma Kapoor as their brand ambassador.


How important is networking in your industry?

Networking is very essential as ultimately it's the word of mouth publicity that matters a lot. In Mumbai, only sky is the limit. We all know the fact that Mumbai, the never-sleeping city throbs with energy and enthusiasm. It is the city of dreams and you get to meet so many talents everyday. The only way to be ahead of everyone else is to constantly meet people with new ideas.


If our information serves us right, isn't there a movie that has been made by your production house?

Yes, very true. Our production house Element's maiden venture Dil Patang, which is being directed by the talented and young director Vivek Das Choudhury, is in post-production right now. It is a love story set in Delhi with a deep social message. The film has some really melodious songs by Arijit Singh, Lucky Ali and Ali Azmat. Besides this, under the banner of 'Passion Films' my director duo Deep and Jeet are researching and scripting their film based in Orissa and Kolkata. This duo has already won innumerable awards and recognitions for their short film Amen.


Where do you see yourself and your companies ten years from now?

10 years from now, I would definitely want to be known as an Oscar-winning film production house, along with wanting to create the best animation studio in the country. I also want to make 365 ads per year, without compromising on the quality ever.
BOLLYWOOD NEWS - LIVE UPDATES
Catch us for latest Bollywood News, New Bollywood Movies update, Box office collection, New Movies Release , Bollywood News Hindi, Entertainment News, Bollywood Live News Today & Upcoming Movies 2023 and stay updated with latest hindi movies only on Bollywood Hungama.