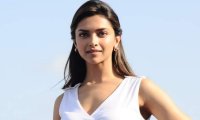 To be really honest, Deepika Padukone doesn't need any introduction. And besides making it to the cover of almost every top magazine in India and dominating the front pages of entertainment section of the newspapers, Padukone is one lady who knows how to stick in there. Famous for causing men everywhere to think, 'Actually I do wish my girlfriend was hot like you', Deepika is one lady who's turning your adolescent wet dreams into reality. We've admired the actress for her style for a while now - so when she is not just sporting sexy shorts, she is always flawlessly clad in amazing denims and white top. I spot her flawless in both when I meet her at the business centre of the Taj Lands End in Bandra, Mumbai where she had just arrived for the Press interviews for her upcoming film Aarakshan. One look at her and you can make out that she isn't into the widespread skinny v/s curvy game. She is happy the way she is, she is happy to be Deepika Padukone... and when she speaks, you listen.


"We aren't taking sides but throwing light on the reality of Aarakshan"

I was aware of Aarakshan aka reservation but only to a little extent. I must say that having done the film I've learnt a lot more of how it all started and the complexities of it. I think that's what even the film Aarakshan tries to do. I don't think we realise how important or how complex it is a situation in our country today. We aren't taking sides but throwing light on the reality of aarakshan.


"The entertainment industry has never declined and never will"

I always like to experiment in films as it's very important to be versatile and surprise your audience every time with your performance. Well when you say trying to push the boundaries I don't see any boundaries, the industry is so vast itself it's very difficult to limit yourself in this field. The entertainment industry has never declined and never will - there will always be something new coming up every day. It's an open ground with no boundaries.


"Audiences want entertainment, whether it's social, political, action or comedy"
Audiences are always looking for entertainment, right from the inception of cinema and whatever the format - whether it is social issues, comedy or drama or action. If the audience believes that entertainment comes through big stars then so be it. Everyone wants to make a commercially successful film at the end of the day and if Aarakshan falls under that bracket then Prakash Jha has a commercially successful film.


"Prakash Jha knows how to package a film well and make it engaging and entertaining"

Prakash Jha is the best person to make a film like Aarakshan. He has somehow mastered the art of making socially or politically relevant films, stating the facts but at the same time there is so much drama in those two hours, it's worth your time. Add to that the music too. He knows how to package a film well and make it engaging and entertaining. He has got a great music sense too and I realised that from his earlier films like Raajneeti, etc. The fact that 'Accha Lagta Hai' is on the top of the charts right now tells you the true picture.


"Acting with Mr. Bachchan was surreal and it took me two days to get used to being around him"

Acting with Mr. Bachchan was overwhelming and surreal for a while. But then I think he also has this side of him that's comforting and reassuring. I guess I was a little taken aback. I mean, it took me a good couple of days to get used to being around him. When the camera is rolling, I don't think I've ever been nervous because then its only acting that matters. So I'd be lying if I said that I was nervous in front of Mr. Bachchan. He has this great energy in him that is so motivating.


"Aarakshan was a big challenge for Saif"

I'm sure Aarakshan was a challenge for Saif Ali Khan. The reason is the fact that people see him in a different way; whether it's his real life persona or the kind of films he's done in the past. Somehow with this character and the look he has in Aarakshan, Saif has fitted into it perfectly. That's what a good actor can do. It's always fun to work with him. The fact that we've had a hit film together got us both motivated to work together too (smiles).


"Prateik makes me laugh out loud with his spontaneity"
Prateik is very refreshing, he has a great energy and he is always making me laugh. In fact, sometimes even his silence and the way he reacts to certain things sometimes makes you laugh out loud. He is hilarious. Prateik has that freshness accompanied with rawness and spontaneity that he brings on camera and off too. A great talent and the one to look out for, that's Prateik.


"I am not conscious about my dialogues ever"
Prakash is very particular about his dialogues and line delivery. He sits on dialogues himself and most often, even the night before he is tweaking it and making the final corrections. As an actor, my job is to get those lines deliver, whichever language it is written in. I am not conscious about my dialogues ever. I am more conscious about how they are delivered on screen. It's about performance.



"Most of my films haven't always been about just looking fancy"
I do try to do the same for all my roles and I'd like to think that most of my films haven't always been about just looking fancy. With films such as Aarakshan, your portrayal is key and primary and it's imperative you understand the subject matter - everything else is maybe secondary.


"Reservation will find a permanent solution if we work towards it"
Any film I do isn't just a film for me. Every film I do I feel we have a story to tell or we have a message which is why we make the films we do. But having said that, Aarakshan is different from the rest because it is a very socially relevant and a major issue. Good or bad, I don't know but I know both the sides of the story. I can understand what it is for those who have the facility or the privileges of the reservation and the ones who don't. What's important is the fact that we should be giving everyone an equal opportunity. I don't know what the solution is or an immediate permanent solution. But one thing's sure; it will have a solution if we start to work towards it.
BOLLYWOOD NEWS
Catch us for latest Bollywood News, New Bollywood Movies update, Box office collection, New Movies Release , Bollywood News Hindi, Entertainment News, Bollywood News Today & upcoming movies 2020 and stay updated with latest hindi movies only on Bollywood Hungama.