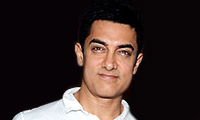 Aamir Khan the perfectionist launched his new show Satyamev Jayate on Sunday. The show which has been talked about as it covers the core topics that affect the Indian populace. Bollywood Hungama takes a look at the twitterverse that has been buzzing with comments about the show from common people to Bollywood celebrities.


@VinayThoke: If anything , #satmevjayate has shown us how cynical we'r, regardless of d cause. D good news is there is more hope dan cynicism.


@chitalgandhi: one of the idiot @aamir_khan has made idiot box an intelligent box to reveal social injustice & problems


@TTal: I spend my whole day trying to 'convince' ppl to do stuff. If #SMJ changes even one mind for the better, you'll have your miracle


@percy3186: so inspired and numb since I have seen the 1st episode really wanting to get this working ..this initiative has to work for sure


@TEE_S_G: maybe not a miracle bt at least a wake up call. TV once recognised as a strong tool for social change, ppl will sit up & watch!


@sanabucha: Couldn't agree more. Redefining TVRespect @aamir_khan "For an hour and half this morning television stopped being the idiot box!"


@pinakinrajgor: Satyamev Jayatev will make u unlearn all d wrong u have learnt n discover that compassionate human u soul wishes 2 b


@MrNakulPatel: Aamir Khan is making the right use of his popularity to make people aware of the things most people turn a blind eye to.


@UzairDrabu: Aamir khans tv show was a real eye opener,it was shocking to see how people can be so inhuman.


@rohitsharsh: styamev jayate should be brodcast on radio to discover more persons....and life of common man


@anirbanblah: Aamir Khan is a legend.He will leave a greater positive impact on India than any actor and almost any politician


@PrakrutiSSPC: Satyamev Jayate: hard hitting, sensitive, involved, well researched, influencing, poignant and offers solutions: Bravo!!


@amitkhanna: Well done Aamir!All of us should make a fulcrum of social transformation by doing our bit and not with just lip service!


Celebrity Tweets


Shekhar Kapur: Pity that satyamev jayate needs 2 b supported by commercials, something as powerful as this s/b run as public service free by channels


Dia Mirza ?: Our nation needs a conscience cleanse. You think #SatyamevJayate will achieve a miracle?v

I always wanted something like this on TV. Thank you Aamir for stirring a people that sundays are 'lazy' 4 n 'others' problems r not theirs.


Pritish Nandy: Aamir Khan has finally integrated the media and entertainment industry with #SatyamevJayate


Ameesha Patel: Aamir khan is truly an inspiration n idol.super show.eye opener n deals w such imp social issues.hats off to aamir


Sonu Sood: Loved the 1st episode of #satyamevjayte..#respect..


Sophie Choudry: What an eye opener! Tku Aamir & team 4 addressing such a REAL & impt issue with sense,dignity & hope! #SaveTheGirlChild


A class apart..Truly believe Aamir can educate, inspire & create awareness thru Satyamev Jayate! Sad 2 miss it..Is it avail 2 watch online?


Vishal Dadlani: Finally, a major star's directing attention to serious issues. Maybe the world won't change right away, but at least it's a positive step!


Shekhar Kapur: That some1 has stopped supporting Cola co's n dedicated himself to social issues on TV is reason enuff 2 say #wow2Aamir


Satyamev Jayate proves tht TV 2 can b a tool of social change.


Shruti Haasan: Amir khan just makes sense.simple.loved the show glad to see that level of commitment


Madhur Bhandarkar: Now Television will no longer be called an idiot box,the VISION of Television broadens up with #SatyamevJayate !!!


Ken Ghosh: Aamir does it again....and this time on TV, Satyamev Jayate touches the heart and opens the eyes to the country around us


Kabir Khan: @aamir_khan For an hour this morning television stopped being the idiot box


Farhan Akhtar: Satyamev Jayate. A show with a heart.
Watch the video: Satyamev Jayate (Episode 1)
BOLLYWOOD NEWS
Catch us for latest Bollywood News, New Bollywood Movies update, Box office collection, New Movies Release , Bollywood News Hindi, Entertainment News, Bollywood News Today & upcoming movies 2020 and stay updated with latest hindi movies only on Bollywood Hungama.