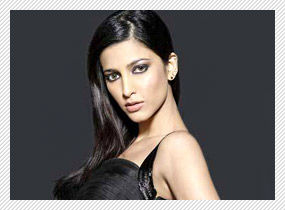 You know what sexy is? A woman in a sleeveless black dress from head to toe telling me, "Yes, I am a Goth in a way. I am wearing black and it's closer to being one. But I'm not completely one right now. I'm getting to being one after so long". Sipping her diet cola across the table from me, her eyes not smokey, her skin not pale and her temperament impenetrable, everything about this woman makes me wonder what kind of a 'Goth' is she talking about. The actress comes as a pleasant surprise in person - besides being slender, leggy and almost 5' 7ish in height, she has a dry wit and a strikingly good knowledge of the business of Bollywood. But what surprised me even further was her portrayal in D-Day that left a lasting impression on me - a character of few words but great depth. Never before has a woman looked so sexy with a scar. The effect is simplicity itself. Scars are temporary, Sexy is permanent! Here's Shruti Hassan in a no-holds-barred mood!


'Alvida' is the best picturized song I've seen ever. Bravo!

Thank you. I don't know why people find death sexy but the 'Alvida' song is the epitome of that. For me, I just feel that when I was singing the song I felt a connect with it. This woman has no hope and emotions. Her death is so voluntary in a sense, almost like you know you are in trouble and being suicidal about it, which is why, while we were shooting the song, there could've been five different ways we could've shot it. My character has been through a lot, someone has cut her face, so shouting over the top couldn't help. Also, she was not willing to give someone the satisfaction of sexual abuse. 'Alvida' is one of the most romantic scenes I have shot. For me, it was the ultimate sacrifice of love.


Your character doesn't have a name. That's a rarity.

Actually, she has an imaginary name. We named her 'Suraiya'. That was our pre and post production reference for the character. It just became 'Shruti the prostitute' so I was like - 'Please come up with a name' (laughs). Also, Suraiya was a yesteryear singer. I am a singer too. In the last film I played 'Shruti'. That was my character name. But it was the scene where Rudra (Arjun Rampal) asks what my name is and she doesn't say anything. It's just the feeling. That's what I liked when I read the script.


When you did Luck, the business of B-Town was way different. What are the changes you are seeing, now that you've done D-Day?

Business has changed not just in B-Town but in the South as well. But if you look at it, I have two absolutely polar films releasing - D-Day and Ramaiya Vastavaiya. India is a country of mixed population with different tastes. There is an audience for every kind of films. I have yearnings towards certain films but I would like to believe that I like to appeal to each and every audience.


Girish Kumar - What do you have to say about this newbie? Here to stay....for good?

That he has to decide but he is a thorough professional. He is like a horse with blinders on. He wants to shoot his film and go home. Patience is a virtue in this industry and this quality of his will take him far in B-Town. Having said that, you can't compare him to his father Kumar Taurani. There is a baggage and even Girish is aware of. He didn't for a second take it for granted. My father has not produced a film for me so far. But if he had, then people would say - 'Of course, Kamal Haasan ne picture banaya hai toh Shruti toh kaam karegi'. It's not that easy as it looks and sounds. Girish didn't ever say - This is my dad's movie.


In times when you are exposed to so many emotions through the digital medium - American shows, Hollywood movies, Animation, etc, how realistic is our Indian cinema being?

Indian people are watching The Newsroom, Game of Thrones, etc. Everyone is seeing what non-Indian emotions are and Indian emotions are. D-Day is a perfect example of exposure meets Indian emotion. It's Indian in its content but not in its approach. D-Day is so organized. Nikhil has managed to tap it so well. Why I love a series like Homeland is because I know she (Claire Danes) is a person and there are layers to her character. There have to be a lot of emotional graph to your character. When I read the script my gut told me this character fits me so well.


So how would you put D-Day as - a grainy biopic of this man called 'D' or an espionage thriller or what?

Ultimately, D-Day is a story of people. Nikhil Advani made his raw agents people. It's people who make two nations, it's the people who make criminals and it's the people who make politicians. It's a fantasy film in a certain sense. Actually everyone wants a closure to something and that is what this movie gives. It's like having being enabled to dump your high school boyfriend. It's going to nag you for the whole life. D-Day is just a political and a deathly criminal version of it. This is the last line India is dying to have - India Strikes Back!


Rishi Kapoor and your father have worked in Saagar. You and Rishiji are in the same film but don't have one scene together. Have you met him even?

You know what? I haven't met Rishiji till the cast and the crew screening that happened. He came up to me and congratulated me on my being in the movie. The reason I am saying this is that he still hasn't seen the movie. But honestly, he is such a 'dude'. He is just awesome.


You are so Goth. I meant, you are so beautiful. I hope you are not one of them who believes in a 'shelf life'.

I've been born into cinema. I've been born because of cinema. I've never understood the shelf life of actors. My parents brought me up during Vanessa Redgrave. My favorite actor is Cate Blanchett and she hit her peak when she was in her forties. But here you ask some actress in her forties - 'Where are your children'? Men are fine in their forties. I feel for an actress, there is no shelf, forget life. The industry is changing so much and women are getting good roles. The shelf life rules don't apply for women now.


Don't you think there should be more of Shruti Hassan for us in Bollywood?

I grew up in a house where my mother was from Mumbai and father was from Chennai understanding Malayalam, Telugu, Marathi, etc. I am extremely proud of the work I have done in the South and it was harder in the South to make a name for myself because my dad's presence is way to strong than it is in Bollywood. He is so energetic. Wherever I go I run into his movies. It's him all the way. After Luck, I didn't know I wanted to act anymore. So I waited and decided that if I do it I have to do it right. I am living in Mumbai right now and ultimately good work will come to you I feel. I am doing more Hindi films and I hope people like me more here.
BOLLYWOOD NEWS
Catch us for latest Bollywood News, New Bollywood Movies update, Box office collection, New Movies Release , Bollywood News Hindi, Entertainment News, Bollywood News Today & upcoming movies 2020 and stay updated with latest hindi movies only on Bollywood Hungama.