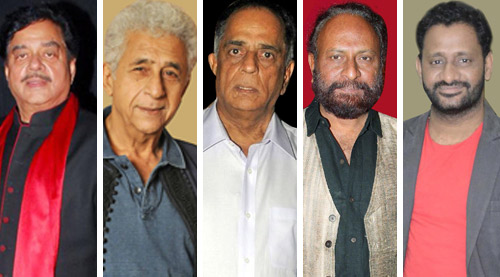 Shatrughan Sinha: "I am a proud ex-alumni of the FTII and I must say the current crisis pains me deeply. The students who are agitating are also right in their own way. These students are bright kindred spirits and what they're saying makes a lot of sense. But they should have protested before the appointment as Gajendra Chauhan's name was being mentioned as the next chairperson for some time now. The government cannot be expected to roll back their decision overnight. It would erode their credibility. Besides what guarantee is there that the replacement chairperson would be acceptable to the FTII students? As an ex-alumni of the FTII I want only the best for the students. Mr Chauhan won't be any part of the academics. He is here for an administrative purpose. The decision to appoint him has been taken after much thought by the high command of the BJP. In all fairness he should be given a chance. And a humble appeal to my boys, 'Break the strike. Be reasonable. The government won't roll back its decision.' I'd also ask the director of the FTII D Narayanan's tenure which is ending, to be extended to restore some normalcy in the FTII."


Naseeruddin Shah: "All I have to say is that these kids should concentrate on learning their work and get out of there instead of wasting resources for the 5-6 years that they take to complete a 3-year course."


Pahlaj Nihalani: "Those who are protesting about Gajendra Chauhan's appointment need to see how he performs in his new official designation. It is not right to go by perception. People are talking about his track record in movies. They don't know he has had decades of experience in the film industry. He has been a prominent part of the producers' federation and worked for the betterment of the film industry....Which government doesn't appoint officials who are affiliated to the ruling party? Do the protesters mean to say they would have been more tolerant of him if Chauhan owed allegiance to some other political party? Let him prove himself. If he doesn't prove equal to the task, then ask for him to step down. Why oppose his appointment without seeing what he is capable of?"


Ketan Mehta: "Isn't it a tragedy that we can't find anyone better qualified to head such a prestigious institute? I am sure filmmakers of repute are still alive and kicking. And they would be willing to take on the responsibility."


Resul Pookutty: "It an academic institution where every student endeavours to understand cinema as an art form. The least we can give them is a figure we can aspire to be. The current chairperson comes nowhere close to being aspirational neither with his body of work nor with his credentials."


Rajkummar Rao: "I have nothing personal against Mr Gajendra Chauhan. But I think for an institution like the FTII which is of national importance we need somebody who has done a significant amount of work in and for cinema. Or otherwise someone who is an alumni or has contributed enough to the world of cinema, in some form or another. In brief, FTII needs a visionary. Students should feel motivated by the chairperson and his/her body of work. Mr Chauhan has been chosen over names like Adoor Gopalkrishnan Sir, Shyam Benegal Sir, Saeed Sir, Gulzar Saab and other eminent personalities. I can totally empathise with the FTII students' resentment at the recent turn of events. The issue must be solved through dialogues."


Jahnu Barua: "The students' protest is very much justified."


Hansal Mehta: "It's unfortunate that India's premier film school is being subjected to a crisis that is now being given a political hue. The government can appoint people owing allegiance to it. But at least the individual helming such a crucial position should be credible enough to carry off his duties. All the mud-slinging among the politicians has reduced the issue of the FTII chairmanship to a battle of the egos rather than a struggle for the FTII's advancement. My request to the government is that instead of imposing their muscle power on the student they must provide a climate for an open-minded dialogue. The conflict of interest is purely aesthetic. It has nothing to do with left right or center. It is about education and continuity in providing our film fraternity with the finest talent."
BOLLYWOOD NEWS
Catch us for latest Bollywood News, New Bollywood Movies update, Box office collection, New Movies Release , Bollywood News Hindi, Entertainment News, Bollywood News Today & upcoming movies 2020 and stay updated with latest hindi movies only on Bollywood Hungama.