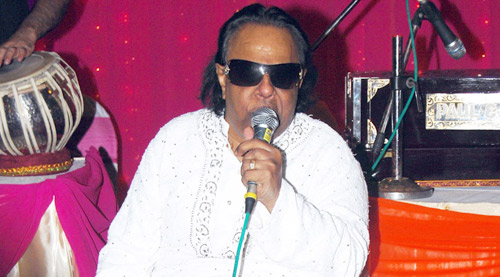 In a world gone mad, Ravindra Jain, lyricist par excellence, composer extraordinaire and singer with soul, preferred to take recourse to small films, regional music, television
serials (mostly of the mythological variety) and non-film albums (mostly devotional) rather than succumb to the lure of trends that are even now destroying the soul and spirit of Hindi film
music.


Though Ravindra Jain (honoured with the Padma Shri just in time early this year) was a blessed soul (he never assisted anyone, remained busy even after a career of 44 years and died with his boots
on!), keen observers noted the fact that he was a far better lyricist than an ultra-melodic composer. And so, while writing poetry, that too when being almost blind, was a self-learnt passion,
while to different extents, one could be trained in music.


In that sense, he was inarguably the last of those giant film poets who merged simple language with deep thoughts that struck at the emotional solar plexus without using either cheap or esoteric
words.


His repertoire is huge, musically not very uniform, but among them, the maestro's high points are indeed memorable.


Saudagar (1973 – Director: Sudhendu Roy)

This was Ravindra Jain's big break, his second release and, though a flop, it made a mark for his melodies with superb lyrics. While his long-lasting Rabindra Sangeet influence could be seen in
'Door Hai Kinara' (Manna Dey), Kishore Kumar's 'Har Haseen Cheez Ka Main', Lata Mangeshkar's 'Tera Mera Saath Rahe' and Asha Bhosle's 'Sajnaa Hai Mujhe Sajnaa Ke Liye'
(note the brilliant use of homophone) and 'Main Hoon Phool Banu' were instant hits.


However, the two songs that stood out for their high content were Mohammed Rafi's poetic recitation, 'Husn Hai Ya Koi Qayamat Hai' and Asha's 'Kyun Laayo Saiyyan Paan Mere Honth To Yoon
Hi Lal', two lyrics that even at that early stage showed how Jain was superior as songwriter rather than a tunesmith.


Incidentally, Rafi was special for him, as he had started his career with him with a song, 'Yeh Silsila Hai Pyar Ka' for Lori, a film which never released, and had also sung 'Nazar
Aati Nahin Manzil', his first-ever popular song, from his debut movie Kaanch Aur Heera (1972).


Chor Machaye Shor (1973 – Director: Ashok Roy)

The composer's third film was an instant hit, and was produced by N.N. Sippy, to whom the composer was introduced by actor Sanjeev Kumar. This all-popular score helped make the film a blockbuster,
as it was dominated by four huge hits, Kishore's 'Ghunghroo Ki Tarah', Rafi-Asha's 'Paon Mein Dori', Rafi-Lata's 'Ek Daal Pe Tota Dole' and above all, the composer's first song
with another lyricist, 'Le Jayenge Le Jayenge / Dilwale Dulhaniya Le Jayenge' sung by Kishore and Asha, which topped the charts then. The lyrics were by 'Rajkavi' Inderjit Singh 'Tulsi'.
Jain and Tulsi then co-wrote the songs for Sippy's next two blockbusters, Kalicharan (which introduced Subhash Ghai as director) and Fakira. And Kalicharan (for which Jain
wrote two duets) was his first film with another composing entity—Kalyanji-Anandji.


This was the song and film that slalomed Shashi Kapoor into the top league after a 13-year struggle, and gave the title to the Aditya Chopra blockbuster 22 years later, on Kirron Kher's
recommendation.


Geet Gaata Chal (1975 – Director: Hiren Nag)

This film finally saw Ravindra Jain entrench himself with the Rajshri banner as it was a musical as well as commercial hit. 17 more films followed till Jaana Pehchaana (2011), making their
association the most prolific banner-composer combination ever.


The composer introduced Rafi-clone Jaspal Singh and gave a major break to Aarti Mukherjee, though Rafi came in for the playful Asha duet 'Shyam Abhimaani' and along with Kishore's
philosophical 'Bachpan Har Gham Se', this was a lesser-known song.


The hits in the 10-song album included Jaspal's title-track, 'Mangal Bhawan Amangal Haari', the Jaspal-Aarti duet 'Shyam Teri Bansi' and the coming-of-age Aarti solo 'Main Wohi
Darpan Wohi'. And the song 'Mohe Aisa Mila Bhartar' marked the beginning of Jain's long, mentor-like association with Hemlata.


Chitchor (1976 – Director: Basu Chaterjee)

Ravindra Jain scored a perfect four of four in this Yesudas-Hemlata hit-fest with the chartbuster 'Gori Tera Gaon Bada Pyaara', 'Aaj Se Pehle Aaj Se Zyaada' and two semi-classical
beauties 'Jab Deep Jale Aana' and 'Tu Jo Mere Sur Mein'. The music had a large role in the success of the film, and the lyrics ensured longevity for the songs.


Pati Patni Aur Woh (1978- Director: B.R. Chopra)

Though no classic, this is where Ravindra Jain adapted to a (bold) comedy and tuned with Anand Bakshi, the top name who had musical resonance across composers of various generations. Connoisseurs
liked the Kishore theme song 'Na Aaj Tha Na Kal Tha', but the hits were Asha-Mahendra Kapoor's 'Ladki Cyclewali' and the boisterous Asha-Mahendra-Sushma Shrestha song 'Thande
Thande Pani Mein', while Mahendra's solo fun number 'Tere Naam Tere Naam' was also fleetingly popular.


Khwab (1980 – Director: Shakti Samanta)

In the '80s, Ravindra Jain designed another light score for a man used to the breezy tunes of Shankar-Jaikishan, O.P. Nayyar and the Burmans—Shakti Samanta (note how the Rafi solo 'Tu Hi Woh
Haseen Hai' reeks of RD's orchestral patterns).


But the strong lyrical content was there in songs like Yesudas-Hemlata's 'Hum Khwab Ko Badal Denge Haqeeqat Mein', the Suresh Wadkar-Hemlata- Jaspal Singh number 'Ek Aas Liye' and
Yesudas' 'Banjara Main Nahin Magar', all inspiration-laden songs.


Ram Teri Ganga Maili (1985 – Director: Raj Kapoor)

This was an all-popular score that was synergistic with the all-time hit allegorical film. Jain had to bring in the lyrical and musical classicism needed, and the challenge was that he was
replacing Laxmikant-Pyarelal.


The composer rose to the challenge supremely, writing six of the eight lyrics, and composing eight winners, led by the two-version title-track, Lata's aces 'Tujhe Bulaaye', 'Ek Radha Ek
Meera' and the Hasrat Jaipuri-written adaptation of Raj Kapoor's own tune 'Sun Sahiba Sun'. Lata-Suresh's 'Husn Pahadon Ka' and Suresh Wadkar's 'Main Hi Main Hoon' led the rest,
the last mentioned song written by Amir Qazalbash.


Henna (1991 – Director: Randhir Kapoor)

Raj Kapoor is said to have recorded or approved some of the songs here—the rest were (mostly) written and composed by Ravindra Jain after his death. Naqsh Lyallpuri entered the RK portals to write
the splendid Lata number 'Chitthiye' and Sufi poet Maulana Qudsi penned 'Vash Malle' (sung by Saeed Sabri).


But the popular winners were Lata's 'Anar Dana', 'Main Hoon Khushrang Henna', Lata-Suresh's 'Main Der Karta Nahin', 'Der Na Ho Jaaye' (Lata-Suresh with Satish and Farid Sabri) and the
Lata-Suresh stunner 'Jaanewale'.