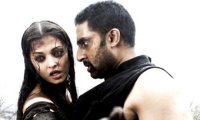 A frail wounded bird snarled viciously in the dry branches of a tree. A cold-blooded vulture who looks leery-eyed and loopy-grinned at his prey.


Pray, is this world for real?! A film by Mani Ratnam is an experience of a lifetime. His politics might be a little wobbly at times. And those recurrent shots of old ladies and little girls dancing at colourful weddings have become annoying in their familiarity in Mani's world.


But by Jove, Mani knows how to tell a story! In Raavan he transports, no traps , us into a forest of strange untamed sights sounds emotions and feelings that tumble out with rapid-fire urgency creating a spiral of rich vibrant sensuous images. Not quite textured in their tumble these images linger like the aroma of redolent spices in a kitchen that's cooking up a storm of a meal.


Raavan is a feast for the senses. Not much more needs to be said about Mani's images. They flow out of Santosh Sivan and Manikandan's cameras with the desperate urgency a symphony written on the night before apocalypse.


Raavan with its elemental images located in the deepest recesses of the forests is apocalyptic in its movement and suggestions. The image of Aishwarya Rai Bachchan plunging from the heights into a waterfall and getting trapped in a dry tree remains the one visual that surpasses all other recent and remote celluloid wise en scene suggesting a link between Nature and vulnerability.


No actress but the divine Aishwarya could have played the beauteous and virtuous modern-day Sita who's kidnapped by a Maoist Raavan and taken through 14-day experience echoing Lord Rama's 14-year banwas.


The mythological references gets lost on some of the characters (notably Vikram as a khaki Rama creating quite a devastating drama) .And the background music and songs by A R Rahman (barring the haunting Behne de which comes much too soon in the narrative) leave no impression.


Aishwarya gets a firm grip on her pristine neo-Sita's ordeal by fire in the most trying of circumstances. At time her scale of emoting goes a little too high, as though she had forgotten this was the Hindi and not the Tamil version of the neo-mythological saga. But she's a perfect portrait of a trapped bird flapping her wings against the cage.


The superbly styled though at times overly accentuated and often rushed, screenplay is crammed with ironic references to mythology and history. Think Ramayan. Think Sita. Think... Hanuman! Govinda puts in a delightful cameo as a forest ranger up to his monkey trick as he transports Inspector Dev (Vikram) through the complicated forest terrain in search of his kidnapped wife.


A lot of the action and drama unfold in the region of the cryptic. We never come close to cracking the jungle creature Beera's mind. Partly a Moist, partly an outcast and an outlaw and outwardly a Robin Hood(don't miss images of rural kids frolicking with the Santa Claus of the jungles), Abhishek Bachchan plays the character with much relish trying to find a centre to a character the defies gravity. But the glint in the eye and that artless grin cannot be missed. They give the character away.


You know this seemingly ruthless guy will fall so hard in love with his mesmerizing hostage that it will destroy him


Yup, this Sita will be the death of Raavan. By the time the two develop a feral fatal attraction the narrative loses grip over the unlikely lovers. In the last half-hour Sita and Raavan are on their own.


How you wish Mani would have given the narrative ample breathing space for the Abhishek-Aishwarya relationship to grow naturally in the stunning non-judgemental forests. Tragically the feelings that they share never quite jump out of the screen to cloak and choke us. Mani's narrative style, a synthesis of smothered passions and half-finished emotions preclude any deeply thought-out plan for the modern-day Sita and Raavan.


So what lies beyond the forbidden passion between Hindu mythology's most enigmatic villain and most revered and pristine heroine? Parts of the narrative are uneven, not being able to create a coherent connection between the principal characters and the politics underlining the film's flamboyant mythological underbelly.


It's a heady ambitious venture about characters trapped in situations from which they cannot escape. Mani Ratnam's keeps the pace frantic and urgent. His actor have to create their own spaces in the tightly-packed drama of the doomed and the damned. The action and the drama are shot in an ensnaring rush of adrenaline. Abhishek and Vikram's pre-climactic hand-to-hand combat on a wooden bridge is pure hand-to-mouth stuff, no two ways about it.


The cinematography captures the rain-drenched characters and terrain in slippery splendour. Never have we seen the protagonists on screen rough it out so vigorously.


Abhishek and Aishwarya play beautifully against one another. When at the end he tells her, "If I had died how would I have met you?" you know his eyes are telling the truth.


Raavan is a film that constantly seeks out the dark recesses in its characters' heart which are then manifested in a montage of beautifully designed images. The film does fall short in some of its emotional moments. But who said that a film about such fatally flawed people had to be picture-perfect both outside and from inside?


The imperfections in the storytelling somehow add to the film's vital primeval quality. The forest is shot with a devastating passion. It becomes a place where the human heart can race against convention without the clock ticking away accusingly.


Aishwarya's heart-stopping beauty reverberates across the natural sights and sounds in the jungles. Abhishek uses his voice, physicality eyes and smile to create a twisted troubled world of inescapable doom for his character.Govinda, Ravi Kissan and Nikhil Diwedi also put in credible performances that seem to grasp the workings of Mani Ratnam's primeval world in all its uplifting glory.


But Vikram as the modern-day Rama is a near-disaster.


He is apparently a superstar in the South. And there he shall remain.
BOLLYWOOD NEWS
Catch us for latest Bollywood News, New Bollywood Movies update, Box office collection, New Movies Release , Bollywood News Hindi, Entertainment News, Bollywood News Today & upcoming movies 2020 and stay updated with latest hindi movies only on Bollywood Hungama.