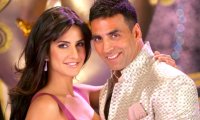 In our school days, we were taught about nonsensical rhymes which were incoherent jumbled words strung together trendily. De Dana Dan is a 150-minute long nonsensical rhyme. Its power to mock every rule of sensible and intelligent filmmaking simply infuriates and exasperates you to a point of complete breakdown of communication between cinema and art.


Art? Well, what do we call this piece of overcooked abomination straight from the prolific Priyadarshan's ever-active oven?


The characters are fairly funny to begin with. Akshay Kumar as Archana Puran Singh's slave-cum-driver is the portrait of anguished hilarity. He brings to his part of the servile toy-boy a kind of facile fury that flaunts an easygoing sense of self-deprecating comedy.


Sunil Shetty as Akshay's partner in the nonsensical rhyme scheme seems to enjoy the comicality initially... At least, he's relaxed until the frames begin to fill up with more characters than the Noah's Arc and the space-ship invented to save mankind in Roland Emerich's 2012 combined.


There're more characters romping in naked confusion in De Dena Dan than in any of Priyadarshan's over-crowded comedies. Two marriageable chicks (Katrina Kaif and Sameera Reddy, sharing equal footage, if you please) with secret lovers and their harassed fathers, Tinu Anand and Manoj Joshi, an avaricious father-in-law-to-be (Paresh Rawal) and his cretinous son (Chunky Pandey),a tart (Neha Dhupia) who is swilling to sleep with anyone who pays. And that includes poor Vikram Gokhale who
looks as put of place in the boisterous goings-on as Bhimsen Joshi at a Rakhi Sawant live-show.


Creaking and groaning under the weight of thunder-statement De Dana Dan is like a jabbering juggernaut hurling with its fast-talking, constantly-moving army of characters into a region of utter chaos. The scream... sorry... screenplay throws forward a gaggle of incoherent gags which suggest that the melee of characters are more distressed by their financial than emotional condition in life.


Soon, we, the audience cease to figure out what the characters are up to or how they are inter-related, if at all.


Just go with the flow, boss. At times, literally because, at the climax we've the characters swimming and spluttering in a flood of water let loose from a bombed terrace- tank in a luxury hotel.


Who planted the bomb? Is it the funny hitman Johnny Lever with chicken curry on his face? Or the funnier assassin Asrani roaming around the hotel trying to hard sell a corpse in a coffin?


All this, mind it, is supposed to be the summit of hilarity. The jokes depend almost entirely on the actors' ability to say the atrocious lines as though they mean it. Some like Akshay Kumar and Paresh Rawal succeed. Others don't.


Oh well, you win some, you lose some. At the end of the day, this comedy of incredible mistaken identities and monstrous errors of judgement coaches us on the meaning of 'slapstick'. Everyone slaps the person closest to him or her regardless of the reason or the repercussion.


Zany or just plain witless? You decide.


If this is the present and future of mainstream Hindi entertainment then we need to some serious thinking on the way a coterie of super-successful directors and actors have re-defined entertainment to a state of utter inanity.


De Dana Dan is not a film. It's a series of skits strung together to convey a sense of baggy fun and frivolous entertainment.


No harm done. But, what is the point?
BOLLYWOOD NEWS
Catch us for latest Bollywood News, New Bollywood Movies update, Box office collection, New Movies Release , Bollywood News Hindi, Entertainment News, Bollywood News Today & upcoming movies 2020 and stay updated with latest hindi movies only on Bollywood Hungama.