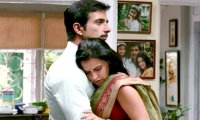 With a kind of brisk businesslike immediacy and the least amount of fuss Maximum takes us into the world of encounter killings and the internecine war in Mumbai's police department which threatens to destroy the very institution built to mend the wounds and fissures in the social fabric.


Writer-director Kabeer Kaushik seems to be a born minimalist. His earlier film the underrated Saher was also steeped in the khaki colour. In Maximum the world of legally-enforced corruption is created with such a lack of back-projection, history and vocalized subtexts that you often feel the director takes his audience for granted.


This is not the case. Kabeer Kaushik only presumes that we are intelligent enough to enter the murky morally ambivalent world of his characters without being led by the hand. It's a dark unlit and often dreary world ignited by repugnant flare-ups of violence where cops are shown to behave like hardcore criminals. You really can't tell the two sides apart.


Naseeruddin Shah who plays a ruthless encounter cop Arun Inamdar is introduced to us when a victim lies bleeding in front of the cop. Characteristically director Kabeer Kaushik plunges into the scene of crime when the dark deed is done. We see Inamdar watching the victim bleed to death and then pumping two bullets into the chap to make sure there's no unfinished business here.


This is a world of unmitigated immorality. Bullets are fired not to stop but to merchandize crime. And the lawmakers are shown to be as corrupt as the ones they set out to nab and mend. Pratap Pandit, as played by that fine versatile actor Sonu Sood, is a man of a few words, much action . We are not given a chance to know him closely. He shifts gears so often we're often left looking briefly at gaping wounds that can never heal in our socio-political system. The view is swift and disconcerting.


Subhash K Jha speaks about Maximum
The narration assumes a peculiar pace. Though there are bloody shootouts, grim exchange of dialogues, item girls gyrating in smoky dance bars, and car crashes on Mumbai's deceptively glistening roads, the underbelly of the film is coated with a deathly silence.




As guns roar and Daniel George plays out an elegiac evocative background score to underline the senselessness of the violence, we can see the characters' self imposed emptiness in the face of the volatile noise that they've created around their lives. The hollowness hits you in the head more than the heart. And when the emotions seize the plot in a vice-like grip we feel terribly sorry for the characters for the deathtrap that they've built for one another and finally themselves.


The film opens in 2003 at the height of the encounter killings in Mumbai. Two encounter specialists played by Sonu Sood and Naseeruddin Shah are at loggerheads the way any two professionals in the same job-space are bound to be.


Admirably the director doesn't use the two principal characters to form a central conflict. This is a world deprived of moral and legal bearings. Dog eats dog. Cop kills cop. Kaushik's narration is as ruthless and stripped of humour and other sources of cinematic solace as the world his characters inhabit. A certain amount of familiarity with the world of encounter killings is assumed on the audiences' part. We are expected to understand the subverted value-system of the encounter cops who do their social cleansing and in the process get so embroiled in blood, their hands are soaked in the very blood that they are meant to wash away.


Hence our 'hero' Pratap (based on a real-life encounter specialist) is shown to kill criminals, extort money from builders and businessman and hobnob with the powerful and profance. And yet he returns home to a loving wife (Neha Dhupia, blending into the saree folds as fluently as the slit gowns that she generally wears) and a daughter. The father-daughter scenes are done with a tremulous tenderness.


Sonu Sood invests immense emotion in these scenes. His performance takes him through several moral dilemmas. Years pass. Sood's body language expresses the deplorable shift in power equations. Here's a performance that again proves this underrated actor's unimpeachable versatility.




"When you are slipping you either fight back or you keep quiet," he tells his journalist-friend, played by an interesting actor Amit Sadh. They share keema-pao at an Irani restaurant .As the years pass earlier the cop paid, later the scribe does. A subtle illustration of a power-shift that says so much about the socio-economic equations of Mumbai. The journalist's character remains a kind of sutradhar who gets willnilly sucked into the power game between crime and politics. By the end of the film we really don't know who is in the crime folds for the money and who's there for the power.


Maximum is a film that's far more in-charge of its out-of-control sharp-shooting cops than it seems. Yes, there have been any number of films about encounter cops. But this one gets at the underbelly of desolation and isolation of such cops as effectively as Shimit Amin's Ab Tak Chappan.


There are some brilliantly executed shootouts. Note Neha Dhupia's haunting alaap just before a pen-ultimate exchange of fire. And the climactic confrontation between Sood and Naseer's character on a station leaves us sickened yet invigorated…The stunning endgame is one of the many pleasures of watching Maximum. A layered sharp and sagacious look at the internecine world of encounter cops, Maximum is a minimum-fuss crime drama where the characters are so austere in their emotions they somehow seem to be constantly shadow-dancing with their conscience.


The performances by Sonu Sood and Naseeruddin Shah propel the plot to a gripping summit. But there isn't enough of Naseer. Vinay Pathak as a UP ka politician and Amit Sadh as a journalist both try to make sense of Mumbai's confounding cosmopolitanism add considerably to the film's powerful personality.


For Sonu Sood Maximum is a new beginning.
BOLLYWOOD NEWS - LIVE UPDATES
Catch us for latest Bollywood News, New Bollywood Movies update, Box office collection, New Movies Release , Bollywood News Hindi, Entertainment News, Bollywood Live News Today & upcoming movies 2022 and stay updated with latest hindi movies only on Bollywood Hungama.