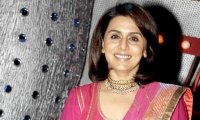 While the whole world is getting sucked into Rockstar and Ranbir Kapoor, I'm going deeper into its inception - the roots, the growth, the rebellious days, the maturity, the madness and that vanishing act that makes one forget birthdays. Welcome the Rockstar mother Neetu Kapoor. I recall meeting Neetu Mom (yes, I call her that) at her residence a few months back and she comes breezing into the room smiling like an attractive 40 year old. It is only at a second glance that it becomes clear that she is actually a mother of a 29 year old Rockstar. She's got the dancer's grace, an actor's confidence and a mother's warmth. Having said that, this Rockstar mother is a master of the tart observation: a biting wit that set her apart even while she was on the top of her game as an actress, and considering her fondness for Ranbir Kapoor the actor, she might just oblige me to talk about his favourite actor, rather than her own son. The mere mention of his name lights her up and though I was on the other side of the speaker phone sensing that, I could pretty well see the fan inside her talking about, arguably, India's finest actor on screen. UK's Harrow Observer columnist and Bollywood Hungama's London correspondent takes you on a journey of a Rockstar through the eyes of Neetu Kapoor.


"Ranbir was so sucked into Rockstar for two years that he forgot my birthday"
Ranbir's career can be summed up in the sentence - The rise of a Rockstar. He has really improved since his debut film. Somehow he is very connected to this movie in such a way that I haven't seen him before. He is totally charged up with Rockstar from day one. He forgot my birthday; he forgot his friends and family, etc. So it was only Rockstar dedication for two years. I hope the film works for him and people like it and he is accepted as a Rockstar.


"Ranbir as a kid was a rebel but today he is matured and knows his mind"
I have seen Ranbir as a rebel when he was a baby. He is a very adamant kid. Today he is much easier to deal with, very matured I think. He isn't a rebel now. He wouldn't cry but he would insist on buying whatever he wanted to. In this case it was the guitar, while we were on our way to have lunch in heavy rains in London. Well, Ranbir was pretty excited to have it by the end of the day. His wish was our command. But today, Ranbir knows his mind. If I were to talk about myself, he will not go against what I say but he will rather explain me why he would do certain things and why he wouldn't. Ranbir has intelligence written all over him.



"Ranbir thinks a lot before signing any film"
Ranbir thinks a lot before signing any film. He is very adamant on thinking that the film he has signed should be a good film. But I guess he should do all kinds of role. When the right commercial film comes with the right person, he will do it. He wants to do it but in a nicer way, in ways that make him comfortable.


"'Tum Ho' and 'Nadaan Parindey' are my favourite songs from Rockstar"
'Sadda Haq' is ruling my mind right now. It's on the loop. But I also love 'Nadaan Parindey'. I've seen the movie and can say that it is brilliantly shot. I like 'Tum Ho' too, the romantic number. Of course there are lots of other songs but every song has its own unique charm that makes Rockstar music so diverse. But I'll stick to 'Tum Ho' and 'Nadaan Parindey' as my favourite.


"I don't even discuss Agneepath with my husband Rishi"
My husband, Rishi Kapoor and I don't discuss movies on the breakfast, lunch or dinner table. We are a part of movies so we rather stay out (laughs). I don't discuss even Agneepath with him. We believe in waiting for the end results. It can be a great film for us but if people don't accept it, you're nobody to claim it's a great film. Sometimes you go wrong in your judgement and sometimes you go right.


"Ranbir is as simple as one can be"
I really will sound so biased but that's the truth. Ranbir is a very hard working person. He is very committed and a very good boy. There are no airs about him being a star son and has a very positive energy around him. Probably that's why people like to work with Ranbir. He is as simple as one can be. The way he looks, the way he talks to people and I think that brings out a lot in his performance.


"To ask me about Ranbir's favourite film is a wrong question"
I've loved all of Ranbir's movies. I love Rocket Singh, Wake Up Sid, Raajneeti and Anjaana Anjaani. But to ask me his favourite films is a wrong question (laughs).



"Riddhima along with her friends and family are watching Rockstar first day first show in Delhi"
Riddhima and all her friends and family are watching Rockstar in Delhi first day first show and my other niece, Natasha Nanda has booked the entire theatre to see Rockstar with her friends and family. It's going to be one 'rocking' day tomorrow in Delhi.


"We used to work hard but not get sucked into movies like how Ranbir does"
Times have changed and so have our films. I have never got lost or too involved with my projects. The same I can say about my husband too. We used to work hard but never get so sucked in like how Ranbir gets in his movies. He just vanishes. His grandmother complains that he only sees her on the Diwali day and doesn't see her otherwise (laughs).


"Seeing Ranbir's commitment and passion reminds me of Papa - Raj Kapoor"
Actually, there's an interesting story about Papa (Raj Kapoor) while he was making Prem Rog. This was after I got married. He used to address everyone in the house like Prem Rog characters (laughs). He was totally involved and his passion for his work was pretty evident. So yes, Ranbir may have got his vanishing act or passionate act from Papa (laughs).
BOLLYWOOD NEWS
Catch us for latest Bollywood News, New Bollywood Movies update, Box office collection, New Movies Release , Bollywood News Hindi, Entertainment News, Bollywood News Today & upcoming movies 2020 and stay updated with latest hindi movies only on Bollywood Hungama.