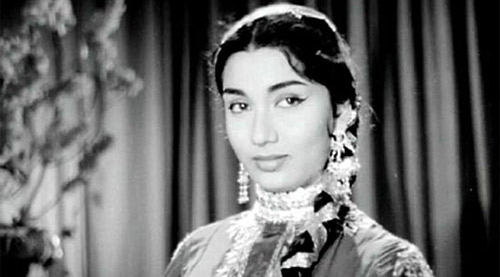 She was a strange mixture of the chilled-out and the no-nonsense woman of substance. Sadhana-Sadhana Nayyar to give her full name-was an interviewer's delight, if one could
ever get to sit with her and go through her memoirs. And this writer was among those very lucky few who got that opportunity after the actress quit films.


There was the fire and twinkle in the eyes that fans and associates alike must have adored at her peak, the grace and stately carriage associated with a true-blue enigmatic huge and trendsetting
star, and loads of humour.


Yes, she was past 70, but that was inconsequential. The lady who made her debut in a secondary lead in India's first-ever Sindhi film Abana (1958) and went on to make her lead debut in S.
Mukerji's Love In Simla (1960) was completely clued into contemporary Hindi cinema when I met her in 2011.


Candidly, she had stated that she loved Salman Khan for the "kind of larger-than-life quality that heroes of my time had", Shah Rukh Khan for "his true-blue star quality" and Aamir Khan "for his
hard work at becoming the character he was portraying". She had also declared that Madhuri Dixit-Nene was the last female icon and that 3 Idiots was one of the finest films she had ever
watched. Sadhana had also lavishly praised its lyrics and termed the music of Dabangg as the most refreshing score she had heard in a long, long while!


The Dazzling Star


The classic and fragile beauty romanced by fellow iconic and other big stars of her times had only nine flops in her tally of 29 lead films! Most of these were her post-1970 delayed and fragmented
releases like Chhote Sarkar, Amaanat, Mehfil (in which she romanced a young Anil Dhawan after Jeetendra was dropped for "market reasons"!) and her last film, Ulfat, which was launched
in the early '70s but hit the marquee as Ulfat Ki Nayi Manzilein in 1994!


On the other hand, her massive hits and memorable successes included Asli Naqli, Parakh, Hum Dono, Ek Musfair Ek Haseena, Mere Mehboob, Rajkumar, Arzoo, Waqt and her tryst with dual roles in
two Raj Khosla-directed suspense thrillers, Woh Kaun Thi? and Mera Saaya. In the late '60s, when she suffered from hyperthyroidism, she was treated abroad and later gave hits like
Inteqam (her bold home production) and Ek Phool Do Mali, and successes like Sacchai, Aap Aaye Bahaar Ayee and Geeta Mera Naam (for which she even took the credit for
direction in times when a female director was virtually unknown, though the ghost-director was her husband R.K. Nayyar!)


The actress worked with names like Bimal Roy, Hrishikesh Mukherjee, H.S. Rawail, Yash Chopra, Vijay Anand and Ramanand Sagar, but considered Raj Khosla special and also enjoyed working with "the
young and enthusiastic Manmohan Desai" and "Nayyar-saab, my stylized director husband."


Her favourite co-stars were Shammi Kapoor and Rajendra Kumar, and she made the point that in an era when there were virtually no multi-heroine films made, she had readily worked with Nanda (Hum
Dono), Sharmila Tagore (Waqt) and Waheeda Rehman (Ulfat Ki Nayi Manzilein)!


The Lovely Person


A casual handshake with a personality that emitted an aura-that was my first memory of the actress to whom I was introduced at her Khar bungalow when her husband had launched a television musical
show way back in 1996. All attempts since to pin her down for an interview persistently failed. She was not giving interviews, said her PR.


The tide changed when she came out of her shell to receive a 'Lifetime Achievement' award abroad. She was seen momentarily on television, so I renewed my efforts. There was a way, said the PR
person-get to meet her at a club where she went to play Bridge every evening, where noted filmmaker Arjun Hingorani, who had introduced Dharmendra, would put in a word as he had been chief AD in
her Sindhi debut.


The ploy worked, and the fact that she had just won a game of Bridge had ensured a great mood. She had guests and our meeting would take a week more, she said. It took a month, but was worth it.



The stylish decor in her old bungalow, with tea and biscuits surfacing minutes after entry, and the actress' broad smile all showed that the good old '60s charisma was untouched.


"I had always wanted to do films, and my parents had no objection," she had said. "In Mumbai, I studied in Jai Hind College and was noticed in a college play by director Deepak Asha, who was making
the first-ever Sindhi film. I got to play heroine Sheila Ramani's younger sister in that film, Abana."


The actress then applied for an advertisement that the studio baron S. Mukerji wanted new faces. After a year of training, she was cast opposite his debut-making son Joy Mukerji in Love In
Simla, a major hit in 1960.


Like Asha Parekh in particular, Sadhana was known for her brilliant songs from an assortment of giant composers like Shankar-Jaikishan, Laxmikant-Pyarelal (who also did her home productions even
after she quit acting), S.D. Burman, Naushad, Salil Chowdhury, Kalyanji-Anandji, Jaidev, Ravi, O.P. Nayyar and Madan Mohan. Her track-record made her mentor feel that she had a great musical
acumen and he would actually summon her to gauge the tunes made by another of his protégés, composer Usha Khanna!


Sadhana's love life began with her debut film and her first director R.K. Nayyar fell in love with her. Sadhana remembers that her parents objected as she was under-age. Years later, Raj Kapoor
wanted to watch one of Sadhana's mega-hits, Mere Mehboob and asked Nayyar, who had been his assistant, if he could manage a special screening. That is how they met again. "We were back to
where we had left off. This time my parents supported me, and in 1966, we got married," the actress had said.


The actress was refreshingly candid about how she became a fashion icon. "My forehead was very broad and that stood out when a new camera had arrived at S.Mukerji's office and they had taken a lot
of photographs of everyone," she had recalled. Instead of the conventional way out of sticking a patch of hair on the forehead, her husband mentioned that Audrey Hepburn had the same problem and
so she would cut her hair in a fringe. "I did that and to date it is known as the 'Sadhana cut'!"


Sadhana was five-feet-seven, and also could not afford to wear heels, she laughs. "Once Raj (Khosla)- ji was shocked when he told me to remove my heels in a sequence and I told him that I
wasn't wearing any! With heels and the kind of bouffant that was the trend then, I would have been six feet plus!"


The actress also made the churidar-kurta a rage. "In Waqt, it came across as a modern style that was not necessarily a Muslim outfit," she recalls.


The actress remains matter-of-fact about her beauty, which also made her quit when she was at the top. "I know I looked lovely. So I avoid being photographed now. I could have kept going, doing
bhabhi and motherly roles, but if you check, you will find that I am the only actress of my generation who never made a comeback."


As the cliche goes, legends go down, but, only in history.

BOLLYWOOD NEWS
Catch us for latest Bollywood News, New Bollywood Movies update, Box office collection, New Movies Release , Bollywood News Hindi, Entertainment News, Bollywood News Today & upcoming movies 2020 and stay updated with latest hindi movies only on Bollywood Hungama.