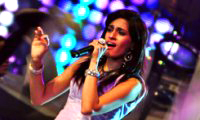 Shweta Pandit may not be the no. 1 on the charts right now but she definitely is the no. 1 choice of A.R Rahman for his LIVE concerts and tours around the globe and in India currently. So as you keep listening to Pandit over and over again, you find out that her ambitions stretch way beyond being a one-hit wonder. The crucial thing about Shweta is that she sees herself not as just another on-stage or playback muppet, but as a living, breathing work of art. Besides she also writes songs for herself and for others and has her own fashion house named Golmaal, a store that makes her day to day designer wear. But all that remains is her entourage which I'm sure will soon arrive the next time I interview her, knowing that her rise to stardom is quicker than the many shares of the stock market. Pandit insists that not only are her songs inextricably linked to her performance and to her life in general, but also that she is doing something tangibly different from anything ever done before. This interview included! It is the relentlessness of Shweta Pandit that is most striking: the songs that squeal for attention, the outfits that beg to be noticed and the face that you just cannot take your eyes off. Continuing from where she left, Shweta takes me into the world of A.R Rahman as witnessed by her on tours, concerts and recording studios, but more importantly, an insight into a man who she thinks is responsible for what she is today: a musical discovery.


"Rockstar will bring out the romantic side of A.R. Rahman in a never before heard music"


I've heard some portions of the music from Rockstar because we were at his studio for rehearsals. Whatever I've heard, it was very nice and niche. I've heard some of Rahman's most unheard tunes several times. Rockstar will bring out the romantic side of A.R Rahman in a never before heard music. The album has mostly got songs sung by male playback singers.


"I have already received the best gift of my life and that is - performing 'Live' with A.R Rahman"


During the 'Jai Ho' concert, people used to laugh at me because after every show I used to click a picture with Rahman sir. He kept on asking me, 'Why are you clicking so many pictures with me?' And I answered, 'Because I want to make a collage'. I am in the process of making one with each city we visited around the globe including India. It's a great memory. I'll either gift it to him or put it in my room. But I have already received the best gift of my life and that is - performing 'Live' with A.R Rahman.


"I'd love to work in Hollywood someday"


Of course I do dream of landing up a singing opportunity in Hollywood. When I was working with musicians from Hollywood during the 'Jai Ho' tour with Rahman sir, they had never heard stuff like our classical base and raag's. It's very new to them and I hope it works because it's a new texture for them in the West. When we see a movie made by a foreigner, we praise it because we've never imagined something like this coming our way. The West feels the same about our music, thanks to Rahman sir.


"When Rahman sir starts to sing you get the chills"


Rahman sir's voice texture is very soulful. It's something that hits me. Whenever I'm backstage and he starts rehearsing, I get a lot of vibes coming from his voice. He has a very high pitch and when he starts to sing, you get the chills and then feel proud that you are standing with that man on the same stage. He gets attached and involved to a very beautiful level when it comes to music and singing.


"He loves his kids and would take a flight to Chennai from anywhere in the world if he missed them"


I've seen his love for his kids. He is a very busy man. I remember him telling me that he missed his kids while we were on the 'Jai Ho' tour. He told me that he would take a flight back home to Chennai only because his kids were missing him. That is another kind of involvement he has with his family besides work. That's a side to him that I love.


"Rahman sir has got a very good sense of humour"


Rahman sir has got a very good sense of humour (laughs). I remember when we were doing the Nobel Peace Prize concert; someone from his troupe gave him a pair of reading spectacles and asked him to wear them while performing on stage. Rahman sir wore the spectacles and started to look in the mirror to check whether it looked good or not. But just two minutes before the concert he took them out and changed his mind. It was a cute sweet humorous moment.


"My laptop has lots of special memories like jam sessions with Rahman sir, etc"


I've had a lot of fun travelling with Rahman sir. I've also got lots of memories stored in my laptop that I run through when I get time. I've recorded personal jam sessions and sir teaching us something quite special, his important advice to us, his thoughts on the tour, etc. I have memories worth a lifetime.


"To put on a saree in two minutes and rush on the stage is a nightmare. But I somehow did it"


Yes, there was a goof up moment and many have happened while we were touring. But I can recall one that happened during our 'Jai Ho' concert; we had just two minutes exactly to change into a different costume as the song changes. That time I had to wear a saree in two minutes. I usually have a helper who helps me but she had disappeared in the middle of the show. She was around but not where I wanted her to be. So I put on the saree myself like a dhoti and went on stage (laughs). I managed it somehow but couldn't drape it as professionally as my helper.
BOLLYWOOD NEWS
Catch us for latest Bollywood News, New Bollywood Movies update, Box office collection, New Movies Release , Bollywood News Hindi, Entertainment News, Bollywood News Today & upcoming movies 2020 and stay updated with latest hindi movies only on Bollywood Hungama.