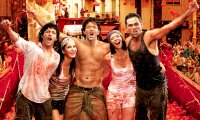 What's common between Singham, Zindagi Na Milegi Dobara, Murder 2 and Double Dhamaal, four films that have released in quick succession? The obvious one is that each of them has turned out to be huge money spinner at the box office. The second common factor is that none of them has boasted of a chartbuster soundtrack that could have turned out to be the USP of the film. Yes, a couple of them did have a few exciting tunes but by and large there wasn't any memorable tune that could make one say that - 'Gaana achha tha isliye picture hit ho gayi'. This trend (which has a few other predecessors in the first half of the year as well) made me wonder yet again that 'Can hit (or flop) music really make or break a film?' Let's explore in this week's 'Reflections'.


Desire

Ask any filmmaker who is making a commercial Bollywood flick and he would tell you that other than the First Look of the film, he is most concerned about the music of his film. It does make sense after all. Hindi film promotion continues to be driven by music and two-three good songs means that there is good enough material to keep satellite channels busy for four to six weeks leading to the film's release. Thankfully with the advent of teasers and First Look, a maker does have an added option to promote his films. Still, somewhere deep down in the corner of the heart, everyone wants at least one chartbuster song to get that added assurance.


Reality

Fact though is that 2011 hasn't really been all that fantabulous when it comes to anything memorable being created musically (Check out our mid-year music report). Ironically, though the story is inversely proportional at the box office reception to majority of films being released. The year so far is turning out to be one of the best ever in recent times with multiple films turning out to be successful at the box office. And the fact is that not many not of these have boasted of chartbuster music!


Picture this


Singham


Singham takes the second biggest opening of the year after Ready and guess what; the action entertainer doesn't have even a single hit song to its credit. The makers too were intelligent enough to realise where exactly did the film's USP lie and hence spent most moolah on the action and talkie promos of the film. Audience didn't mind that either and gave the film a huge Thumbs-Up. What is also noticeable is the fact that majority of audience came from single screen theatres in cities and small towns, the places which over the years have been termed as impenetrable for commercial masala Bollywood flicks unless supported by hit music.


Zindagi Na Milegi Dobara


On the other hand, multiplex audiences too have been acknowledging the subtle humour of Zindagi Na Milegi Dobara even as 'Senorita' and 'Ik Junoon' have turned out to be in-situation-feel-good numbers rather than the chartbusters that pulled the audience in. I am sure that the core feel of the film was such that even if aided by a chartbuster track, the film wouldn't have made any difference to the (low) collections at single screen theatres at the least.


Murder 2


The biggest (pleasant) shock has been the super-success of Murder 2 though. It had pleasant music (for example 'Haal-E-Dil'), not the kind that turned into 'chartbuster' though and still the film gave Emraan Hashmi his biggest hit till date. He must indeed be puzzled though; after all till date he has been lauded for being someone who guarantees superb music and this time around when with Murder 2, he was standing on a precarious ground as far as music was concerned, the film turned out to be superhit.


Double Dhamaal


Double Dhamaal was quite serious though in its endeavour to get their music on the top of the music charts and ended up spending a fortune on roping in Mallika Sherawat for 'Jalebi Bai' (and more). Unfortunately for them though, just like Dhamaal even the sequel didn't really make any waves musically. Another quick attempt to find visibility was 'Oye Oye' but it couldn't even cover the kind of distance that Dum Maaro Dum had somehow managed a few weeks earlier. Did the audience really mind that? Not really as they were more than happy to see the antics of the four jokers than worry about the song and dance numbers that played on screen.


Haunted - 3D


Known for someone with a keen sense of music, Vikram Bhatt did include a few pleasant tunes ('Tum Ho Mera Pyar', 'Tera Hi Bas Hona Chaahoon') in Haunted - 3D. However neither did these songs become chartbusters nor did they turn out to be a good enough reason that enticed audience to check these out in theatres. In fact it was surprising that despite a good melodious base to them, the songs were hardly promoted. But then seems like the makers too were basically formulating a different strategy all this while. It was the chills-n-thrills mood of Haunted - 3D that turned it into a hit. Moreover, there was not even a single song that actually played through its entire length and was barely heard in the background for a minute or two.


A question that may be asked here is - 'Would these films have done any better had there been a chartbuster track or two?' Yes, perhaps a little, but then an absence of a chartbuster doesn't mean that these films would have failed something that the numbers at the box office are already suggesting.


There are positive stories to tell too


Of course it isn't as if there were no takers for chartbuster music. There were films like Ready, Delhi Belly, Tanu Weds Manu and F.A.L.T.U. which gained tremendously due to the hit soundtrack that they could boast of. Makers of Ready were sure that they wouldn't release their Salman Khan starrer till they got their music right. So despite a 'Character Dheela' in hand, they went ahead and roped in a guest composer for 'Dhinka Chika'. They shot it well too… Twice. And in the process made sure that the songs made all the difference to the few added crores that came their way.


Aamir Khan was even more conscious about his Delhi Belly. For his 90 minutes film, he didn't just pack an entire soundtrack with a series of item numbers; he even shot half a dozen odd music videos to make it a wholesome affair. And to think of it, he didn't even include these songs in the film (except for a stray reference here and there as a part of the background score). There was an icing on the cake though with 'I Hate You' being the only song to make a full length appearance but one really missed the music video of the biggest of them all - 'DK Bose' - as a part of the film.


Ditto for 'Saddi Galli' in Tanu Weds Manu which was the USP of the film but ended up being a part of the background score for a mere couple of minutes. Of course one can't deny the fact that if not for this song (and the likes of 'Jugni'), the film may not have gained the kind of mileage that it eventually did. But then as stated earlier, such instances of a hit song adding on to collections has been an aberration this year, not a trend.


The only true blue musical that actually gained the most from the presence of a hit soundtrack was F.A.L.T.U. Vashu Bhagnani was quite sure of the fact that if at all he had to re-launch his son, each and every song in his film had to belong to chartbuster variety. Sachin-Jigar complied as well and came up with an assortment of songs that created huge visibility for the film. If at all there is one film which gained most out of hit music this year, it was F.A.L.T.U.


And then there are exceptions....


If good music could have indeed assured sure-shot success, Patiala House would have been a huge winner at the box office. Despite audience friendly massy numbers like 'Laungda Lashkara' and 'Rola Pe Gaya', the film couldn't do well commercially. Shor In The City too had only niche audience stepping in despite 'Saibo' being overtly melodious. On the other hand No One Killed Jessica wasn't quite a musical (though it did have good situational songs adding on to the background score) but was still a good success at the box office. Also, Yamla Pagla Deewana saw fair share of criticism coming its way for it's barely average music but still saw audience making beelines to step into the auditorium, hence making it a very good success.


Net net


By and large it's a good story that works with the audience. Yes, good music helps in added curiosity while great music helps in added moolah as well. However, all of this works in totality only when all other important ingredients of filmmaking come together well too. Hit music isn't really good enough to ensure definite success for a film in theatres. But then a good film will work regardless of average (or even lesser) music. After all trend this year has been pretty much proving that, isn't it?
BOLLYWOOD NEWS
Catch us for latest Bollywood News, New Bollywood Movies update, Box office collection, New Movies Release , Bollywood News Hindi, Entertainment News, Bollywood News Today & upcoming movies 2020 and stay updated with latest hindi movies only on Bollywood Hungama.