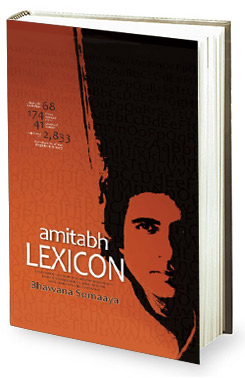 'Amitabh Bachchan - 68. 174 films spread over 41 years of career captured in 2833 headwords of the English dictionary.'
At the face value, it seemed like an interesting preposition to go through 'Amitabh Lexicon' which, as author Bhawana Somaaya explains, basically functions on randomly chosen words from the English dictionary. So the idea is to point at any word in the dictionary and present to reader a glimpse of a scene from Bachchan's film which
details this word.
'Hmmm okay, sounds like a good idea', I said to myself as I started flipping over this hardbound (and hence rather heavy) 300 odd page book.
As it turned out, what sounded like an exciting idea didn't quite turn out to be an enthralling experience once the novelty died down after browsing through just 50 odd words. Yes, the book is certainly an experiment of sorts and in that perspective it does deserve some recognition at the least. But unlike quite a few other books which have been written on Bachchan that provide good insight into his illustrious career, 'Amitabh Lexicon' is merely a fan's account of how every word could possibly find a meaning (with or without purpose) in a film of his.
Picture this. The word 'Sign' finds an instant reference point from Deewar (never mind that it has been wrongly referred to as Namak Halal here) in the famous scene where Shashi Kapoor questions Big B - 'Bhai tum sign karoge ya nahin...?' So while it does sound convincing here, not every word really finds a straight forward reference point
and appears to have been an after thought after the author saw a particular scene from the film. For example the word 'Dazzle' leads to a commentary around the scene from one of the most forgettable films of Bachchan, God Tussi Great Ho, where as per the author 'Salman Khan is dazzled by the bright light in the room before he gets to greet
Amitabh.' Now that clearly seems like a case of an addition being made to the book for no real reason.
There are various other choices that make one feel if they were the best of the lot after all. Like the word 'Decade' makes the author remember that scene from Kabhi Kabhie where Amitabh met Rakhee after years. But then haven't there been countless other flicks where Bachchan was reunited with some of his loved ones decades after being separated? In fact even a word like 'Convert' finds a mention where the detailing is around a sub-plot from Khud-daar where Parveen Babi transformed from a bootlegger into a good girl. Oh really?!
Honestly, as stated earlier, it is really tedious to actually go through each of these 2833 words because not just is it a tiresome read, it is sheer pointless as well. One only ends up wondering what exactly is there to actually gain or lose by reading this book that could only act as an ego massaging for the prime stakeholders involved but that's about it.
Oh yes, there is also a Preface by Lord Meghnad Desai who after going gaga over Amitabh Bachchan (for all the right reasons) also ends up patting the author's back by stating that 'She has invented a game which is a combination of 'antakshri', charade and scrabble........It is a novel idea and I recommend you all to play along'. Later Bhawana
adds in her Foreword that 'This colourful dictionary is a joyride to nostalgia for everyone who has grownup on a staple diet of Hindi films and Amitabh Bachchan.'
Well, I am sure most of you readers belong to the target readers that the author had in mind. I also see no reason why you won't love playing 'antakshri', charade and scrabble. However, while I really doubt that 'Amitabh Lexicon' is indeed the right source for any of these two claims, I would certainly like to see if anyone out there has indeed managed to actually go through the entire book and indeed practiced the game as well.
Price: Rs. 1000
Rating:**
BOLLYWOOD NEWS
Catch us for latest Bollywood News, New Bollywood Movies update, Box office collection, New Movies Release , Bollywood News Hindi, Entertainment News, Bollywood News Today & upcoming movies 2020 and stay updated with latest hindi movies only on Bollywood Hungama.