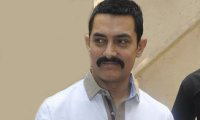 The other evening I was discussing around the journey of each of the three Khans in the industry. Aamir, Salman and Shah Rukh - Each of them had a rather unsung beginning to their movie career. Though the popular misconception amongst many is that they started off with Qayamat Se Qayamat Tak, Maine Pyaar Kiya and Deewana respectively, the fact remains that Aamir's first film was Holi (the DVD of which is unfortunately not available anywhere), Salman played second lead to none other than Farooq Sheikh in Biwi Ho To Aisi while Shah Rukh's offbeat In Which Annie Gives It Those Ones didn't even see a theatrical release.


The point though was not about their humble beginnings; it was about how each of them struck gold when they were seen for the first time in a major way with their romantic outings. And today, more than two decades later, life seems to be coming back full circle for each of the three Khans as they get ready to make waves with their BIG action flicks. In this week's 'Reflections', let's have a look at the stakes that lie ahead and how the three Khans could well be changing the rules of their games as they aim at making a splash with their action outings Dhoom 3, Kick and Don 2.


Aamir Khan in Dhoom 3


What to expect from the film?


A lot of unbelievable action for sure. A quintessential popcorn entertainer, it has a task in hand to surpass what was made possible in Dhoom and Dhoom 2. A Yash Raj film that started off as a medium budget entertainer with Abhishek Bachchan and John Abraham took massive proportions with Hrithik Roshan and Aishwarya Rai Bachchan joining the fray. With the film smashing all records, it went on to gain a franchise status for itself and is now the biggest of them all when it comes to action flicks. For Dhoom 3, the makers have to be imaginative and also forward thinking because between Part 2 and 3, Indian audience has been exposed to the likes of Transporter series and more. Nothing less than extraordinary would be accepted by the paying junta here.


What to expect from Aamir Khan?


When John Abraham does a Dhoom, he is expected to be an eye candy who would gain all the accolades with his charm. When Hrithik joins Dhoom 2, it isn't just the charm that audience expect. They expect him to do everything that a quintessential leading man does despite him being on the other side of the law. So he drives bikes, sings songs, flirts with his leading lady, has an aura of mystery around him and basically uses his looks and physique to the fullest to ensure that not just the women folk but also men leave the auditorium impressed.


In case of Aamir Khan though expectations would be different. Simply put, the man is expected to be cerebral. Don't be surprised if Dhoom 3 actually mixes some road action with mind games being played around workstations. One can almost visualise Aamir Khan sitting in a dark room abound with a dozen odd monitors, tracking devices, keyboards and half a dozen gadgets that would allow him to plan his next move. He is of course expected to hit the road as well but a game being played with the help of mind power is definitely not ruled out. Net net, one expects a Hollywood-ish touch to this madness and any action that happens that requires physicality to come into picture would only turn out to be an added bonus.


Salman Khan in Kick


What to expect from the film?


Kick is the remake of the namesake film that was earlier made in Telugu with Ravi Teja in the lead. A quick read of the film's synopsis reveals that the film was indeed modelled on the lines of Dhoom. With 'chor police' saga coupled with loads of action sequences being incorporated into the narrative, Kick was a runaway success down South. Now with the film being made in Hindi and none other than Salman Khan in lead, it can well be expected to break further records. Reasons are aplenty.


First and foremost, this is for the first time when Salman would be indulging in some hardcore action sequences that would require high voltage action on moving vehicles. He has been a part of huge action hits like Dabangg and Wanted. However action there was raw rather than being cool. In case of Kick, makers Sajid Nadiadwala and Shirish Kunder are promising that the word 'cool' would be redefined with an entire action team being hired from abroad. In fact the man who has directed action in films like Transporter and Bad Boys is already on the job for Kick which means the makers are indeed serious about getting some cool road action put into play.


What to expect from Salman Khan?


For someone who believes in all or nothing, Salman can well be expected to go all out with Kick here. Never been in as much control of his career as he is today, Salman is said to have clearly told the makers that he would be willing to come on board only if the film can make people forget his earlier efforts. For a man who is already doing other high profile films like Ready and Bodyguard, it is one big statement to make. However, he could well be saying here - 'Ek Baar Jo Maine Commitment Kar Di...'


No wonder, makers have a task in their hand to keep a balancing act between Salman's current image and add on a macho element to it via action sequences in Kick. One can't think of taking away an intrinsic charm of Salman which means he would continue to play to the gallery, sing songs, dance with his leading lady, indulge in comedy and also mouth those 'seeti-maar' dialogues. As for the action, it has to be interspersed in such a manner that it goes entirely with the film's narrative and Salman's image. A challenging journey indeed as it would have to be a complete 'masala' affair but then also the most promising one because when it comes to returns, sky would be the limit.


Shah Rukh Khan in Ra. One/Don 2


What to expect from the films?


Ra. One has been pitched as the biggest film ever to have come out of India and for all the right reasons. After Rajinikanth's Robot, no film can just claim to be big and walk away scot-free. It has to be THE BIGGEST. Period. No wonder, the makers have taken an offensive route and plastered it all over the town that Ra. One would be the 'baap of all films'. If one indeed goes by what Shah Rukh has to say here, he can well be expected to be stating the truth here.


A superhero action film with a gaming background it, Ra. One is turning out to be big in all respects. In fact while not even a single frame of Dhoom 3 or Kick has been shot yet, Ra. One is already in the processing unit with director Anubhav Sinha working on its post production. Those who have had a dekko at the few minutes of unprocessed scenes claim that all claims are all set to come true and Ra. One would indeed set benchmarks when it comes to some action sequences that can pass international tests.


As for Don 2, it can well be expected to boast of some 'masala' action sequences which would cater to class as well as mass audience. Just as was the case with the first in the series (and before that the original Amitabh Bachchan starrer), there has to be a mix of smart dialogues and action sequences mingling with each other. Can they work in isolation? Of course yes, but then the maximum fun is pretty much on the cards if the two go in conjunction with each other. Going by the sensibilities of the director Farhan Akhtar here and the market at which the film is being targeted, this is pretty much on the cards.


What to expect from Shah Rukh Khan?


If there is one actor who is consciously craving for a change in image, it has been Shah Rukh Khan. After Rab Ne Bana Di Jodi, he does a My Name Is Khan. And when My Name Is Khan is out of his way, he goes on to do Ra. One and Don 2. Rest assured, he won't be letting down his audience even one bit with his two films. Also, in spite of these two films arriving literally back to back (I sincerely hope though that Don 2 moves to 2012, it would only make the wait become sweeter and the New Year would start on a positive note as well), Shah Rukh can be trusted to approach them both differently.


As for his own act, Shahrukh is playing two distinct characters in Ra. One and Don 2. In the former he is also a father who has been forced into extraordinary circumstances; in the latter he is evil by choice. In the former one can well expect a transition a la Spiderman, in the latter he can be seen revelling in exposing his mean side. It is still early days but rest assured, there is a lot that Shahrukh would have to talk about in the second half of the year. As for his audience, they would be ever so happy listening to what the man has to say who was otherwise forever trapped into being a Rahul or a Raj.


Aamir, Salman and Shah Rukh - There is a lot to look forward to over next one year. Whom are you waiting for most?
BOLLYWOOD NEWS
Catch us for latest Bollywood News, New Bollywood Movies update, Box office collection, New Movies Release , Bollywood News Hindi, Entertainment News, Bollywood News Today & upcoming movies 2020 and stay updated with latest hindi movies only on Bollywood Hungama.