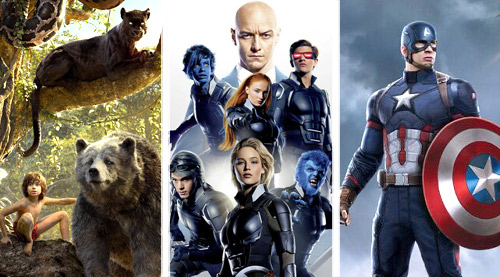 It's ironic but true: Hollywood can dominate us (just as it has done to cinema around the world, except in India!) when we do not take enough care to connect with our own audiences. The Jungle Book, X-Men: Apocalypse Now and Captain America: Civil War have decimated the Hindi co-releases and even overtaken films released earlier and later. On May 27, The Angry Birds Movie, releasing to mixed reviews and word-of-mouth, still opened better than all the Hindi films, included the superlative Phobia, the hyped Waiting and the much-touted Veerappan.
Reality check: Let not Hollywood dominate us
Once again, there is a lesson in it somewhere. A Reality Check is the need of the nanosecond! The industry must stop being a stubborn ostrich and-ASAP- set things right at all levels: content, marketing, budgets and audience economics.
Said Akshay Kumar recently, "We cannot compete with Hollywood in money-their production budgets can go as high as 2 million dollars, whereas we cannot move beyond 70 crore rupees. The only way we can compete with them is in content."
The multiplex-that entity that has changed the film-watching game, obviously holds the key as it has always polarized audiences and yet ironically keeping much the same ticket rates for small as well as mega-budget movies.
However, the modest-budget film Baaghi has proved that the multiplex is not some standalone God. Baaghidid brilliantly in single-screens while gradually growing in 'plexes, and was the perfect example of prudent economics in a skewed world: it was produced with intelligent budgeting, promoted and released in the right fashion, and had decent music too. With this well-chosen set of advantages, it also came up trumps in its most important credo of good content with a decent repeat value. It delivered what it promised: path-breaking action by Tiger Shroff, attractive GenY star Shraddha Kapoor as the quintessential heroine and wholesome entertainment for the whole family minus any cringe-worthy elements.
All this helped Baaghi sail comfortably past the other Hindi hits Neerja and Kapoor & Sons in a far shorter timeframe.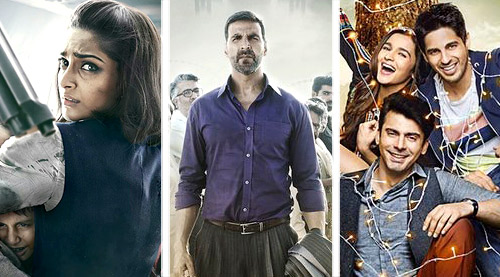 Neerja was the next hit in 2016 after Airlift. It may not have catapulted Sonam Kapoor to stardom, but showed that a filmmaker could narrate a real-life story of unforeseen courage with the perfect connect: the emotional dimension of a mother-daughter relationship.
Director Ram Madhvani made sure that the narration worked, sans masala, with a mixed audience even without any big name hero, an A-list heroine or a chartbuster. Yes, it did not touch Rs.100 crores, but economically, it did not need to do so to be termed a super-hit-as a theoretically niche subject narrated with the timeless and proven grammar of mainstream Hindi cinema!
Kapoor & Sons, meanwhile, appealed much more to the multiplex audience and overseas. The story had its highs, but the lack of good music, the 'gay' touch, and the other niche elements (like a grandpa watching porn that is anathema for most of our audiences in terms of word-of-mouth) all helped curtail the prospects of this Sidharth Malhotra-Alia Bhatt-Fawad Khan film to under Rs. 75 crores nationally. With a good overseas run and a production budget of Rs. 40 crore, the film, touted as a super-hit, can at the most be termed 'break-even' to average.
Purely mathematically, Ki & Ka performed better in comparison thanks to its controlled budget and the appeal of a fresh pair in Kareena Kapoor Khan and Arjun Kapoor. Made on a slim budget of Rs. 30 crores, this lightweight romance earned a profit for all-producers, distributors and exhibitors-and was thus a rare 'clean hit' like Airlift, Baaghi and Neerja. A tighter script, funnier humour and far better music could have made this film reach far higher.
The biggest casualty of the year was Fan, despite its (national) collection of over Rs. 80 crores. A disproportionately high cost of production, a defective premise, even worse writing and filmmaking and the lack of any attraction other than Shah Rukh Khan made this film topple over. The only song used as a promo, 'Jabraa Fan', was misguidedly not included in the film, causing disappointment to real 'fans'. The confused 'schizophrenic' making-of a flip-flop between so-called realism and mainstream elements, only accelerated the downfall.
Action works big-time in Hindi films with one indispensable pre-requisite: an emotional base. The cold Rocky Handsome could only send a shiver down its investors' spines as director Nishikant Kamat went berserk over a Korean drama that Hindi cinema-and John Abraham-should not have touched even with the proverbial bargepole. Dry, dark, depressing and deviant-this film was everything the story of a child and her protector should not have been.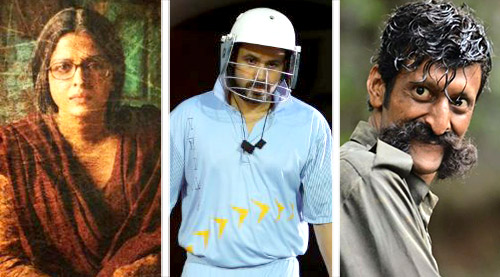 Sarbjit, Azhar and Veerappan, all recent bio-pics like Neerja, did not find that kind of welcome, though the first film may claim success on certain parameters. Though Sarbjit was a decent watch (like Azhar too), it is clear why the people have not taken to them.
The first film had a real and dark culmination. Why would anyone appreciate even an Aishwarya Rai Bachchan in a story that in real-life culminated in tragedy as late as 2013, especially as the film had to be named after her reel brother?
Azhar was about a man generally believed to be tainted by most people, so few were interested in watching his whitewashed (as it seemed) story. Much the same was the case with Talvar last year, but that film broke even with its tight budget and the media-made branding of its arty makers and actors.
As for Veerappan, why would families go watch the life story of a mass murderer? Who could empathize or sympathize with such a butcher, and indirectly with the filmmaker who has also steadily unmade his reputation as filmmaker down the years-Ram Gopal Varma?
Tere Bin Laden Dead Or Alive, 1920 London and Jai Gangaajal proved the axiom that sequels not only must be good standalone films but must match the brand too. The first two were pathetic, given the innovative and watch-worthy originals. Jai Gangaajal worked a bit because of the bankable Priyanka Chopra, but the old-wine-in-older-bottle quality undid the film, though it was claimed to have done break-even business.
One Night Stand showed conclusively, even if with bitter irony, that a Sunny Leone film had to be naughty, risque or crass. Give her a story with a message, and even the few hot scenes would not entice audiences. To be fair to audiences, there was little other connect.
But as we had occasion to say earlier, sex for the sake of sex was a no-no too. Love Games, despite the Bhatt backing, was a calamitous cropper even for its humble setup and cost.
BOLLYWOOD NEWS - LIVE UPDATES
Catch us for latest Bollywood News, New Bollywood Movies update, Box office collection, New Movies Release , Bollywood News Hindi, Entertainment News, Bollywood Live News Today & upcoming movies 2022 and stay updated with latest hindi movies only on Bollywood Hungama.