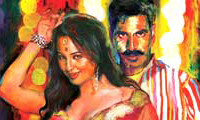 Talented designer Niharika Khan is only five years old in the film industry but she has already bagged a National Award and Screen award in the best costume category for The Dirty Picture. Known for her chic fashion sense, the costume designer has always opted for the right blend of glamour within the parameters of the film's environ with movies like Rock On!!, Delhi Belly and Karthik Calling Karthik. Niharika chats about the looks she created for the lead pair Akshay Kumar and Sonakshi Sinha in their next release, Rowdy Rathore.


Akshay Kumar: Rustic Rathore


Different coloured chequered and striped shirts over white t-shirts and denims comprise Akshay Kumar's look in Rowdy Rathore. Niharika's brief was to create a fun look for both the actors. "For Akshay, I wanted a very colourful look. So I opted for multihued striped shirts. I gave him crazy colours to wear. I did watch a couple of South films for references but I wanted to do something very surreal. I have draped him in orange pants with an orange shirt! " informs Niharika.


Playing Vikram Rathore in this action comedy, Akshay also sports a handlebar moustache to complete his rustic look in the film. Niharika, who wanted Akshay to sport a moustache for this film, says, "The moustache suits Akshay's character completely and it adds to the look. Shabina Khan, the co-producer on this film is also a costume designer who has designed Akshay's look in his earlier films. So she too wanted Akshay to sport a moustache." Fortunately, says Niharika, the actor had no hangups sporting bright coloured shirts or a moustache.


Sonakshi Sinha: Desi girl


While Sonakshi Sinha was seen wearing muted coloured Indian outfits in her debut Dabangg, the actress sports bright coloured salwar-kameezes for her character, Priya, in this film. Niharika says, "I didn't want Sonakshi to wear ghaghra-cholis because we have seen her sport those outfits in Dabangg. So I created harem pants for her. I wanted her to wear colours that looked a little off and bright. One of her outfits is a parrot green saree mixed with shocking pink. It was different and surreal."


According to Niharika, Sonakshi's height helped her carry sarees beautifully and the thoroughly professional actress had no qualms about low necklines. Sonakshi's look in the film's posters in a red and golden saree has created quite a buzz. Niharika says, "I got that saree from Saroj Khan's dance show. All Indian women look amazing in sarees."


Niharika also tries to take references from real life observations. "If I have an actress wearing an Indian dress, I try to team up the dress with chappals under it unless sandals are really required because if you see, women around us wear casual chappals with their dresses." The costume designer has also accessorised the actress with cloth bags, typical jholas,in coordination with the outfits. Niharika, who likes donning her actresses in an Indian look, says, "I am glad that the Indian look is making a comeback in films. Ultimately, it is important to portray Indianness in any look that you create. If westerners are emulating Indian fashion, then why not us?"