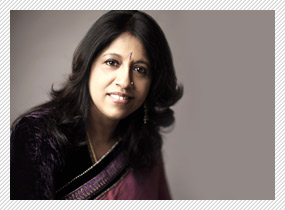 She has been in the field for 40 years, and is one of the very few singers who's constantly evolving even after her trysts with the recording studios became few and far-between. Kavita Krishnamurthi Subramaniam, arguably the most accomplished singer of the post-Mangeshkar generation, keeps singing the occasional playback song in Hindi and regional films and collaborates on albums with her illustrious husband, ace violinist and composer Dr L.Subramaniam, and also participates in his show, besides doing her own.
"My husband once asked me if I was depressed when my playback assignments petered off even after a massive hit like Devdas, with songs like 'Kaahe Chhed Chhed Mujhe' and 'Dola Re Dola'," says Kavita. "Frankly, I was down for a while, and he offered to shift with our family to Mumbai from Bengaluru just to further my career, in case the decline in assignments was because I had left Mumbai after our marriage. But I told him that family was paramount and I could not unsettle everyone just for my career. He then asked me a simple question: If I lose all my assignments and the applause would I still do music for its own sake? I replied that music was my life."
It was after this that Kavita took music more for the joy it was giving her. "Music has the power to drive out negativity in one's mind and emotions and make you a better human being. Today, my advice to young singers would be to keep improving just for the joy of doing it for self. Of course, it is an added plus that when your recording career declines, you can have a career in shows and whatever other avenue you choose in music."
Kavita is one of those rare singers who has not rusted a whit since becoming less busy - a remarkable feat for an artiste who was recording every day for almost 25 years. Thanking this writer for stating this, she humbly accepts the compliment as true but gives total credit to her husband. "He told me not to worry about how the market and the film world perceived me. He would always teach me things but I began to take more and more interest in when he was doing riyaaz, was at work or was teaching our children. Listening to him, I realized how every phrase was perfect, and I too came to know how I was missing a note or two in what I thought was good singing."

"He broadened my horizons beyond measure," she goes on. "I learnt to perform on stage nationally and internationally with musicians from other countries. He taught me to mould my voice in a different way. I am now confident of singing even with an orchestra and a conductor on stage. He explained the intricacies of harmonies, and made me aware of the precision that he follows in the pitching of his violin. While collaborating with Western musicians, he taught me how the right Indian embellishments should be added, so that there is no note in my voice that clashes with the harmony. I got the confidence to perform with his international associates like the legendary pianist George Duke and jazz guitarist Stanley Clarke among many others."
She goes on, "I also went back to my basics - the sargam, the raags and the paltis. Over the years, I developed the ability to actually compose tunes. Today, whenever I sing 'Kaahe Chhed Chhed' on stage, I always add a tarana that I have myself composed."
When will we be able to listen to her compositions? "Who knows? I may actually come out with an album one of these days."
An album that will come out soon is a 'contemporary' Hindi project that her husband has composed. "Sameer-ji and Ravindra Jain-ji have written the songs. Javed Akhtar-saab has written a song too, and he never does a solo song in an album, so I take it like his wedding gift to us!" the singer says with a gentle laugh.
Kavita explains that some of the tracks (the other singers include Pandit Jasraj, Hariharan, Suresh Wadkar, Sonu Nigam, Shaan and Lucky Ali) have been with her husband ever since he had been signed to score the songs for a couple of Hindi projects, one of which never took off and the other went to another composer due to creative differences. "My husband is a brilliant composer, so I told him that he must use these songs in an album, and after that he made some new songs. Yes, he barely knows Hindi but the violin is so emotion-rich in its notes and phrases that the language does not matter. In fact, I had a tough time matching it with the vocal harkatein."
After a fruitful career and singing for the best film composers in India, Kavita has two musical regrets - of not learning both Western and Carnatic music. "That would have made me a more complete singer," she rues. "My husband has been doing fusion around the globe for 40 years and has done his Masters in the Program of Composition and Harmony at the California Arts Institute - a very tough course in Music. I would have immeasurably widened my perspective had I learnt to write Western music. There were half-hearted attempts on my part to learn the guitar and piano, half-hearted because I could not spare enough time then from my busy schedules."
Kavita still admits that she misses regular playback - but from her times, not the singing that is heard today or then high-pitched Sufi songs and item numbers, which hurt the ear. "The kind of team work I have seen with the composers, musicians and singers then is what I miss," says the singer. "I would not like to do a song that can be given to any singer because composers of my time would create with me in mind. 'Tum Ho' from Rockstar was the last song that I felt was made with me in mind."
Before that, there was 'Mannata' from Heroes and 'Tumhari Adaaon Pe' from Mangal Pandey - The Rising, says the singer who dominated the scores of Karma, Chaalbaaz, Eeshwar, Batwara and Yateem (these two J.P.Dutta films are among her own personal favourites), Hum, 1942 - A Love Story, Khamoshi and Hum Dil De Chuke Sanam besides innumerable songs in films like Pyar Jhukta Nahin, Bombay, Agnisakshi, Baaghi, Judwaa, Sir, Kuch Kuch Hota Hai, Gupt, Kya Kehna and many more.
Kavita has always been close to the legendary Manna Dey and remains in touch with him as the veteran is also based in Bengaluru. "It's been some weeks since I have met him, and I feel so sad for him. He's unwell and simply shattered since his wife passed away. He told me that he had sung every song in his career for her!" she says emotionally.
The singer also adores the late Mohammed Rafi with whom she sang just one duet in the 1981 Ladies Tailor. "Actually I had to sing my part only after he completed the main song. And incredibly, because Rafi-saab faltered in a couple of takes and those were the days of 'live' recording when a complete song had to be done all over again if just one mistake happened, he actually apologized to me for wasting my time! Where will be get singers and men like them today? Or like Kishore-da and Hemant-da?"
BOLLYWOOD NEWS
Catch us for latest Bollywood News, New Bollywood Movies update, Box office collection, New Movies Release , Bollywood News Hindi, Entertainment News, Bollywood News Today & upcoming movies 2020 and stay updated with latest hindi movies only on Bollywood Hungama.