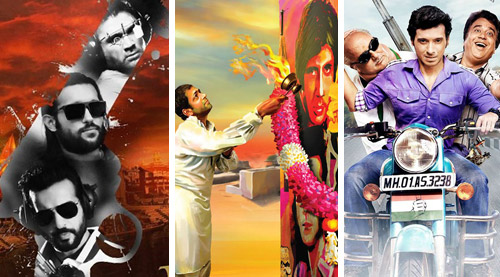 At last count, around 20 notable films released in 2014 that were small in budget but had some or the other notable credential, be it a respected production house, a decent cast member or at least a striking story to boast of. Starting from Karle Pyaar Karle, Heartless, Babloo Happy Hai, Darr @ The Mall, Aankhon Dekhi, Jal, Samrat & Co. and Purani Jeans to Kya Dilli Kya Lahore, Koyelaanchal, Filmistaan, Amit Sahni Ki List, Pizza, Desi Kattey, 3:00 AM, Ekkees Toppon Ki Salaami - The list is long. Forget about the content for the moment, the fact remains that these, along with countless other films, didn't even get a chance.


While most of these were fortunate enough to barely get a one week long run at multiplexes, majority of these were discontinued or suffered from even lesser shows (than 2-3 per day that they had got to begin with) by the end of first weekend itself. And here I am not talking about dozens of others films that were readied for release by numerous fly-by-night operators who are no more on the Bollywood agenda!


Makers of the films listed above meant business. In their heart, they did believe that they had at least a decent product in hand. However, just when (at least some) of these smaller films started gaining hope with word of mouth trickling, the chord was pulled off from the life support system.


A few years back, for his home production Pyaar Ka Punchnama, Abhishek Pathak had heaved a sigh of relief when the film rose from strength to strength with excellent word of mouth. However when he recently released Rahul Khanna's Fireflies, he was up for a disappointment.


"Today, it is tougher to get shows than actually make a movie," fires away Abhishek, "My call to everyone is - Let's play a fair game' let's not step on another person's shoes. We are so ecstatic talking about a Yash Raj film doing 200-300 crore business. But then think of it, it still accounts for less than 5% of our country's population going to theaters. Look at South and the way they are doing big business with their films. Here in Bollywood, all we see are prices going up. It is boiling down to the monopoly of one big multiplex chain giant."


Producer-director Anand Kumar faced a similar problem too when there were hardly any shows in multiplex for his 'desi' gangster affair. Says Anand, "You need to note that even after paying such a heavy digital cost to UFO, it's so difficult to survive."


Ashu Trikha, the maker of Koyelaanchal, has a solution to propose. "There has to be a minimum run of one week for a film to get time to breathe, rather than get terminated rather abruptly. Word of mouth has no impact on films that are curtailed impulsively. Having said that, the show timings too are of extreme importance. But I guess it is commerce that rules over art," he wonders.


Filmmaker-actor Anant Mahadevan joins Ashu in his stand. "Absolutely! The films that get acclaim and good reviews should be given consideration and preference. Such steady collections would encourage more people to support real cinema rather than circuses. This is how Hrishida, Basuda, Gulzar and others of their ilk co-existed in the single screen days when cinemas like Opera House, Bandra Talkies. etc. supported them wholeheartedly," he says.


Of course, if certain multiplexes are under-confident about the prospects of a new release with no known name and lack of any buzz or hype whatsoever, there is promotional and marketing angle playing truant as well.


Rues Sharib Hashmi, the lead actor of Filmistaan, which was super-hot in the industry circles with all around appreciation from anyone and everyone who saw it before its release. However, just when it seemed that audience would show similar love, the film ceased to find an existence in multiplexes. He says, "The reason multiplexes get rid of the small films within a week, is also because they are not promoted well. The audience is mostly oblivious of the film's theatrical release."


It is a vicious circle due to which quite a few filmmakers have returned home disheartened. As for the practicality of the situation where ticket rates could be reduced for smaller films, not everyone believes that it is as simply done as said.


Wonders Anubhav Sinha, "It is like - 'Should poorer people get potatoes cheaper?'. Oh yes, but how? The cost of production is uniform. The cost of distribution and exhibition is uniform, then how can ticket costs be different? If you notice, the exhibition sector does keep changing the ticket price based on the demand of the film, so apparently they do have some latitude. Also, the audience does end up buying way more expensive tickets when they want to, which too reflects on the spending capacity of the audience. They 'do' have it! I guess what we are talking about here is 'where is it that they choose to spend more'. But that is the audience's prerogative after all!"


For those in front of the camera though, such business talks are neither enticing nor flattering. All they are looking forward to is their work to reach audience in some way or the other. Says Akshay Oberoi, whose Pizza could barely manage a one week run even as the word of mouth was trickling in. "Small films give chances/breaks to newer talents, which is an absolute must for growth within the industry. We need people to watch our films," he says.


Tanuj Virwani, whose Puraani Jeans did find appreciation from some quarters but couldn't go past the survival line, is demanding a better platform as well. "I think quality films need to be encouraged and nurtured. Reduction in ticket rates is a good starting point. Also such films should be allotted better show timings. After all, if you have just one show at 11 AM then how can you expect such films to be able to sustain? Yes, I am all for commercial masala Bollywood films, but an intellectual gem like Aankhon Dekhi is also equally important for us to take Indian cinema in the right direction."


"See, smaller films need a bit of help. It's also a case of supply and demand. There are a huge number of films up for release practically every week so the cycle seems to move faster. I see that changing a year down the line though," says director Kabir Sadanand.


To ensure that, need of the hour could well be more multiplexes coming up across A, B as well as C centers.


"We believe there is a shortage of theatres in India and too many films compete for the same screens. This makes it hard for small films to survive," say director duo Raj and DK, "What we need is a network of theatres that screen independent films and give them a chance to succeed, the way it happens at the Landmark chain in USA. Also, setting aside a quota for 'small' films and reducing ticket prices while nurturing them would certainly help too."


Producer-director Suneel Darshan, a veteran in the business, believes the key lies in taking caution. "This is a very sensitive issue that has affected the entire Indian cinema scenario. The topic is too serious and should be approached with much care due to the ramifications it has."


Well, the pointers are all there, the grievances have been shared and solution hints have been thrown around as well. All it boils down to is big Daddies of the B-town coming together on a common platform and take this through a structured conversation so as to arrive at a solution road map while ensuring good enough channelizing of an execution approach.


Is Bollywood listening?
BOLLYWOOD NEWS
Catch us for latest Bollywood News, New Bollywood Movies update, Box office collection, New Movies Release , Bollywood News Hindi, Entertainment News, Bollywood News Today & upcoming movies 2020 and stay updated with latest hindi movies only on Bollywood Hungama.