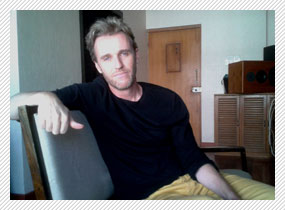 The India connection is incredible: Mikey (Michael) McCleary was born when his parents, both from New Zealand, were in Ooty. The first six years of his life were spent in Bengaluru and Chennai, and then he went home to NZ for his academics. He learnt composition and orchestration at the Wellington Conservatorium of Music and the Victoria University in Wellington.
Moving on to London, his life came full circle when he met Lucky Ali and produced - from then on - all his albums from his debut Sunoh onwards. He worked with A.R. Rahman on the production of the theme song of Provoked and the single 'Pray For Me Brother'.
It was thanks to Ali that McCleary came to Mumbai in 2007 - and stayed on. Work took a while in coming, but Mikey never found anything but warmth in the reception he got here. Today, he is known as the man who re-created some awesome retro tracks in his albums The Bartender and B Seventy (an album commissioned for Amitabh Bachchan's 70th birthday that his group also performed live in his home) as well as famous tracks like Mr India's 'Hawa Hawaii' (Shaitan) and 'Dhak Dhak Karne Lagaa' (from Beta) in Nautanki Saala!
We have a relaxed chat at his studio on matters musical and Mikey-cal. Excerpts from an interview:
Now that the music of Rohan Sippy's Nautanki Saala! has proved a whopping hit, you must be inundated with offers.
Well, I am doing Rohan Sippy's next, Sonali Cable, for which I have done four songs. I am also doing a film called Margerita With A Straw with Shonali Bose. There are a couple of projects more that I prefer the producers talk about first.
How did you fashion the three original tracks in the film, 'Dramebaaz', 'Dil Ki To Lag Gayi' and 'Tu Hi Tu'? They sound absolutely like Hindi film songs in their structure?
I made the tune of 'Dil Ki...' first, while with the other two, the lyrics and music were made hand in hand. I think film music is opening up to unconventional structures. So personally, I hope that my songs do not sound like Hindi film tracks in the typical sense! With 'Dil Ki...', the lines 'Yeh Hawa Hai' were the chorus or the counterpart of the mukhda, not 'Dil Ki To Lag Gayi', which would be like the antara!
How did you discover Saba Azad as a singer when she is an actress?
I heard her sing at a rock café and was struck by her smoky, jazzy voice. I like to go in for unique voices with individual characters. I am not after perfection and so generic singers do not interest me. Saba sang 'Dil Ki...' as well as 'Dhak Dhak...' for me.
You pepped up the classic 'So Gaya Yeh Jahaan' from Tezaab.
Yes, but that was not a re-creation. The original song with the original voice was just re-recorded with layers of guitars and at double the beat. Rohan did not want Nitin Mukesh's voice changed.
How do you choose the songs you re-create?
I have been listening to a whole lot of Hindi film music, old and new. I just fell in love with some of them. As a re-creation man, I call myself The Bartender. I have cut two CDs already. I think that the old classics are like beautiful women in old clothes that were also beautiful then, but they need new contemporary apparel too. They must be experimented with and a new twist given.
It so happened that all the songs I chose for The Bartender album were pretty big in their time, like 'Khoya Khoya Chand' that Bejoy Nambiar used in Shaitan. With Mr Bachchan, the videos of 'Kabhi Kabhi Mere Dil Mein' and 'Inteha Ho Gayi' have crossed 4,00,000 views on YouTube.
Do you have any favourites among old singers or composers? And do you listen to old music to absorb things of use in your music?
My favourite is Geeta Dutt - in my first album, I chose her songs 'Waqt Ne Kiya', 'Babuji Dheere Chalna' and 'Jaane Kya Toone Kahi'. Geeta Dutt's personal life, I think, has imparted her songs with sadness even as she is sensuous, and her vocal delivery is effortless. As for old songs, I do listen a lot but not to mimic them.
These re-creations as of now outnumber your original film work.
Yes, though I enjoy doing all this, it is a fun hobby within my music career. I would prefer to compose original music, like I have been doing in the ad world, with which I got my first break here.
How did that happen?
I went to this agency named Bang-Bang and played them my versions of five existing ads - a demo of sorts! They loved what I had done and got me my first ad for Lakme. Since then, it's been a good haul with Vodafone, Levi's, Coca-Cola, Slice and so on.
You have also produced music in films and done background scores.
Yes, I scored the background music of Shanghai and produced songs for Aao Wish Karein, Love Sex Aur Dhokha, Kahaani and David.
What else are you working on?
I am doing an album called Mikey & The Jingles. I realized that so many of my jingles did not mention the product and have been standalone short songs of a melodic nature. I decided to extend the lyrics and make them complete.
Are you planning to settle here in Mumbai?
Yes, though I would like to do international work for movies connected with India.
What about Hindi?
I will have the courage to speak it after another five years, maybe, though I understand simple sentences! (Laughs). I am taking tuitions even now. But I must mention that in my re-creations, it is better that I do not understand the lyrics but just get a gist of the general expressions that the voices give. For some reason, I always prefer female voices even for male songs. Somehow it makes the song more seductive and soothing at the same time! (Laughs)
What does your family think about your work here?
They are surprised but happy!
BOLLYWOOD NEWS
Catch us for latest Bollywood News, New Bollywood Movies update, Box office collection, New Movies Release , Bollywood News Hindi, Entertainment News, Bollywood News Today & upcoming movies 2020 and stay updated with latest hindi movies only on Bollywood Hungama.