While Janhvi Kapoor is all set to make her big ticket Bollywood debut with Karan Johar's Dhadak and the trailer itself is so impressive that we can't wait to see her on the big screen soon. Janhvi is already on her way to make her mommy proud and her little sister Khushi is not behind too. She already is making some strides as far as her career choices are concerned. Sridevi had mentioned earlier in the interview that Khushi is interested to become a model. Her cousin Rhea Kapoor has shared a picture of Khushi and titled it as 'Baby Girl'. Judging by Khushi's overall posture and make up, the pic seems to be from a professional photoshoot. She looks trendy and hip in white off shouldered top, denims, cool sneakers and a matching jacket! We can't wait to see her walk the ramp soon. In her Vogue interview, Janhvi had revealed that Sri was much more relaxed in letting Khushi enter the world of showbiz but not Janhvi as she is the naïve one among the two.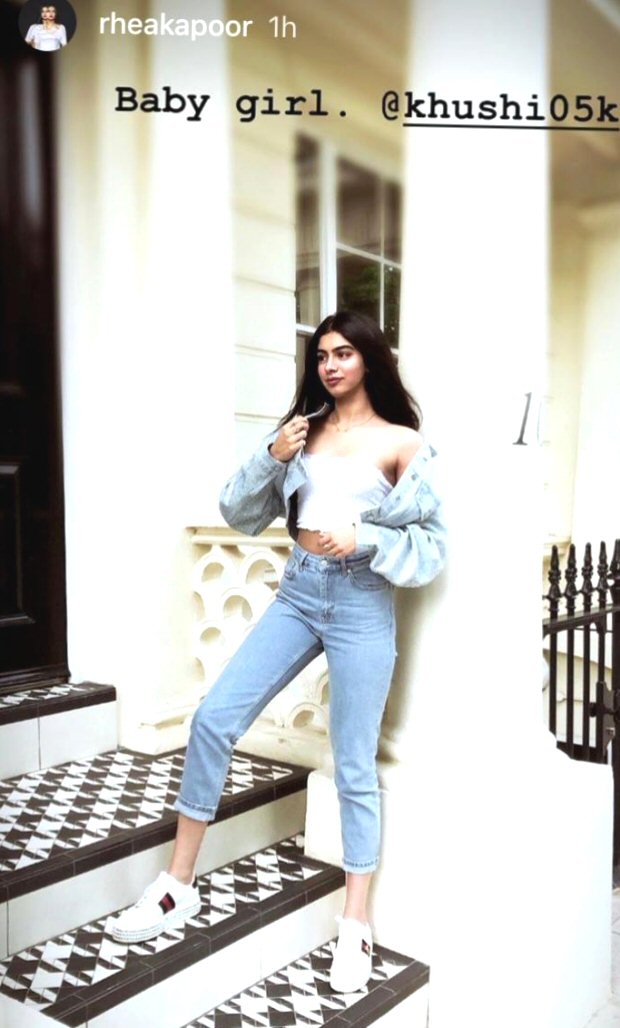 Janhavi Kapoor revealed, "She (Sridevi) was more relaxed about Khushi getting into films. She thought I was naïve, that I wasn't thick-skinned enough. She wanted us to live a more relaxed life. She loved what she did but you know it was intense." Janhavi also spoke about how Khushi and she are total fashionistas and love to dress up together. She said, "I think other than films this is something that we have bonded over. We love clothes and are roughly the same size. We enjoy dressing up. Papa would call us "three women on a mission" when we shopped. He's always been very into our look—he'd approve them or make us change. And all of those photos of mom and me before events? He clicked them!"
Check out this pic of Khushi and tell us how excited you are to see her on screen.
Also Read: Khushi Kapoor gets emotional after watching sister Janhvi Kapoor's Dhadak trailer
BOLLYWOOD NEWS