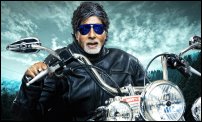 This man doesn't stay out of headlines does he? Now if we look back at Manmohan Desai's Amar Akbar Anthony, it was the first time that our angry young man got his first comic infusion in his anger. It all started with the 'mirror' scene in the film. That's the first time we saw Amitabh Bachchan doing action and comedy together that got the industry noticing his comic timings. So intense is his passion for acting and meticulous his approach to the craft, that an Amitabh Bachchan film is a rare event. Bbuddah... Hoga Terra Baap is no different. While he may appear a bit rough, his demeanour is courtly. You have to possess something utterly to push it away, and whether it is his extreme good looks, which he obscures beneath the trappings of his cultured background, which he is proud of, Mr Bachchan has an intense attraction to the opposite of whatever he came by easily. He is particularly compelled by the idea of spontaneity, but there is nothing sloppy or haphazard about him and that lends him a quality of grace. "Paa and Bbuddah aren't roles I look out for. They just come and I instantly have this feeling of - Yes I should do it", he tells me. Well, we all do the same when it comes to interviewing him, don't we? 'Yes I should do it' pops out instantly when we hear the name Amitabh Bachchan, no matter what part of the world we are in. In Part 2 of this exclusive interview UK's Harrow Observer columnist and Bollywood Hungama's London correspondent continues his talk with the man who can merely be described even today in one word: SEXY. Can we just move ahead from the 'Angry Young Man' tag for once?


I remember you talking about 'costing'... the most important facet in movie making. Has it in today's time sir surpassed content?

No, it never can. There is no harm in considering costs when you make a film. Some films, if they are extravagant in their settings, you really cannot compromise. By and large, we wanted to keep our budgets in a very controlled fashion. We made Paa in 15 crores and Bbuddah in 10 crores and sold the satellite rights for 13.5 crores. At least our costs are covered. There is a certain comfort when you do that. Everything else that happens in the theatrical is our profits. But yes, if we want to make a film that'd cost us 20 to 30 crores then we will take a conscious decision on that. If the subject demands high cost and we feel that we can recover it from the market, then we'd want to try that also.


When do you feel Mr. Bachchan that Bbuddah is much more than just the script? It's a film that needs to be produced too?

I think that somewhere in our minds we estimate that this is something that we want to get associated with, not just as an actor but as a production house too. We sense that the film has a potential of a better commercial business. That's when we decide to go ahead and do it.


With so much buzz around the film, please throw some light onto your 'twitter extended family' too. One of them said...even Salman won't punch like you when he'll be in his 60's. What sort of comments have you been receiving and is it a lesson learnt?

(Laughs) Well, I have been receiving something similar to this. Everyone's really excited about the fact that at this age I'm still doing action. I have never walked away from 'action' films. I still feel that if I can do it, I will do it. I've never looked at it the way some outsider or the media would look at it saying that I am too old to do action. If I feel comfortable doing it, not looking incongruous, etc then I'll go for it. I think that is what is reflected in the promos so far and I'm happy with that.


In Jhoom Barabar Jhoom too you used a bit of your own collection from your wardrobe....in Bbuddah, how much of the wardrobe are you wearing?

You are right! A large percentage of the wardrobe in Bbuddah is mine. The sunglasses, the watches, the suits, etc. I like wearing those clothes. I don't see anything wrong with that. I don't know why a particular set of clothing should be designated to a certain age group. I am happy wearing them and I'll wear them.


Romancing Raveena....I'm sure you never used the word 'Raapchik Raveena' did you... when you saw her?

(Laughs) No I haven't used that word. She is a terrific artist. It's wonderful to have her back. She is playing a wonderful little role in the film. I can't say much about it obviously because of the leakage of the story. But let me tell you that she is a very valuable asset to the film.


Mr. Bachchan you've been there done that...and doing that, with a vast resume of different genres and inshallah more to follow...do roles like Paa and Bbuddah make you feel on top of the world or they're just roles that come and go?

I'd rather be happy with my selection. I don't know what it is that inspires me to do these kinds of films. It's just instincts. Now if this is being looked at and deeply analysed as some kind of a much practiced decision then they are all wrong because I don't plan anything. It just happens. I am not consciously taking decisions to do something different each time. I am happy that I am getting work at this age. It keeps me occupied. I like to be in front of the cameras. I enjoy what I do and that's why I do it.


What about your experience working with Puri Jagannadh and Vishal Shekhar?

It's been a fabulous experience working with Puri Jagannadh. He has a great amount of discipline. The film was very well planned and shot within two months. And in the next month and a half we are releasing the film. It speaks a lot about the management skills and the discipline that comes from the South Indian cinema who I've always believed to be a lot more efficient in their craft. I am very happy with the music done by Vishal and Shekhar. The music is very diverse. There is a soft melody called 'Haal E Dil', there is a medley of my old songs that's club beat. Then there is a Dub-Step version too of Bbuddah title track.


And one important advice to all the people suffering from BP and Sugar?

(Laughs) Stop the sweets guys! It's not good. Stay fit and fine


Click here to read the first part of this feature
BOLLYWOOD NEWS
Catch us for latest Bollywood News, New Bollywood Movies update, Box office collection, New Movies Release , Bollywood News Hindi, Entertainment News, Bollywood News Today & upcoming movies 2020 and stay updated with latest hindi movies only on Bollywood Hungama.