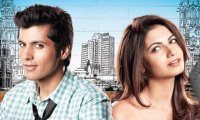 Today is a big day for Sunny Gill and ex-Miss India Universe Simran Kaur Mundi as their debut film Jo Hum Chahein releases in theatres. Jo Hum Chahein is a coming of age love story dealing with love, loss, despair, longing, betrayal and redemption. Going by the promos, the film looks fresh, vibrant and interesting.


Bollywood Hungama's Divya Rajani, talks to the debutants, Sunny Gill and Simran Kaur Mundi about their first break in Bollywood, their first meeting, their relationship status and much more.


Journey so far


Sunny: I am a model, I have done TV commercials with Dhoni and Yuvraj, I have walked the ramp for all the top designers and have even done a music video for the late Jagjit Singh, so the natural progression was becoming an actor. I had also signed a film with Bhatt saab, but that didn't take off and in the meanwhile. Jo Hum Chahein came my way.


When I met Bhatt saab, he told me "Maine bahut models ko launch kiya hai lekin tu sabse zyaada khubsoorat hai". I felt that was a big compliment coming from a senior person like him and it was very nice and gracious of him to give me a compliment like that, I appreciate it. Even now when he meets me he tells me that as he gets the right script, we will do a film together.


Simran: After graduation, I came to Mumbai and started working at a multiplex where I used to sell tickets to a lot of film stars, directors and other celebrities. I never thought that I would become Miss India as I come from a simple middle class family but as I got an opportunity to participate in Miss India, I grabbed it and I won. After becoming Miss India Universe, I felt that modeling is where I want to be and I gave my hundred percent to it. Acting was like a secret dream I had and I wanted to see myself on big screen but it was a dream I felt I might not be able to fulfill.


First Break


Sunny: This film was written for an established actor and as they couldn't work out the dates with any established actor, they decided to go for a newcomer. I gave two to three auditions and they really liked me so I got selected, after which we had a one month workshop.


Simran: I gave three auditions for this film but I had no clue about the production house, my co-actor and even which film I was auditioning for. When I gave my third audition I met the producer Aman Gill, who apparently I used to sell tickets to four years back when I was working in a multiplex. I sometimes feel that I was meant to be here, this is my destiny.


About the film


Sunny: Jo Hum Chahein is a young ambitious film; it's a film about today's generation and today's youth wanting everything quickly. They want fast cars, fast girls, fast money, they want a lot of money and they want it today and don't want to wait for tomorrow. My character is ambitious, there is no right or wrong for him and he has no boundaries as he can go to any length to make money.


Simran: Jo Hum Chahein is a journey about two people. My character comes to Mumbai to fulfill her dreams and then she meets Sunny's character, who is exactly the kind of boy she hates. He pursues her and finally she gives in and they fall in love. The film is about their journey, their emotions and their experience together. The graph that their lives goes through is just amazing.


Character in the film


Sunny: My character's name is Rohan Bhatia. He is a 24 year old ambitious boy, who comes to Mumbai to become a stockbroker because that is a job where you can make crores overnight. He wants to do a lot of things in life and that too very fast but doesn't know what he should give priority to. He is a big womanizer and runs after every girl and then one day he meets Neha Kapoor (Simran). Initially she doesn't fall for his tactics but Rohan is so charming that slowly she starts liking him. They start meeting up, going on dates and then come the ups and downs.


Simran: Neha Kapoor, my character has her own dreams and aspirations and she comes to Mumbai to fulfill her dreams. She is a model and wants to become an actor. She is very clear in her head; she knows exactly what she wants and is very level headed. She is not ready to compromise and wants to take the right way. She believes in relationships and love but has never really given any guy a chance as she feels that all the boys she has met till now have been cocky, brash and self-centered. Then she meets Rohan Bhatia and everything changes.


First Scene


Sunny: We were at Essel World and our first shot was on a roller coaster. We were sitting side by side and while we were on our way up Simran started crying out 'Mummy Mummy' really loudly, then I asked her what happened and she said that she feels really scared of heights, then I held her hand and I made her comfortable and after that she was fine. To sum it up our first day was fun and we had a blast shooting at Essel World.


Working with director Pawan Gill


Sunny: Pawan has learnt filmmaking from Aditya Chopra. He was a first assistant director on Neal 'N' Nikki and also worked on TV commercials at the YRF AD Cell and Dhoom 2 videos, before being involved in a few writing assignments for film and television at Yash Raj. Pawan's thought process is a lot like Adi and Yash Chopra and he has written an exceptional script about today's generation. When we worked together he would always get the right emotion from us. He would make us repeat the scene again and again to get it right. I have seen the film and the end result is fantastic and I really like the film.


On being a couple


Sunny: I like seeing her everyday; I like talking to her and being with her. I like being in the company of beautiful women and am very fond of her. We spend a lot of time together and we are not just good friends, we are more than good friends. I wear my heart on my sleeves and its always going places and right now she has my heart.


Simran: What is he talking??? We are just good friends.


Sunny: That might be Simran's definition of 'good friends' but we both know that we are much more than good friends.


Soundtrack


Sunny: I love the songs; the first song is 'Aaj Bhi Party' which is an apt song for my character Rohan Bhatia. The lyrics of the song speak a about Rohan's personality. It's my first big party number so I enjoyed it a lot. I also love the song 'Ishq Hoton Se' as it's a song that is soothing to the ears and the visuals are fantastic. I feel it's the perfect song to make love to. You can fall in love every time you see the song.


Simran: I love 'Ishq Hoton Se', I love the way it has been shot, it's so dreamlike and I am a thorough romantic and this is my first love song.


Expectations from the film


Sunny: I have seen the film and I loved it, its entertaining and about today's youth and their aspirations. It is exactly what Sunny Gill is and I want this movie to be a hit so I can get more work in the future.


Simran: I am expecting good things, I am very positive and the vibe I am getting is really good. The audience response to the promos has also been very great. When I saw the film for the first time, it was more than what I expected, I loved the film. It is so beautifully shot.


Fast Five


Sunny:

1. Hottest Actress in Bollywood - Chitrangda Singh

2. Simran Kaur Mundi - Beautiful

3. Career or Love - Career

4. Favourite film - DDLJ

5. Director you want to work with - Raju Hirani


Simran:

1. Favourite Actor - Shah Rukh Khan

2. Sunny Gill - Mad

3. Career or Love - if its true love, then Love.

4. Favourite film- Kuch Kuch Hota Hai

5. Jo Hum Chahein- Love it.


Watch 'Jo Hum Chahein' promo: