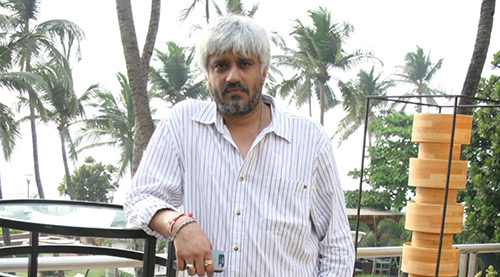 From Raaz [2002] to Raaz Reboot [2016], it has been one horror-filled journey for Vikram Bhatt, as far as making films in this genre is concerned not that he hadn't attempted this genre much earlier in his career. His fascination for creatures was seen in Creature 3D [2014] as well, he has also been the creator of 1920 franchise. Though there were talks of him converting his hit Haunted [2011] into a franchise, there has been no movement on that. Meanwhile, it has been announced by Bhatts that Raaz Reboot would bring curtains on the Raaz franchise.
Here is presenting Part II of the exclusive conversation with Vikram Bhatt.
Raaz Reboot has come at a time when one has been waiting for a bona fide horror hit for ages. You must have indeed enjoyed the challenge in hand to revive the genre, right?
If you look at it, I am the only one who is actually making horror films today, so there is nothing like reviving the genre. Ramu [Ram Gopal Varma] used to make horror films but he has also stopped it now. Other people tried that and then they left it. Main hi banaata hoon currently. That said there is no way a film belonging to this genre won't work if not backed by sound economics. Raaz Reboot boasts of that.
You roped in Gaurav Arora though as the lead protagonist, whom you had earlier launched in Love Games. What is it about him that lends you confidence in his abilities?
He is a very good actor. Also, he is a good looking boy. Unfortunately for him he got Love Games as his first film which turned out to be a dud. Failure is an event and he lucked out badly. I truly believe that he was fabulous in Love Games and now as many have said it too, he is even better in Raaz Reboot. In the world of films, we invest in talent. Everybody does that in the world that they cater to. When a corporate person looks at someone's CV and gives him a job, he is investing in him. They go by a gut that this guy can work for them. My gut about Gaurav is that he is good. He is sincere and has a future ahead of him.
On the other hand you brought in Kriti Kharbanda who lends a definite sense of Indian-ness in the way she looks and presented. Seems like a conscious call, isn't it?
That's well noticed and as you can see, it is a very important point of the film. The film is such that it could not have operated without raw Indian emotions. The core story revolved around the precise that the man she trusts (her husband) cannot help her and one who can help her (her ex-boyfriend) is someone who she can't trust. Eventually, the core of being an Indian, the power of 'mangal sutra', comes in handy.
You just mentioned about Love Games not doing well at the Box Office. Considering the fact that Raaz 3 [2012] was your last hit, you must be pining for a biggie, isn't it?
No one plans a flop. Even if you want to make something like a Love Games, you want to make a big hit out of it. You want to make a game changer. No one knows what goes right what goes wrong. No one knows what's the mood of the country when a film hits the screens. There are a lot of factors that go for or against your film. Popularity of your stars at that point in time makes a huge difference too to your film's fortunes. I don't know what happened with Love Games. I was happy with it. I thought that the suspense element was quite good; it stayed till the end. It may not have done well for various reasons.
So how do you cope up with all of that?
At the end of the day it is important to make a film that you like personally. This way, at least there is one person who likes the film (laughs). There are times when I have made a film half believing in it. That's an unhappy situation to be a part of. The only win-win situation is when you enjoy the process of making a film. I can say I enjoyed this aspect of filmmaking with Raaz Reboot.
BOLLYWOOD NEWS
Catch us for latest Bollywood News, New Bollywood Movies update, Box office collection, New Movies Release , Bollywood News Hindi, Entertainment News, Bollywood News Today & upcoming movies 2020 and stay updated with latest hindi movies only on Bollywood Hungama.