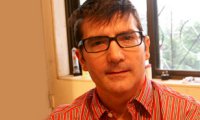 Who would've thought that some American would come down to India and change the histrionics of cinema? He was an audience himself on the sets of his own film. Quiet, observant and that knack for finer detailing has today made the Indian Film Industry take notice of him with respect and amazement. Writer and Producer Jim Furgele's one step into Bollywood has changed things. His ambitious film Delhi Belly has once again put a smile on the face of our Box Office. The movie is riding the peak of its success and nowhere has it found a bigger star than Jim Furgele. His company Ferocious Attack Cow has made its presence felt, but what really matters the most to Jim is one simple rule - 'It's not an idea that makes a movie successful, it's the people'. And as we sit to talk about Delhi Belly's success, I see it in the eyes of the visionary called Jim Furgele, that for him films are forever, pain is temporary. We are proud to have you Jim because you have truly shown Bollywood what it has never done before. As for Delhi Belly, it's got timeless and forever written all over it.


"Delhi Belly is a very Indian film to its core but has got western sensibilities"

I appreciate the fact that people think I've got the best piece of work to Bollywood but I don't know if that's true. Delhi Belly wasn't written to be made as an American film. It was going to be an Indian film all throughout, except that we did try to find some producers from the US but in vain. Delhi Belly is a very Indian film to its core but has got western sensibilities.


"The praises for Delhi Belly are still flowing"

The praises are still flowing. I wouldn't have come to India if I didn't believe in Akshat and his script. Yes, Delhi Belly can be termed as an overnight success but Akshat and I took a long time building it too.


"I was the one who made sure that there wasn't any interference with the script"

For me, it's really all about the story. But as a producer I made sure that I have a certain duty towards the script of Delhi Belly. I had to guard it and protect it. I made sure that the script wasn't going through a lot of changes or any additions. I made sure that there wasn't any hindrance in filming. We stuck to the script and all that had to be done was for Abhinay to take the shots that he has done superbly.


"I came across as a producer who was very strict, much focused and very serious"

When I came to Delhi during the first schedule that took around three to four weeks, I came across as a producer who was very strict, much focused and very serious. I was making sure that nothing goes haywire. I was that producer on the sets. One of the hairstylists decided to play a prank on someone and so she came with a water bottle from behind and sprayed him. I just lost it. I turned around and said 'Are you f*****g kidding me?' Everyone on the sets got scared but then I realised that it was a joke. We burst into laughter. We laughed the whole day thinking about that.


"If Bollywood is in look for the next Delhi Belly, they are four years behind already"

The first thing that Bollywood should not be doing is making films like Delhi Belly because if they do that, they are already four years behind. After Slumdog Millionaire, everybody in Hollywood was looking for their next Slumdog Millionaire but it was something of a worry. But a Slumdog movie can also come out of Ukraine, Africa, etc. It's not about making the next adult comedy; it's about making a next good movie. Let's concentrate on the story that hasn't been told before.


"Bollywood truly wears its heart on its sleeves"

What I love about Bollywood is the heart. I started watching a lot of Bollywood films before I came here and continued it after coming here too. All of a sudden I realised that it is about the heart, the heart that is in all Bollywood films. Bollywood truly wears its heart on its sleeves. The people here are so welcoming and kind. Right from Aamir to Kiran to everyone who I've met on and off the sets including my crew of Delhi Belly, they're all now friends for life. Also the people who I met off the sets too. I've made some really good friends and met some really interesting people in India.


"My focus is India right now. It's Bollywood for the next couple of years"

I am going back to the US after a few days to meet some people from Hollywood. There is a film I want to produce that will be shot in Romania at one point. I want to go and explore the world and shoot films everywhere. I don't know what's installed in the US for me. As of now, I am going to try my luck in Bollywood for the next couple of years. My focus is India right now.
BOLLYWOOD NEWS
Catch us for latest Bollywood News, New Bollywood Movies update, Box office collection, New Movies Release , Bollywood News Hindi, Entertainment News, Bollywood News Today & upcoming movies 2020 and stay updated with latest hindi movies only on Bollywood Hungama.