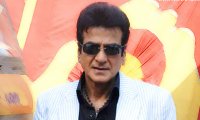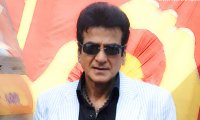 At seventy-plus, he has proved that age is just a number. Jeetendra's energy (touch wood!) is exemplary, and if his brain is whirring at top speed, his feet have - as the industry opines unanimously - always been on terra firma.


Ravi Kapoor aka Jeetendra is content with his long innings as a leading man - his first hit was in 1967 and his last success in the early '90s - secure in the knowledge that most of his 50-plus jubilees have been solo leads.


Excerpts from an interview:


Why not face the camera again?

I played Tusshar's father in a cameo in our home production Kuchh To Hai in 2003. I do not want to act for the sake of it. And I know no great roles are waiting for me though it's not that I have rigidly closed that door. I am busy enough anyway as you can see. Shobha and Ekta are running Balaji, our film and TV company, with great acumen and success, and I take all the macro level policy decisions.


And I am proud of my family. Shobha, the air-hostess I loved and married, has proved to be a brilliant businesswoman, and Ekta has slogged her way up from starting a company in my stuffy basement garage with a table and a table-fan. Her initial idea was just to make pocket-money! My son Tusshar has been very consistent too.


How do you analyze your own career?

I am very lucky to have the support of my filmmakers, co-stars and music makers. There are three reasons for my long innings - first, God, second, God and third, God. But I would also say that though I have not been rated very high as an actor, I have explored every kind of role and genre. Acting wohi hai jo public enjoy kare - that's why cinema is called a commercial art - it is commerce plus art! I have done social, romantic films, action dramas, political thrillers, comedies and costume dramas and have played all kind of roles and different kinds of old men too! The strange thing was that I became an actor by default! (Laughs)


How did that happen?

My father, Amarnath Kapoor, was a supplier of artificial jewellery to the film industry, and I was the delivery boy to the studios after school, meeting the likes of Saira Banu or Lalita Powar. One day I told my father that I want to watch a film shooting and he requested V.Shantaram-ji to allow me. Shantaram-ji was strict about visitors, so he suggested that I do bit roles so that I could get on the sets! And so I was cast as one of the many princes in the song sequence 'Tu Chhupi Hai Kahaan' in his Navrang!


But soon, our business ran into trouble. As I was not anyway keen on higher studies, films seemed a good, zero-investment way of earning. I was given a small role in Sehra though I made a mess of my first scene that needed 30 retakes. I still remember that line, 'Sardar, dushmun tiddidal ki tarah goliyaan barsaa rahe hain!' and I thought that I was finished before I began, but Shantaram-ji somehow liked me and cast me in the lead opposite his star daughter Rajashree in Geet Gaya Patharon Ne. I was chosen from the six boys who were on his role-call. The film was a jubilee hit.


Why did you have to struggle even after this?

Actually, the films I signed with big names like Mohan Kumar, Mohan Segal and Pannalal Maheshwari never took off. I was back to square one! Then Devi Sharma, a big filmmaker, wanted to make a small movie but I thought that it would harm my career. Meanwhile Sanjay Khan has came in and breezed ahead. A friend suggested that Sharma-ji was more amenable after a drink and I invested in a bottle of whiskey and suggested a top set-up with Rajashree and Shankar-Jaikishan, as I knew Jaikishan well. I was to be paid Rs 55,000.


But then there was a problem! Rajashree's manager was stuck on her market price of Rs 3.5 lakh, and S-J on 3.25 lakh, and as it happened, Sharma-ji was stuck on Rs 25,000 less for both. I quietly told his production controller Baldev Pushkarna to pay them that difference from my own remuneration. So I did the film for just Rs 5000! Gunahon Ka Devta did reasonably well.



And so it was Farz that made you.

Farz came to me after all the top heroes had rejected it! I needed the money for my sister's marriage and they only needed a 35-day start-to-finish schedule. The film became one of the biggest hits of the year!


It also established you as a musical star and a Jumping Jack.

Laxmi-ji drummed out 'Hum To Tere Aashiq Hain' and two more tunes on my second-hand Fiat while we drove back to the suburbs! I hit it off from day one with Laxmikant-Pyarelal, and though one composer tried to get close in the '70s to me, I was very comfortable with them. We did more than 70 films together and their music was amazing even in my biggest flop Deedaar-E-Yaar, which as a film almost wiped me out in the '80s! I had no knack for music and usually disliked songs that proved major hits, though! In the '80s, however, Bappi Lahiri came in for a while as L-P were too busy and filmmakers disliked coming to Mumbai and waiting for their time. The enterprising Bappi-da would take his harmonium and come to Madras (as Chennai was known then) and even delivered hits (Laughs)


What was the idea behind your trademark white shirt, trouser and shoes?

There were two reasons: a man looks slimmest in black. I always gave importance to fitness, so I thought that if I could look slim even in white, I was truly healthy! As for the shoes, I think black ones on white would have looked ridiculous, especially when singing to the heroine in the gardens of Ooty!


You had a special relationship with the South all through.

Yes, the two films that bailed me out after dark patches were L.V.Prasad-ji's Bidaai in 1974 and Himmatwala in 1983. Prasad-ji was always like my second father, and I even addressed him that way - he taught me so much about life, work ethics and principles as well as cinema during the many films we did together. Bidaai has a special place in my life - I had told Shobha that if it proves a hit we will get married on the same day. And we did. On my wedding day, I also signed 5 films!


I am also grateful in particular to top South names like Sridevi and Jaya Prada who worked with me. I remember Sri being such a great dancer that her first rehearsal would be perfect. In such cases, most co-actors continue rehearsing with an assistant, but she would keep doing the steps with me herself till I got mine right!


A remarkable point is that while most heroes have hit pairings with one or more heroines, you had over half-a-dozen such jodis - Babita, Mumtaz, Hema Malini, Rekha, Reena Roy and Neetu Singh too.

I am very grateful to them all. And I must mention Nanda-ji - that big junction where all we struggling heroes would go for that crucial break with a big heroine - we had three hits together in Parivar, Dharti Kahe Pukar Ke and Badi Didi.


Which films have satisfied you as an actor?

There are many. Rather than films, I would mention directors - V.Shantaram-ji, L.V.Prasad-ji, Gulzar and J.Om Prakash. I loved working with K.Vishwanath-ji in Sanjog and my friend Rakesh Roshan in Khudgarz.


What do you think of cinema today?

There are amazing films being made like Kahaani and Vicky Donor. But I do not respect the pseudo-intellectual brand of cinema, which existed in my time too. It is very difficult to make any kind of commercially successful film and it's high time that this is recognized.