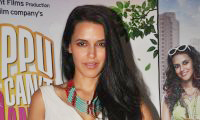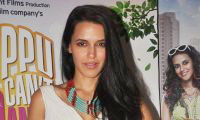 Starting her Bollywood career with bold movies like Julie and Sheesha, Neha Dhupia floored us with her performances in films like Ek Chalis
Ki Last Local, Mithya, Dasvidaniya, Raat Gayi Baat Gayi and Phas Gaye Re Obama. This beauty queen has acted in films of almost all genres right
from thriller to comedy, action and drama and now she is back with her next rom-com Pappu Can't Dance Saala, which opens in theatres today.


Bollywood Hungama's Divya Rajani talks to the gorgeous Neha Dhupia about her film Pappu Can't Dance Saala, her comrade with co-star Vinay
Pathak, her upcoming films and lot more.


Tell us more about your film Pappu Can't Dance Saala?
Pappu Can't Dance Saala is the story of this Marathi mulgi Mehak Malavde and Vidyadhar Acharya, who is a pharmacist from Banaras. Mehak is a
chorus dancer in Bollywood movies, who comes to Mumbai with her dreams and ambitions. They have both come to Mumbai to fulfill their dreams and the first and
foremost struggle they have is to find an apartment to live in. They end up becoming neighbours and that's where the comedy of errors starts because they
both hate each other.


How did you prepare for the role of a background dancer?
I started my preparations right from the time I was offered this part. I observed the background dancers of my films and stage shows very carefully, I saw
the way they dressed, the way they moved and the way they behaved. I realized that they are all strong willed women, they know what they want, they are
ambitious and wont take any nonsense from anyone. They are out there to make it happen and they do make it happen and they are amazing. Even when I was on
sets, I would hang out a lot more with them. The girls who have been cast in the film as my friends are real background dancers, I would sit with them even
after the shot was over and for me that was my biggest preparation. But most importantly I listen to my director because Saurabh is such an able writer,
director and actor.


What about the costumes and make up?
My look in this film is very grunge. I kept my hair curly and coloured it red and wore a nose ring with lots of kohl in my eyes. The clothes are very
basic, it is like a bunch of things put together, its not high fashion but its more relaxed and easy going. It is very different from any look I have sported
before.


Any particular look you really liked?
Saurabh has introduced me beautifully in the film. My introduction shot has me as a background dancer in a school uniform, its one of those Kendra Vidyalaya
kind of school uniforms, I am in a salwar kameez and a duppatta with pig tails. Its one of the coolest getup I have ever done on screen.
In this film, you are working with the funniest people in the industry there might have been some funny instances
Rajat (Kapoor), who is playing a choreographer in this film went for dance rehearsals before the film started and ended up breaking his leg during one of the
rehearsals. It was funny as he shot the entire film with a broken leg and every time the shot had to be cut right above his ankle because it was in a cast.
It was really funny when it would actually happen as he would move his arms and not move his legs and show us the shot.


This is your fourth film with Vinay Pathak, what kind of rapport do you'll share?
We share a great chemistry, we are such good friends. It is just so amazing to be with him and be around him, it was such a nourishing experience. This is
the first time I have been romantically paired opposite Vinay so it is a different feeling but we have so much fun together. He is funnier on set than he is
in person.


You have become a regular with the Vinay Pathak-Rajat Kapoor-Ranvir Shorey camp…
I do a film only if it has a great script and the reason I do films with them is because they have great scripts. I did Phas Gaye Re Obama, which was
directed by Subhash Kapoor and he wasn't like a part of the gang but I am just so proud of the fact that they offer me great scripts and different
characters. It keeps me going as I like scripts that get me thinking and make me work harder than I usually do so those are the things that nourish me a lot.
Your last film Gandhi To Hitler didn't do well so what are your expectations with this film?
I don't know, I never have any expectations so I am never let down. Whether a film does well or badly at the box office is not in my control. I never take
credit for anything doing well and at the same time I don't beat myself up or go into state of mourning. But yes Pappu Can't Dance Saala is a film
that is very dear to my heart and I hope that people enjoy watching it as much as I enjoy being a part of it.


Which are your upcoming films?
After this I have a film called Maximum with Sonu Sood and directed by Kabeer Kaushik, which should release in February next year. I also have a film
called Raftaar with Emraan Hashmi and I Am 24 once again with Saurabh Shukla.


Fast 5
Favourite Co-star - Vinay Pathak and Rajat Kapoor.


Favourite Designer - It's a long list…Rohit and Rahul Gandhi, Shivan and Naresh, Ritu Kumar, Diane Von Furstenberg (DVF), Alice and Olivia...I can go
on and on.


Best Dressed Actor and Actress - Actor would be Shah Rukh and Ranbir Kapoor and actress would be Sonam and Deepika.


Hottest Bollywood Actor - John Abraham, Akshay Kumar and Arjun Rampal.


All time favourite movie - Dilwale Dulhania Le Jayenge.