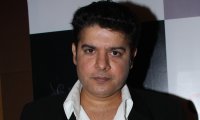 Housefull is a success and a huge money spinner at that. Still, rather than being ecstatic or seen jumping with joy, director Sajid Khan can be caught in a rather calm and composed mood. Maintaining the stance of 'I never had doubts around the success of Housefull and hence I stay on to be what I was before the film's release', Sajid Khan replies to some of the most pertinent queries that have come his way in the recent past. In the first of this two part conversation with Joginder Tuteja, Sajid Khan talks about the sheer differentiation factor between a hit and a flop film, the challenge that lies ahead in the biggies that would follow in 2010, some brickbats that he has faced for the climax of Housefull and rumours of him antagonising Karan Johar.


On the success of Housefull

The film has done exceptionally well across the world, People are watching it again and again. Eventually, it is business which is the most important factor because it indicates that people are liking the film. Business indicates that the film has become a blockbuster. I have been to cinemas and I can see that audiences are having a blast. My quotient is that blockbuster film means that people have liked it. A flop means that people haven't liked it. It's as simple as that. No good film can ever flop. Also, no bad film (with rarely an exception or two) can ever be a hit.


On his confidence as a filmmaker

I am extremely confident about the kind of films that I made. I don't think I would ever be stepping into a zone where I am unsure of a film's success. It should not be tricky. People expect general entertainment from films. I would rather play safe and make a blockbuster rather than not being safe and have my investors worrying.


On antagonising Karan Johar by stating that his Housefull will be the biggest money spinner of the year, hence pushing aside My Name Is Khan

I have not antagonised Karan. He and I have been friends for 15 years. Same holds good for Shah Rukh too. I would never ever dream of saying something that would hurt a friend. I am friend's friend. What happened was that on being asked whether Housefull would be the biggest hit of the year, I said 'Yes, I am confident'. When I was further told that so far, MNIK was the biggest hit with Rs.74 crore in India, I again said that at least in India, Housefull will do much more. I also said that in overseas I had no chance because there, Karan and Shah Rukh are a multi billion dollar entity. By no means I was looking at antagonising anyone. And if I have done that, then I am sorry. In fact Karan and I spoke about this two days back and had a hearty laugh over it.



In overseas I had no chance because there, Karan and Shah Rukh are a multi billion dollar entity

On challenging biggies like Kites, No Problem and Tees Maar Khan by marking Housefull as the biggest hit of 2010…

By no means am I challenging the makers of these films. If these films do well and break Housefull record then that would be good. It would mean that money is coming in. The matter of the fact that nobody in the industry will ever be happy with a flop, whether it's his own or someone else's. Everyone should be good and happy with films working well. When 3 Idiots did so well, I was so happy. Today, with Housefull doing well, it has sent positive signals that audience are coming back to theatres.



The matter of the fact that nobody in the industry will ever be happy with a flop

On the climax of Housefull which has seen quite some criticism coming his way

I can completely agree with that. Still, I would say that I am proud of the film's climax. See, I could have taken a typical climax where people were hanging from houses or could have got a similar effect by indulging into group slapstick. I didn't do that and thought of laughing gas episode. Now the fact is that whether audience have liked it or not, they have certainly not ignored it. This is something about which I was very sure. I knew that people would talk about it. It's a very performance oriented climax. When have you ever seen characters mouthing off serious lines with a laugh? Even in my future films, I would have a similar approach of something that has been never seen before.


(Visit this space again for part 2 where Sajid would talk about his perceived war with critics, fulfilling the promise of giving his actors the biggest success of their career, accusations of being termed as arrogant and why it doesn't matter to him if he is not winning many friends in the industry)
BOLLYWOOD NEWS
Catch us for latest Bollywood News, New Bollywood Movies update, Box office collection, New Movies Release , Bollywood News Hindi, Entertainment News, Bollywood News Today & upcoming movies 2020 and stay updated with latest hindi movies only on Bollywood Hungama.