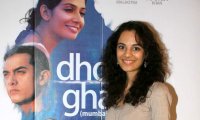 The very name of Kriti Malhotra may or may not ring a bell in your ears. But when one speaks of Dhobi Ghat, one is all ears for this most awaited film of the season, starring Aamir Khan, Prateik Babbar, Monica Dogra, Kittu Gidwani and …Kriti Malhotra! Kriti might be the least known name in the lot but the actress is unpredictable, super confident and loads of pep, zest and zeal…in short has all the 'ingredients' required to make a inimitable mark in Bollywood. Satish Sundaresan of Bollywood Hungama caught up with this twinkling star and came out with the conclusion that Kriti Malhotra, who makes her grand debut in Dhobi Ghat is definitely a super(b) star in the making'! Over to you, Kruti!
To start with, if a person does any Google search your name 'Kriti Malhotra', it shows almost 3600 'valid' results. How does one search you?
(Laughs) I did the same thing and it was awesome. In order to search me, please key in the following keywords 'Fun loving person + a person who likes to do different things'. (laughs again)

Search for the key words 'Fun loving person + a person who likes to do different things' and you will find me!

And what different things can be associated with you?
Right from doing a BA in Geography. 'Who does a BA in Geography' is the reaction that I got from everyone. But, I used to love doing Maths. Someone who loved bikes, that's why I was in Roadies, only due to my love for bikes and traveling on two wheels. I have always been interested in fashion. That's why at one point, I also wanted to fly with some airline as an air hostess. I did a diploma while I was studying. I then joined MTV, producing and directing the programme called 'Style Check'! I was also interested in the editing process. After all this, I wanted to gain do something different, I started working with a fashion designer for feature films. And then, eventually, here I am…as an actress!
Was acting always wanted to do?
Even though being on film sets, I never wanted to act. Lot of people say that 'Acting is an easy job'. But, trust me… that's just not the case. I can say so, because, I have got an hands-on experience after having worked in films. I have been very realistic; I never had any 'misconceptions' about me getting into acting. Even though my friends were insistent, I was not ready for it.

I never had any 'misconceptions' about me getting into acting

Which all Hindi films can we get to see your fashion 'creations'?
Sarkar Raj, Delhi 6, Action Replay, No Problem, Michael- a Dutch film etc…
How did you react when you got to know that you have a 'Cinematic Giant' named Aamir Khan, and that too in your debut film?


I think when I got to know he is in the film, I was already in the film. When I got onto the film, it seemed liked Kiran Rao didnt want an 'actor' per say for Yasmin's part, she wanted somebody as common as you and me. Initially, I thought that I could pull it off, as I thought of it to be some festival film, but when I got to know that even Aamir Khan is there in the film... I was almost speechless and breathless! And come to think of it… it was a film in which Kiran Rao was directing Aamir Khan! You can imagine my situation, as to what I must have gone through, when the recent article came in the newspapers as to how the top heroines were vying to be Aamir's heroine in one of his forthcoming films. Even though I had seen many of his film, but to have a film in which Aamir is your co-actor, its something that's beyond words. My heart was pounding and I was constantly telling myself to calm down…
... And chant 'Aal Izz Well'?
(laughs) Ya right! I was wanting to get over the fact that Aamir Khan is sitting in front of me. And to be able to perform, I had to just block it all out. Full marks to Kiran to make the entire process sail through so swiftly.

Full marks go to Kiran to make the entire process sail through so swiftly

Tell us about your character in the film?
She is called Yasmin and she is a Muslim immigrant to Mumbai from Malihabad in Uttar Pradesh. And how the cab driver strikes up a conversation with her as he too belongs to the same place. And how she connects with different kinds of people. And even the sea breeze is so different here, as she has ever been to the sea! I just want to make Mumbai my home.

And even the sea breeze is so different here, as she has ever been to the sea!

How is your character connected to Aamir's in the film?
There is a love triangle between Aamir, Monica and Prateik, whereas my character is connected only with Aamir's character, who is a little eccentric and reclusive, who likes to be by himself. He connects with Yasmin and builds a relationship with her.
We all know what kind of a 'Perfectionist' is Aamir Khan. With him in the picture, what kind of homework did you do to get into your character?
Actually speaking, it's a Kiran Rao's film right from the word go. Kiran was extremely sure of what she wanted. For playing the character, she did not want me to even rehearse at all. There was no homework as such. She wanted a very 'raw' performance; she even said that "If you rehearse twice, it will look like what you are going to say, and I don't want that". She just wanted the scene look like a natural conversation. That way, I didn't have to go through hours and hours of rehearsals. We just took each scene as it came.

For playing the character, Kiran did not want me to even rehearse at all

It's a very obvious thing that almost all of the recent films which were India's entry to the Oscars had the Aamir Khan connection in one way or the other. What are your hopes about Dhobi Ghat?
I am really hoping that this should get us the Oscar! On or crew list, we have a two-time Academy award winner, plus the film's been received pretty well at the festivals.

I am really hoping that this film should get us the Oscar!

Are there any song/s in the film?
There are no songs in the film, only a background score, which stays with you, even though the musical feel is international.
Lastly, how would you describe Dhobi Ghat in just one word?
Beautiful!
BOLLYWOOD NEWS
Catch us for latest Bollywood News, New Bollywood Movies update, Box office collection, New Movies Release , Bollywood News Hindi, Entertainment News, Bollywood News Today & upcoming movies 2020 and stay updated with latest hindi movies only on Bollywood Hungama.