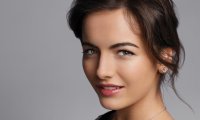 She was ranked number 1 in the list of Most Beautiful Faces 2010 and with good reason. She is after all drop-dead gorgeous. We are indeed talking about
Camilla Belle who has featured in several Hollywood films like When A Stranger Calls, 10,000 BC, and The Patriot. Camilla was in town recently
to speak about her latest film Speedy Singhs and we get you all the dope on what this Hollywood beauty feels about India, Bollywood and of course
Speedy Singhs.


Camilla, I believe this is your first visit to India, how has been the experience so far?

Yes…it's my first visit to India. We arrived last Thursday and it's been quite a whirlwind trip so far. On Friday, I had a day off so I was able to see as
many things as possible in Delhi. I explored the monuments, the local markets and even went on a rickshaw ride. India is a country I have always wanted to
come to ever since I was a little kid and to be able to come here to promote my film is something really special. I hope to come back again just as a tourist
so that I can see more of this beautiful country.



India is a country I have always wanted to come ever since I was a little kid and to be able to come here

to promote my film is something really special
You even visited the Golden Temple in Amritsar, how was that experience?

It was really overwhelming, it's simply beautiful. It ended up becoming a bit chaotic as Akshay was with us and the crowds went berserk seeing him.


Coming to Speedy Singhs, how did you bag the film?

I received the script and when I went through it, there were quite a few elements that I could relate to one being that I too come from a multi-cultural
background. My mom is a Brazilian. Being raised in a Brazilian household in Los Angeles, I too had that 'Who Am I?' question which is something the character
of Rajveer too experiences in the film. Besides, I want to be known as a global actor and this film gave me an opportunity to work with Indian and
international actors which is why I said Yes to it.


Tell us a bit about your character Melissa…

Melissa is a law student and she happens to meet Rajveer (Vinay Virmani) by accident when her brother (Rob Lowe) ends up becoming the coach of Speedy Singhs.
They bicker at first and then a friendship is formed between Rajveer and my character which eventually results in a beautiful love story. She comes in handy
and helps Speedy Singhs overcome certain cultural differences in Ice Hockey


How was it doing the song and dance sequences in the film?

I had so much fun. Vinay knows that. I was excited about the dance rehearsals to learn some new moves. I have been a dancer my whole life and to learn a new
form of dancing was really exciting for me. I had an absolute blast filming all the dance sequences.


Also it must have been quite a blast having someone as funny as Russell Peters on set…

Yeah Russell was very distracting. But the thing is at times its useful having people like Russell on set especially when you are shooting in tough
conditions. He just knows how to light up the atmosphere in a jiffy through his wisecracks.


Did he pull a fast one on you?

No he didn't. He knows he can't mess with me so he doesn't. He knows I'll give it right back (smiles).



Russell knows he can't mess with me so he doesn't. He knows I'll give it right back
And what about Akshay? Did you get a chance to interact with him?

I didn't get to be in any scenes with him unfortunately but I first met him when he came to shoot his scene. Vinay and Ajay speak so highly about him that I
was really curious to meet Akshay and he did live up to my expectations. He was so gracious. I remember when we were shooting at a gurudwara in Toronto and a
lot of fans came up to him and he was really polite with all of them.


Before working in Speedy Singhs, had you seen any Bollywood movies?

I definitely was aware of Bollywood films and had seen a few films here and there. When I arrived in Toronto for the shoot of this film, I was relaxing in my
room one day watching TV and they happened to show Dhoom 2 and I was hooked. The fact that its shot in Brazil made me happy and I even went and put
some of the songs onto my iPod.


Finally what are your future projects?

I just wrapped up a film called Open Road. It's a Brazilian- American co-production and I came on board as a producer as well. We are editing it now
and hopefully we'll take it to film festivals next year.
BOLLYWOOD NEWS
Catch us for latest Bollywood News, New Bollywood Movies update, Box office collection, New Movies Release , Bollywood News Hindi, Entertainment News, Bollywood News Today & upcoming movies 2020 and stay updated with latest hindi movies only on Bollywood Hungama.