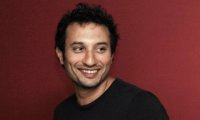 Given the time he has taken to direct his second feature film, you might think Homi Adajania is thinking of slowing down. It's another thing that he is 'rolling in the deep' with his passion for scuba diving, writing books and a lot of time asking the question 'what to do next?' It's even strange to hear Adajania discussing morality like this. After all, this is a man who famously came of age as a filmmaker after directing his debut film Being Cyrus. I interviewed him over the phone and he sounded sociable. A day later, I socialise with him at the Mini Cooper Cocktail bash. In person he is so charming that girl's kiss and greet him and do not allow you to complete your conversation with him. I am talking to Homi and six beautiful girls push, propel, hug and do the honours till I found myself sipping my Beer in one corner looking at a scene completely lifted out of a Bollywood film. Such is Homi's impression. He is a dapper dude. Now I understand his penchant for melodrama and complex narratives, and his gift for writing terrific roles for women. And even though we haven't seen much of Adajania's work on screen, something tells me, whatever it is he is doing, he is doing something right. Yes, you are right! It's Cocktail ..... and Homi's concoction in this Part 1 exclusive.
For a man so obsessed with scuba diving, how well does he handle the subject of love?
(Laughs) He handles it pretty well as he immerses himself deeply into it, as he does into the deep.
I'm going to be straight up. What took you 6 years to decide on your second movie, of course, your first in Hindi language.
Nothing really yaar! I am not the person who just sits down and pre-meditates what I'm going to do next. I don't plan my actions, yes, sometimes it backfires too. I didn't even plan on becoming a filmmaker or go to some film school, etc. I was writing some book at that time and suddenly got this short story and decided 'chalo, let's make a movie out of this'. Being Cyrus was born. I went back to the rest of my life till my producer Dinesh Vijan pulled me and said, 'Enough with your 'rest of your life'. It's time you come back and make another movie'.
I hear you weren't sure if you could direct Cocktail at one point.

Dinesh Vijan was sure I could pull off Cocktail but I wasn't. It wasn't my space and that's what worked for me, Dinesh thought. I had no f*****g clue what I was falling into. I didn't understand the format in which he wanted to tell the story. But the reason I was shying away from it was exactly the reason I wanted to come back to it and direct Cocktail. I could've easily made Being Cyrus Part 2 but then what's the point?
So tell me, what gripped you when you read the story written by Imtiaz Ali?
I think it's the angle of love and the blurry line between love and friendship in the story. It's not that I knew it wasn't my space to direct this film. Today I'll tell you Cocktail is my space and tomorrow if I do a Japanese movie you'll say that's my space. Cocktail wasn't in my comfort zone but that uncomfortable approach attracted me to the story. I like playing with the emotional graph of the characters. The story by Imtiaz was very real and that's what I liked. It wasn't pretentious. I find a lot of traces of myself in Cocktail.
Forgive me if I am a little blunt on this one but did you get a kick on your b***s by your wife after she found out the truth about your traces in real life?
(Laughs) Nice one! Nothing like what you've mentioned ever happened. My wife knows exactly what love is and knows my concept of love too. I got a kick on my b***s for many other things but not for this one, I'm pretty sure (laughs).
Coming to know that this is what Saif does best - play the lover-boy - doesn't the lover-boy look too old now?
This is Saif doing what he does best yaar! I genuinely feel that there is an ease with which he plays such characters because somewhere there is a boyish charm in him still that he carries with him effortlessly. It's inherent. Saif is a very spontaneous actor. He doesn't sit and follow the method. He has got it in him. He can act on impulse. He doesn't try too hard. He is supposed to play an older character than the leading ladies. He doesn't want to shed the boyish madness in him in Cocktail. He doesn't want to grow up and thinks he is living in this eternal youth of his. It's that very reason that his mother played by Dimple Kapadia gets upset with him.
Tell me something about your obsession with Dimple Kapadia now.
(Laughs) I love her man! She is pure joy to work with. She is an absolutely brilliant actor and is totally under used I feel. She has a lot more in her that I want to explore in my future movies. She has a great energy on and off the sets. She is great fun to work with. She is beautiful.
You need to choose between the two now. There was this beautiful 'Crowning Glory' soap advert that came out in the 80's and then her coming out of the water in the movie Saagar.
Oh God, this is a trick question bro! The first time I ever saw her was in my film Being Cyrus. She was in shock that I had not seen any of her movies (laughs). I haven't seen Bobby still, can you believe it? I don't want to. I have my Dimple Kapadia in my head and that's what I like.
Are you now clear in your head that you won't take time for your third movie to be announced?
You are spot on! Let me put it this way. I will not stop doing other s**t I do in my life but yes, I am pretty clear that I will be making another film in the next two years.
Watch this space for Part 2
BOLLYWOOD NEWS
Catch us for latest Bollywood News, New Bollywood Movies update, Box office collection, New Movies Release , Bollywood News Hindi, Entertainment News, Bollywood News Today & upcoming movies 2020 and stay updated with latest hindi movies only on Bollywood Hungama.