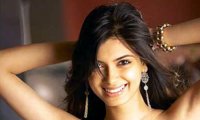 Often a young actress will deliver a performance so strong, so mature she is feted as the Next Big Thing. But the description is usually used more in hope than expectation. We all
know that many years and many films can pass before she'll live up to her early promise. But the question is – Will her debut film Cocktail prove that she is that 'thing'
Bollywood was in search of? Actually, close observers have been saying this about Diana Penty for considerable time now, and with 'Tumhi Ho Bandhu' and 'Daaru
Desi' showing her natural prowess as an actor, Penty's burst-out seems more overdue than just sensational. You have a sense that she can move on and play other parts and try
other things. To find out more, I met the pretty 'pencil-like' personality at the Illuminati Films office as she was in between her make up or as we say 'the last minute touch-up'. Her
brownish black hair straightened, long, and so were her legs. Wrapped in denims and a brown top Diana looked like a princess in disguise. She was wearing that nervous smile like any
debutant actress, but my job was to bring that laughter back, and so I did in this Part 1 exclusive of Diana Penty's interview where she diversifies from the ramp to the big screen
that's about to change her fortune. It's a Cocktail special!
You look quite nervous. Are the other journalists troubling you with their questions?
(Laughs) No, not really. Who did you hear from, depends. But I was a lot nervous yesterday to be honest. Today a little less on my second day of promotions.
You know you'll be getting a lot of brand endorsement offers for vodkas, whiskies and beers post the 'Daaru Desi' hangover...
(Laughs) Oh is it? I am not going to endorse any alcohol and I know that. So I am happy endorsing 'Cocktail' as of now (laughs).
Beauty lies in the eyes of the beholder. Who spotted you first?
Elite Model Management was the agency I was associated with. They were the first ones who spotted me. I started modelling and did it for five years. That's when people around me
started to tell me I should consider acting. I gave it a thought but not much that back then. I was pretty much enjoying everything. I was travelling a lot too. I stayed in New York for a
bit and did two seasons there at the fashion week. Before that I was in Paris too and making money and it is quite a high when you are minting money at that stage.
So, was it Homi or Dinesh Vijan or Saif? Who made the first move?
(Laughs) I was in Rome when I got a call from my manager saying that Illuminati Films wanted to meet me for my next project. I was scheduled to be back the next day. I went and
met Dinesh and Homi who informed me that I would be auditioning for my role, which I did.
And how did the audition go?
After three to four takes, it rather goes well I thought. I was so damn nervous. I couldn't remember my lines. I was confused whether I should like going with the feeling, etc. It was the
next day I was told that I was selected for the role of Meera in Cocktail.
And then pop opened the champagne bottle, didn't it?
(Laughs) No. It didn't go 'pop'. You know what? It's still not sunk in yet. The first week I was like – Did it happen so quickly? Is it really happening?
And then after that, 'mirror' became your best friend.
Mirror has never been my best friend (laughs). I'm not 'looking in the mirror all day long' kind of person.
So, can ramp wait for films?
I've done a lot of ramp for five to six years. But the day I decided to venture into films, I knew I will not return for quite some time. I wanted to give hundred percent to films. I am
doing that at the moment and Cocktail is a start to the many things in-store for me later.
What about Hindi? How was it learning the language and some swear words?
(Laughs) I worked on my Hindi a lot and I am still working on it. As far as swear words are concerned, my Hindi teacher won't be happy to learn that. She is too politically correct.
Right from the day I signed the film, my Hindi lessons started and it's still going on.
You've given birth to the 'Friendship Anthem' – 'Tumhi Ho Bandhu'.
Wow! It's so good. I never knew you named it 'Friendship Anthem'. But I did let my hair down during the song. I worked really hard on the song though because these guys are pretty
professional and anal about things. I spent a lot of time training for the number. Dancing wasn't my cup of tea ever. By the end of it, everything came so easy. I did Kathak,
Bharatnatyam, freestyle, etc. A little of everything helped to free my body.
Was London welcoming?
Oh yes! I love London. It was not my first time in the city though. I am happy to have started my first schedule there. Until I met New York, London was my favourite city. I have lots
of friends and family there. It's famous for 'fish n chips' and I have had my experience of the slimy fish going down my spine (laughs).
A for 'acting'. You have to pull it off, a big debut and too much at stake. How did you handle all this?
Illuminati Films is the most perfect production house to work with and Cocktail is the most perfect project for me to kick start my Bollywood career. I've loved Homi's work in
Being Cyrus. He is a great director. They've really looked after me – Saif and Deepika, being my seniors. The script was perfect. When I heard the story, I really wanted to
play Meera. It was a no-brainer. I wanted to do the film, come what may.
Watch this space for Part 2
Watch Promo: Cocktail
BOLLYWOOD NEWS
Catch us for latest Bollywood News, New Bollywood Movies update, Box office collection, New Movies Release , Bollywood News Hindi, Entertainment News, Bollywood News Today & upcoming movies 2020 and stay updated with latest hindi movies only on Bollywood Hungama.