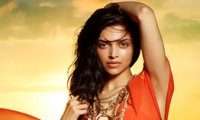 What do you call someone who is blessed with eternal beauty, an electrifying smile, who stands tall (literally), and is the heart throb of millions alike? Well, before you start rattling for names, let us tell you that we are referring to the one and only Deepika Padukone. After her last hit Desi Boyz, Deepika is now back with Cocktail, a wholesome entertainer that is bound to have the cinegoers flocking back to the silver screen again.


Satish Sundaresan of Bollywood Hungama caught up with this gorgeous beauty for an exclusive chat. Here's presenting the first part of the tete-a-tete with Deepika Padukone…


Cocktail is surely one of your biggest films that is highly anticipated. So with the film's release just around the corner, what's the feeling right now?

Frankly speaking, I actually can't even remember the last time when I was so nervous around the release of my film. It's true that I do get nervous before my film's release, but then, that nervousness just lasts for a day or two before the release of the film. But, this is the first time that I am feeling so nervous before the release of my film!


Why is the film titled as Cocktail?

It's a cocktail of emotions and personalities. While, the film is essentially a love story, there are bubbles of comedy and romance. All in all, it's a cocktail of three different personalities coming together and becoming very close friends.


Besides Cocktail, you have worked with Saif earlier in films like Love Aaj Kal and Aarakshan. You also have Race 2 coming up with him. Tell us how is he as a co-star.

I have always been fond of Saif as a co-star. Besides being one of the finest actors that we have, he is extremely spontaneous and funny too. The first word that comes to my mind when I think of Saif is 'unpredictable'.


The one secret about Saif that no one knows is…

(Laughs) Actually, I know a couple of them. But, I am not telling.


Tell us about your character Veronica in Cocktail.

Veronica is someone who grew up partially in India and then moved to London. She comes from a very rich family but a broken home. In that sense, her childhood and upbringing has never been in the conventional 'perfect family', which is also the reason for her to be emotionally disconnected. But, the fact is that she is extremely confident about her personality and will come across as someone brash and a bit over the top. Deep down, she is a very sweet girl who craves for normalcy as she has never experienced that in her life. In short, she lives life 'Queen-size'.



What was the biggest challenge that you faced while playing Veronica?

Firstly, it was whether I will be able to justify the character of Veronica. The second challenge was NOT to act as Veronica, rather play the character very naturally. I wanted Veronica to look as real as possible. I did not want to make Veronica look like a caricature.


You played a similar kind of role in Karthik Calling Karthik. How different are both the roles?

Both of these roles are completely different. Shonali (my character in KCK) was slightly more grounded than Veronica, who is in comparison, is a bit heady, spontaneous and unpredictable.


Long time back, you said that you generally like to do roles that you can relate to. Did you find any similarities between herself and Veronica?

For some strange reasons, I did! The reason being that, for the longest time, I didn't know and realize that I had a bit of Veronica in me. This is something that I discovered as the film progressed. That's the only reason why playing the role of Veronica came very naturally to me. What was so strange about it was that it was so very easy for me to get into the skin of Veronica, but was very tough to get out of it. I think that I needed to do a quick course in 'de-Veronification' (laughs).


You were offered the roles of both Veronica D'Costa and Meera. What made you choose the role of Veronica?

Initially, I thought that Veronica was damn exciting to play and it was more of a challenge to me. Gradually, as the time progressed, I realized that it was not a challenge anymore for me, as Veronica was slowly becoming me and vice versa. And as far as Meera is concerned, I could have slipped onto playing her role very effortlessly, as I had played a similar character in Love Aaj Kal. That's the only reason I chose Veronica over Meera.


Your looks and costumes in the film have taken everyone by the 'fashion storm'. Tell us about what went behind the costumes & styling?

I knew from the very start that if I had to play Veronica, I had to be in great shape because of the body language that comes with being Veronica. I told myself that no matter what clothes Anaita (Shroff Adajania) gives me, I will have to push boundaries to do full justice to that. A lot of Veronica simply oozed out in the styling itself! With the great body, came the confidence and with the confidence came the perfect body language!



What were the locations of the shoot?

Primarily, the film has been shot in London and Cape Town. A lot of these locations have added towards the progression of the film.


Were there any memorable incidents during the shoot?

We were shooting for an emotional scene, which Homi liked a lot and hence, okayed it immediately. And as we were shooting for the next scene, the energy of the previous shot was being carried forward in the next scene as well, which shouldn't have happened at all in the first place! And I remembered that Homi and Dinesh Vijan walked out of the sets to clear their heads off the emotions of the scene. Even though they came back after 10 minutes, we just couldn't shoot that day. That's why, the very moment we immediately wrapped it up.


Can you specify which scene are you referring to?

I won't tell you the scene as I am sure that you all will 'feel' the scene like we did!


Cocktail also marks the debut of the model-turned-actress Diana Penty, who comes from the domain from where you started off. What kind of advice did you give Diana?

Honestly speaking, I don't think that I am in any space to be giving Diana any kind of advice. Since both of us hail from the same backgrounds of modelling and non-filmi families, I could identify with her awkwardness during the initial days of the shoot. But Diana grew tremendously as an actress from the first day till the last day of the shoot. She has immense potential to make it to the top.


Did you find any common elements between Diana and you, besides the initials (DP and DP?)

(Laughs) I never realized till the time you brought this up. In a very strange way, Veronica is protective of Meera the way I am protective of Diana in real life. I told her that if you need any kind of help, please do not hesitate to call me anytime. I know this statement sounds very clichéd, but I really meant it from the bottom of my heart.


Watch this space for Part 2


Watch Promo: Cocktail
BOLLYWOOD NEWS
Catch us for latest Bollywood News, New Bollywood Movies update, Box office collection, New Movies Release , Bollywood News Hindi, Entertainment News, Bollywood News Today & upcoming movies 2020 and stay updated with latest hindi movies only on Bollywood Hungama.