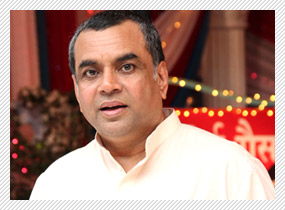 BJP politicians Sushma Swaraj has condemned your film Oh My God as an attack on Hinduism?
I really respect Sushmaji. I don't think she has watched the film. If she did, she wouldn't be saying what she did. If Oh My God was really an attack on Hinduism, it wouldn't have been so wholeheartedly embraced by the entire nation. I've performed the stage version of the story all over the world. No one has raised any objections when in fact the play is spicier. Let me tell you at the industrialist B.K Modi's 60th birthday, we staged the play at the ISKCON temple in Mumbai on the recommendation of his son who wanted his father to celebrate his 60th birthday by watching this play. Present at this special staging of our play was the who's who of every religion, be it Hinduism, Jainism or Islam. Jo banaa rahe wohbhi Hindu jo dekh rahan hain wohbhi qafi hadd tak Hindu. I knew it would get controversial. But I want to say only one thing to the opponents of the film: only the guilty need to be anxious. And I not doing anything wrong. So why should I be afraid of fingers pointing at me?
Did you expect the film to do so well?
Looking at the success of the play, I was quite confident of the numbers. Of course, I couldn't predict the box office numbers. But I knew the theme would appeal to audiences. I've seen the play bring the house down everywhere. People have watched the play repeatedly. Jackie Shroff saw it thrice and recommended it to all his friends and even gave tickets for the play to his friends.
"I don't think Sushma Swaraj has seen OMG" – Paresh Rawal
Considering the success of Oh My God are you doing a sequel?
Yes, we are doing Part 2. My director Umesh Shukla and I have cracked a subject. We need to figure out how to package the subject. The sequel has to be more acidic.
Your statement at a function in Pune this week where you called politicians "third-rate shameless people without morality" has kicked up a storm?
It was not political maneuver. I am not a person likely to speak out of turn. But politics in our country has gone beyond all barometers of moral degeneration. I was at a function where I was honoured in the name of P.L Deshpande. Someone mentioned a multi-million scam involving a politician. I just lost my cool. I hadn't gone there prepared to speak out against politicians. It was a spontaneous outburst of anger that all of us feel. It's so frustrating to see what these politicians are doing to our country. Someone like me has some money. I wonder how those without power or wealth survive in today's day and age.
Maybe we need to make politicians accountable?
Our politicians feel no sense of responsibility towards the common people. Kissiko sharm nahin hai (they're shameless).When I said what I had to say about politicians, you should have heard the applause among the audience. It proved how much resentment there was among the people about the people we chose to run our country. I was voicing their feeling.

But don't you think one needs to be a politician in order to eradicate corruption from politics?
There lies the irony. When conscientious individuals campaign against corruption they are told to join politics and when they do so, their voice is smothered. When an honest upright activist like Anna Hazare raises his voice, it is systematically strangled. Maybe his method of tackling corruption is incorrect. But why say, Anna Hazare is wrong? Why not raise a voice against corruption? Anna Hazare is a simple honest man who speaks and acts from the heart. Why apply parliamentarian blueprint rules to his conduct? Why break a man who fights corruption? Why not break corruption?
You also said you feel like turning into a Naxalite to gun down politicians?
What to say? Farmers are committing suicide. Soon other sections of our society too would have to end their lives. There is no hope and certainly no respite. If we apply the Consumers' Act to the deeds of politicians they would be held guilty of conning the junta.
What is your solution to the problem?
One, voting should be made compulsory for every Indian and two; politicians should put their election promises into an affidavit. We should make our politicians more accountable. We should not select our representatives in parliament and forget about them for the next five years. By letting politicians loose, we're turning our society into a Jurassic Park. They are bound to feed on us. We should have the power to revoke our chosen leaders. Secondly, they should sign a legal affidavit at the time of election whereby they and their family forsake all claims to any political power if the chosen politician fails to fulfill his promise. And in the eventuality of failing to live up to their electioneering promises, politicians should be liable to prosecution.
As an actor, do you think it is your responsibility to create a political awareness among the people?
Every person with a voice needs to raise it. The time has come to fight corruption on a war scale. When I was shooting for Ketan Mehta's bio-pic on Sardar Patel in the Parliament in Delhi, I remember seeing a list of the country's first parliamentarians displayed in a showcase. There were the names of these legendary politicians with their signatures. I could only read the first three names. Because after that my eyes welled up with tears. Just looking at the distinguished names on that list made me feel sick with nostalgia. Such great statesmen who worked selflessly for the country! Look at what politics and politicians have come to! My heart bleeds.
Are you planning to get into active politics?
Not at all. But I can't stand back and see the country go to the dogs. If only voting is made compulsory it would become a nuclear missile in the hands of the aam junta.
BOLLYWOOD NEWS - LIVE UPDATES
Catch us for latest Bollywood News, New Bollywood Movies update, Box office collection, New Movies Release , Bollywood News Hindi, Entertainment News, Bollywood Live News Today & upcoming movies 2022 and stay updated with latest hindi movies only on Bollywood Hungama.