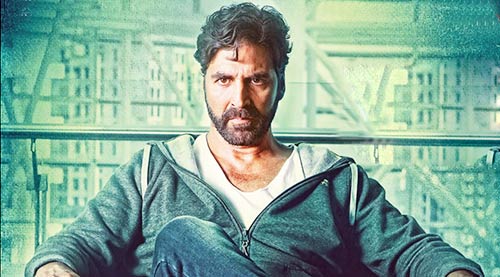 Gabbar Is Back, so is Akshay Kumar...Subhash K Jha chats up with the hero who has a super-villain's name.



Gabbar Is Back, and so are you... Your thoughts on playing a character named after the greatest villain of Indian cinema?

I know, tell me about it, people love to throw pressure on me don't they? (laughs) I couldn't have just played a simpleton called Gaurav, No!! It had to be Gabbar (laughs). In all honesty, as daunting as it was and still is if I may add, my character had to become like Gabbar.



But why would any hero be called Gabbar?

My original name in the movie is Aditya, it's not until I have no other option left do I call myself Gabbar, just to put the fear into people's heads to get revenge for my losses. I'm not playing, or trying to reincarnate Gabbar, I'm bringing Gabbar back to life!! It's probably been one of the most powerful and thrilling characters I've ever had the pleasure of playing, and I couldn't have dreamt of portraying anything or anyone else in this film.



But to call an iconic hero like Akshay Kumar Gabbar, is like calling Tom Cruise 'Osama' in his next?

When one has a certain mission to accomplish, its Gabbar's mentality you need at that time!! I think what we've done by making Gabbar a brand, when anything needs to be done slightly out of legal context, when a 'No' just doesn't suffice, become Gabbar & the job will be done. Remember this is just a film; please don't take Gabbar's actions into your own hands! Please...



This is a film about cracking corruption. How strongly do you feel about this issue? You are after all, one of the highest paid entertainers of the country?

I am trying to figure out what me being one of the highest paid actors in the country has to do with how I feel on this issue. You don't need to be of any importance to have an opinion on corruption in ones country, on the contrary me being of the stature that I am, I am troubled far less than when I was a small Delhite in Chandni Chowk many years ago.



I meant if you are one of the highest income tax payers among the screen icons then you are qualified to take on corruption on screen?

Being amongst the highest income tax payers in the industry though shows, no stone is left unturned when it comes to my work. I feel that although we have major & I mean major issues when it comes to corruption in India, the good news is that we are already improving thanks to our new government, which is a blessing for our country in my opinion, give it time and we really could be a Clean Nation!



Your last film Baby also dealt with a very important political issue and your next film Airlift is also from the newspaper headlines. Are you rapidly moving away from escapist comedies to socio-politically relevant cinema?

It's not a direct move toward doing such movies. But I am enjoying my new wave of cinematic experience right now, that's all. I will never leave my comedy antics, in fact right after all my so called 'Serious Cinema' I'm going straight into Housefull 3 and releasing Singh is Bliing. So not to fear my friends, my funny bone is still well and truly intact, just loving the reality based drama of life right now (smiles).



Okay tell me, what was it like shooting with yet another new heroine (who happens to be the daughter of one of India's greatest actors.) Shruti Haasan is the latest in a long line of new heroines you've worked with lately. What is your opinion on them?

On them, what can I say, I'm a lucky man! They all have their own individual craft to bring to the table, working with newcomers is fascinating in the sense that you never know what they're going to produce in the take, as you've never worked with them before.





Regarding Shruti Hassan?

She delivers dialogues like she's been doing it for years, when she cries on screen your heart literally bleeds, so she immediately keeps you on your toes, it helps make scenes realistic. With experienced heroines you tend to know what they're going to do and how they're going to deliver, newcomers add an uncertain zest to the mix, which is exactly what our industry needs right now, flavour!



Do you feel the politics of our nation needs an urgent cleansing and reform? Have you ever been tempted to join politics?

I've never been tempted to join, but I do like to support and encourage those politicians who do bring great things to our people. Despite the many that give our nation a bad name, there are also many who stand up for what's right and what's needed; they must not be lost in the corrupted crowd. There is good and bad in us all, it's what we choose to focus on that matters.



Akshay, barring Baby and a few others, the Bollywood films released in 2015 have so far not done well. As an actor who takes a keen interest in the trade, what is your take on the slump at the box office this year?

As an actor, my view is we need to concentrate on what the audience is looking for in a film right now. Rather than making what we are obsessed with, we need to ensure we are fulfilling their expectations more than our own. One can make a great film, but released at the wrong time or in the wrong circumstances, it can disappear into oblivion. There is still hope, many eagerly-anticipated films are coming out later into the year this year, so let's wait for them, and you'll see the slump vanish just as quickly as it came.



On the other hand Hollywood spectacles like Fast & Furious 7 and Avengers 2 are doing well. As a top action hero of Bollywood why do you think our action films can't compete with Hollywood?

Because they spend more money than a Bollywood film could ever dream of spending... Our market can neither afford nor take the chance with such risky figures. Avengers may be terrific, but let Hollywood spend what they want and do what they're good at, and let Bollywood spend what we can and make what we're good at. To everyone the grass is always greener on the other side. You need to know when to stop gazing at what will never be and focus on what can be! Our nation will never be able to afford a cinema ticket like that of what is charged abroad, therefore our revenue will never add up to what it costs to make such grand films.



A bit about all your forthcoming projects?

I have Brothers releasing on August 14, full of unbelievably high quality fights like you've never seen before on Indian cinema. Then I'll have Airlift to release in January 2016, which is a real life historic film based on India's greatest airlift missions of all time, very patriotic and full of tension. By then I will have completed the much talked about Singh is Bliing followed by the prequel of one of my favourite comedy franchises Housefull 3



Finally Gabbar is Back is a film about eradicating corruption. What is the one thing that you'd like to change about yourself?

I would eradicate the need to want to play on my Ipad! As much as it's been a technological breakthrough, it has also stolen many hours of my time that I wish I had never wasted playing on it. I sometimes use it as an excuse for 'me time'. That's pretty much my worst vice in life, other than that, I'm a pretty good boy to be honest, boring I know, but honest.
BOLLYWOOD NEWS
Catch us for latest Bollywood News, New Bollywood Movies update, Box office collection, New Movies Release , Bollywood News Hindi, Entertainment News, Bollywood News Today & upcoming movies 2020 and stay updated with latest hindi movies only on Bollywood Hungama.