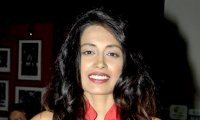 How difficult is it to fall in love with an actress you've never met? Believe you me, it's not. Welcome Sarah Jane Dias. Come April 1, the delectable debutant will be stepping into the world of films. Oh no, I am not fooling around. I'm serious. Sarah has been doing interviews all day long, but she's still full of energy knowing the fact that I was the last caller. Before calling her, I go through her stills from her debut release Game and think - Why don't I get to romance such beautiful ladies? Well, it's the price one pays for not being an actor I guess. Never mind! I'm not complaining. Some of the reasons why Dias seems a bit different from your common Bollywood debutants are her slightly unusual choice of film to debut with and her voice - sharp, sure and serene. UK's Harrow Observer columnist and Bollywood Hungama's London correspondent talks to the scintillating star of Game, who is raring to win it, come what may. It's Game Set Match time.


To be in the arms of Abhishek Bachchan...
I am yet to meet the most beautiful woman and her name is Aishwarya Rai Bachchan. Abhishek Bachchan is a lucky husband. So I can't really tell you how it felt to be in the arms of one of India's handsome hunks (laughs). He is such a warm loving and a happy person. Times spent with Abhishek on and off the sets were not uncomfortable at all. It was one of my most memorable experiences. He understood the fact that it was my first film and he supported me throughout. He never made me feel awkward. We all know Abhishek Bachchan as the prankster, especially when he is on the sets. But I guess I was spared because it was my debut film (laughs). Personally, I loved Abhishek in Guru.



I had butterflies in my stomach when I had to perform the song on the first day

Were you auditioned for the role?
Yes, I auditioned for my role in the film. I can't tell you what scene I auditioned for except that it was the climax scene of the film. I clearly remember when I walked into the office and my director Abhinay Deo narrated the film to me and by the end of that meeting I looked at him and said, "Are you offering me the role?" and Abhinay answered, "Why did you think I narrated you the whole film?"


...and the film has indeed come as a blessing in disguise.

Game is an outright blessing. I remember coming into the Excel office and sitting in the waiting area looking at the posters of Dil Chahta Hai, Luck By Chance, Karthik Calling Karthik, etc and thinking whether this moment was actually happening to me. It's a true and an absolute blessing that's come my way in the form of Game. I am very humbled and happy that I've been given this opportunity.


Did you interact with the producers, Farhan and Riteish?
I met Farhan Akhtar and Riteish Sidhwani on the first day I came to their office. I knew more of Ritesh in the days to come as he was a hand's on producer. He used to come to the sets as often as possible. Both my producers and the production guys took such god care of me. They excel in whatever they do. Farhan and Riteish were instrumental in helping me out a lot.


First day, first clap...how was it?
I had butterflies in my stomach when I had to perform the song on the first day because we shot it in this nightclub in Istanbul. The whole focus in what was going on was me. There were more than hundred people on the set but apart from that, I didn't have any jitters.


Are you a thriller fan?
Yes, I am a huge thriller fan. Over the years, I have loved Shammiji's Teesri Manzil and I liked a thriller called Basic. I can't really pin point any particular thriller but I love them all. I would rather be thrilled than scared and that's why I am a thriller fan.


Is Game an inspired version of the book, The Six Suspects?
Game is not an inspired version of the book 'The Six Suspects'. If it's a rumour, it better be a rumour. I met Althea Delmas Kaushal who wrote the script and she didn't have anything to say about. I haven't read the book either. So I don't think Game is inspired from any book.


Are you going to be greedy, now that you have entered the industry?

I think wanting more is limited to everyone in life and not just actors. All actors want a meatier role. We always want more and that's a human tendency. I want to be on the top of the industry and I want to do roles with well established actors and directors. Every actress wants that. I want bigger films, better films and different genres of films coming my way.


How challenging was the first film journey?
What my character in the film, Maya, goes through in her life is very difficult for any normal human being to fathom. There lay my biggest challenge to be able to draw on inspiration from someone or something that has been through what Maya goes through in Game.



What my character in the film, Maya, goes through in her life is very difficult for any normal human being to fathom

And some last few words on your director Abhinay Deo please.

I completely relied on Abhinay Deo, my director, to tell me what he wanted. He is so good at giving directions that I had no issues performing a challenging role of Maya. Even though this is my first Hindi film, there was not a single day when he raised his voice on the sets. Abhinay just somehow managed to maintain this uncanny calm and that's so important. There is high energy going around the sets all the time but there was this man who was the captain of the ship, who was calm and composed. He really sailed our film to the shore carefully.
BOLLYWOOD NEWS
Catch us for latest Bollywood News, New Bollywood Movies update, Box office collection, New Movies Release , Bollywood News Hindi, Entertainment News, Bollywood News Today & upcoming movies 2020 and stay updated with latest hindi movies only on Bollywood Hungama.