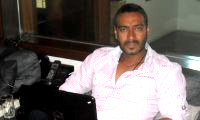 He is one of the hot, hotter and hottest actors that Bollywood has ever produced. He is none other than Ajay Devgn, who, after making a smashing debut with Phool Aur Kaante, went onto create and recreate Box Office history with his films galore. Ajay was live on Bollywood Hungama's celeb video chat and fans went berserk asking him a million odd questions. For all of you who missed this chat session with Ajay, here are the excerpts.


Ajay Devgn: Hi This is Ajay Devgn only on Bollywood Hungama.com

Zarfishan: hi Ajay, good to see u back

Ajay Devgn: Thanks same here lets chat


Ankit: how do you rate emraan hashmi as an actor??

Ajay Devgn: ankit...emraan is a decent actor...confident and knows what he is doing


kajal acharya : aapki film raajneeti k bare me kuchh bataiye. Plzzz

Ajay Devgn: Raajneeti like the title says is a political drama...its like a thriller... I am sure you will enjoy it


Rahul: looking good

Ajay Devgn: Thanks a lot



Gauravrai: sir, why is so much emphasis on ranbir and katrina in Raajneeti? i am going to see the movie for them

Ajay Devgn : I have been too busy shooting so couldn't promote the film

Devgan: but tell us abt ur role as ur portraying karan frm mythology

Ajay Devgn: Yea it's a bit like Karan who is wronged and had the sacrifices he made but stuck to his promises


Chintan: Rajneeti seems to be one of your films in which you will be relying on your strengths

Ajay Devgn: Let's hope you like it Chintan


jizz boy : ajay, do u have a special appearance in Rajneeti

Ajay Devgn: not really everyone is playing a character in the film


jizz boy : How long is ur role in Rajneeti?

Ajay Devgn: I have not counted in minutes but I think everybody shares equal footage

Niraj : ajay saab,namaste, I am talking to you for the third time in my life. Thank you very very much.

Ajay Devgn : its nice talking to you again Niraj


Jeenu : Anything you learned from Rajneeti which you will remember for the rest of your life?

Ajay Devgn : Jeenu...cant think of anything


jizz boy : Why arent you promoting rajneeti?

Ajay Devgn : Jizz...cos I have been busy shooting Golmaal 3



raajneta : hey ajay, how do you rate yourself as an actor compared with your contempories like SRK, Aamir, etc

Ajay Devgn : I think everybody is good in their own space...I am also growing and learning

Swapnil Sheth : Hi Ajay, your negative characters in Khakhee and Deewangi were fabulous.

Ajay Devgn : Swapnil...thank you so much


devgan : & when will u start ur next film?

Ajay Devgn : i think by the end of the year with All The Best 2


pritam : what is ur next film?

Ajay Devgn : After Raajneeti, its Once Upn A Time In Mumbai.


Jeenu : Hey Ajay, How was it working with so many different stars in Rajneeti?

Ajay Devgn : Jeenu...Good...we all get along very well



jas26: Where is ur fav holiday destination?

Ajay Devgn: I like changing destinations

phani : hey ajay big fan of urs..congrats for completing 20 yrs in industry. u re the best

Ajay Devgn: Phani...Thank you so much


Rohit: Please share the most memorable experience when you started your career. How did you it?

Ajay Devgn: Rohit...before I got serious about my career, my first film released and went on to be a hit.


Raajneta: beginning of ur career u were action but then u switched to comedy. Do u feel u jumped the bandwagon

Ajay Devgn: not really


Gauravrai: ...I am going to watch raajneeti only for you ...please tell me that u have a meaty role!

Ajay Devgn: That is for you to decide...watch it and let me knw gaurav


Raajneta: hey ajay, which roles do you find hard to do, action, comedy or romance, which is your forte?

Ajay Devgn: I think I am doing everything and that's what gives me satisfaction


jas26 : Whats ur fav type of cuisine?

Ajay Devgn : More of continental


jas26 : wat kind of car do u drive?

Ajay Devgn : right now Q7 and S class


amit guru : are you going to work with sunny Deol

Ajay Devgn: Ill do it the moment I find a great script



Jeenu: tell us something about Golmaal 3?

Ajay Devgn: jeenu...i think it's funnier, madder, and bigger. I hope you will enjoy it

Jai: how has the journey been so far?

Ajay Devgn: Fantastic journey...Ive done everything on my terms and conditions and I am happy


gauravrai : .ur all time fave film?

Ajay Devgn: Guide


Niraj: ur take on the cinema these days?

Ajay Devgn: Niraj...Times are changing...they are trying to be more realistic


Swapnil: ur dream role?

Ajay Devgn: Swapnil...I don't know my dream role....when it comes ill let you know



Jimmy: comedy or action? Yr choice?

Ajay Devgn: i think comedy needs a lot of timing and energy so does action...nothing is ready

Jai: when will toonpur release?

Ajay Devgn: Toonpur Ka superhero jaldi release hogi


phani: when we cu get an another national award?

Ajay Devgn: sure


Chintan : Sir,when we can expect the release of Golmaal 3 coz we are desparately waiting for that

Ajay Devgn: Chintan...out in Diwali


phani: ur fave destination?

Ajay Devgn: i like San Francisco


pinto: where do u live in Mumbai?

Ajay Devgn: Juhu


jas26: any one director u wud like to work with that u havent as yet?

Ajay Devgn: omkar...it's a hard hitting action film...waiting to shoot for it


varun: WHY ARENT U ON TWITTER?

Ajay Devgn: I am on Twitter


jimmy: what's your take on naxalism as u have worked in tango Charlie

Ajay Devgn: jimmy...there is a lot of confusion over the issue


Syed AxS: Sir when you will work again with salman khan i love watching you both sir!

Ajay Devgn: Syed...i also like working with him..lets see



Varun: Do you regret London Dreams??

Ajay Devgn: no I don't regret doing anything

Niraj : Who are your all-time favourite music directors of Hindi cinema?

Ajay Devgn: Niraj...RD Burman


jimmy: do you think promotions are getting more pie than content

Ajay Devgn: Jimmy...i think so



Ankit: how is your daughter? Is she interested in movies?

Ajay Devgn: she likes watching movies

Hassan_lahore: back in 2006 u last time visit pak for kara film fest...ven u r cuming again to pakistan ??

Ajay Devgn: i loved it when i was there the last time...lkng fwd to come again...dont knw when though


faiz: Whats yr criteria fr any film.

Ajay Devgn: u do films becos u like the script and u like the director


TusharV: Ajay, do u see yourself playing a negative role if offered..?

Ajay Devgn: if it's a great role


Rude boy: hi ajay , plz do a film with amir khan again lik ISHQ, we never forget this movie

Ajay Devgn: thank you so much...if a good script comes along will do it


arake: Bhagat Singh,Omkara,Angre,(Which is difficult one?)

Ajay Devgn: Bhagat Singh


Swapnil Sheth: What has been your proudest moment as an actor?

Ajay Devgn: may be you will like Raajneeti then


devgan: sir abhishek is still taking advice frm u?

Ajay Devgn : no advice as such...we r friends


Jimmy: do you see your intense movies going for Oscars? What's your take on Indian movies going for Oscars?

Ajay Devgn: i think the national awards


Jims: have you ever been to Holland?

Ajay Devgn : no never been to Holland


TusharV: ajay sir, as a fan and a maker, what do you think is the most crucial portion of the movie?

Ajay Devgn: really dont knw...cos ive always been a part of this industry


Ajay Devgn: great chatting with you ...gotto rush now...do watch Raajneeti and let me know your feedback.
BOLLYWOOD NEWS
Catch us for latest Bollywood News, New Bollywood Movies update, Box office collection, New Movies Release , Bollywood News Hindi, Entertainment News, Bollywood News Today & upcoming movies 2020 and stay updated with latest hindi movies only on Bollywood Hungama.