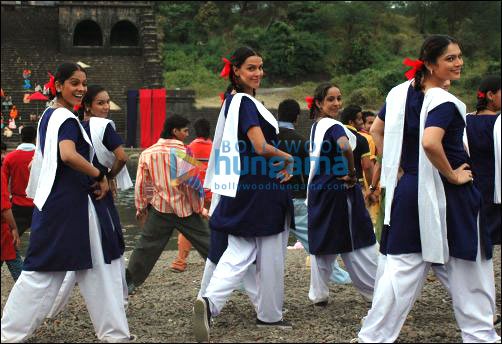 Neha Dhupia is leaving no stones unturned to make sure Pappu Cant Dance Saala does well. For the first time ever in her career, Neha has managed to go sans makeup for a song called 'Saajna Saajna' in her film, directed by Saurabh Shukla, where she plays a background dancer.


R. Vision's Pappu Cant Dance Saala is director Saurabh Shukla's first mass entertainer. It is a light hearted comedy where Neha Dhupia and Vinay Pathak have been paired opposite each other. It is not a film about people who cannot dance. In fact, PCDS talks about the different dances (Situations) in life and the 'Pappu' within each human being.


Director Saurabh Shukla said, "Neha is a beautiful girl. It's impossible to deglamorize her completely. I firmly believe that simplicity is much more glamorous than made up glamour."


When Neha was asked who convinced her, she said, " I didn't have to convince myself. I just obeyed Saurabh's orders. He is not only a great writer and director, he is also a great actor and I have immense faith in him."


Pappu...is a story of two people from extremely different backdrops who for the sake of love come together. Apart from Vinay and Neha, it also stars Rajat Kapoor and it will hit the theatres on December 16, 2011.