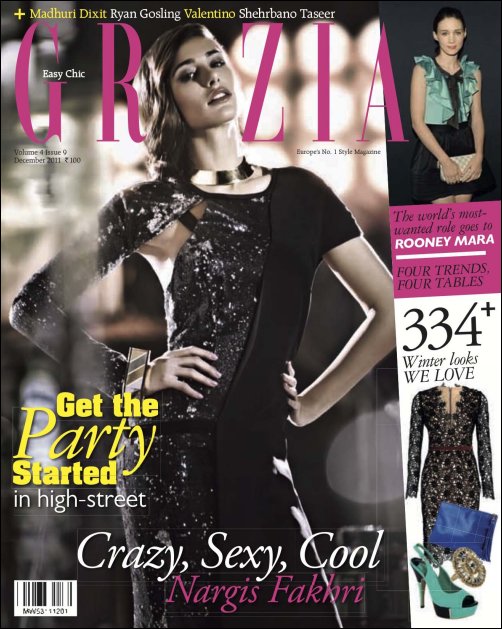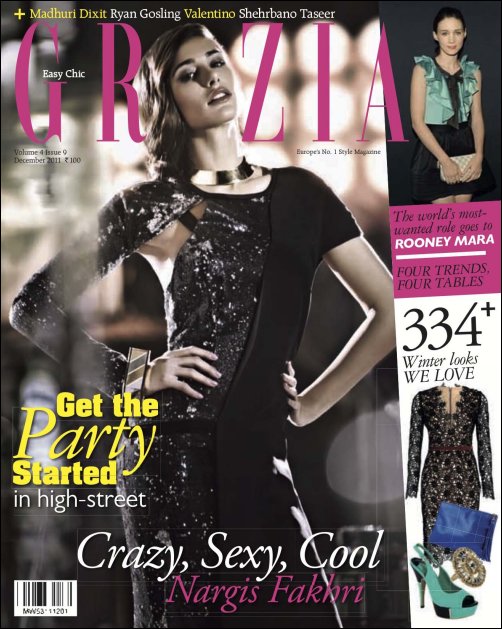 December has set in and the Christmas spirit is in the air, but heating up the wintry chill of the month is none other than the dusky
actress Nargis Fakhri. This American model turned Bollywood actor took the film circuit by storm with her film Rockstar. And being the stunner that
she is, Nargis is the main feature of attraction on the latest issue of Grazia.


Draped in black sequenced cut out detailed gown designed by Bibhu Mohaparta, accessorized with Naomi 14K gold plated necklace, and Aldo metal bangles, Nargis
simply looks stunning. With the oomph and élan of any top model, Nargis carries the dress impeccably. If that wasn't enough, the mag also delves into the
phenomenon that is Nargis…with a whole section dedicated to the 'Crazy, Sexy, Cool' damsel that she is.


Talking about her ascent into Bollywood, Nargis says, "I had no idea what it meant to be Czech or Pakistani, I was American through and through. Suddenly, I
was asked to play a Kashmiri girl, speak Urdu and shoot for two months in Prague." While on a more personal front, Nargis chirps, "I won't take shit from
anyone. But I am emotional."


Besides this, the latest issue of the fashion mag also features some of the hottest trends this winter from dresses to handbags to shoes. So grab the latest
issue of Grazia for all this and more.