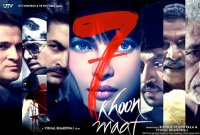 'Is it for real?' - This was my first reaction on seeing the screenplay of 7 Khoon Maaf available on stands. This has to be the quickest ever launch of a screenplay and that too during the same time when the film was released. Unbelievable though it seemed, the fact remains that this was indeed true. Moreover, the book features not just the screenplay but also the short story 'Susanna's Seven Husbands' as well as the novella (by the same name) penned by Ruskin Bond.
Now this makes for a triple whammy as one goes through the progression of a short story to a novella and then finally the screenplay (by Vishal Bhardwaj and Mathew Robbins), based on which Vishal went on to direct the Priyanka Chopra starrer. Not that it makes one jump with joy, as it actually happens in case of those screenplays which have indeed led to many an interesting film. However, the sheer reason behind one's interest in turning over these 200 pages is to check out that at what level did the film indeed failed, as can be evidenced in the manner in which 7 Khoon Maaf was totally rejected by the audience.
Was it the very germ of the subject? Was it the thought of converting it into a novella? Was it the challenge of further turning it all into a film? Or did it all turn into a mess at the stage of story telling when the director called 'action'?
As one realises after going through the written material, 7 Khoon Maaf turned out to be the way it was mainly due to the very germ of it all i.e. the basic story.
Lasting a mere 5 pages (nothing wrong with that as long as the story is interesting enough), 'Susanna's Seven Husbands' turns out to be an abstract story which not just sounds totally one sided but also a tale of total hearsay with a huge door open for multiple interpretations. In fact going through Bond's story, one really wonders what was so exciting about it that Vishal actually went ahead and put together an entire team in an attempt to pull this one off. Frankly, the story neither comes across as exciting nor the kind that would have perhaps led to a debate. It plainly and simply stays on to be a barely average read and though there is an obvious attempt (successful at places) to inject humour in it, there isn't much about it that would have actually made any filmmaker really wonder aloud about who really Susanna was and whether her seven husbands were indeed the monsters as they were made out to be.
However, this predicament only goes on to continue with even the novella turning out to be a struggle in the making. In the introduction section of the book, Vishal talks about how he received the written material in phases from Bond while he was filming Kaminey. On turning over the pages of the novella, one can well sense how Vishal did realise that his screenplay would require a lot of work if at all it had to be adapted for screen. Though Vishal confesses that he was quite excited on going through the chapters put together by Bond, it is clear that he did have a challenge up his sleeves.
Hence after a 5 page story progressed to a 60 page novella, the screenplay was fleshed out in 150 odd pages. One can pretty much sense that cracks had already started developing at each of the stages and for that, one has to compliment Vishal that he actually took it upon him to make the best out of his film (from whatever best he could gain at the writing table) when he started the actual filming.
So what really is about the writing that it leads to such criticism? Well, as can be seen from the novella itself, the reasons behind the killing of each of the seven husbands is in fact even flimsier than what one saw in the film. On it's theatrical release, the film had led to the question around why Priyanka Chopra's character didn't just walk out of her various marriages rather than killing her husbands (though there was a justification given by her butler with the entire 'dog on the road' story, something which many didn't quite buy actually)?
Well, on reading the novella one realises that for his screenplay, Vishal still had at least tried to make those seven husbands a lot more evil than what Bond's novella insinuated. That's because if he would have gone by what the novella actually suggested, 7 Khoon Maaf would have lost whatever little interest that it had still managed to gain through the various killings. The original story, if converted as it is on a screenplay, would have only seemed a lot trivial, hence leading to the killings being totally unjustified.
This can be witnessed in the manner where one of the characters (for a husband) has been totally done away by Vishal. As per the novella, this gentleman was an elderly husband and totally loving as well, except for the fact that he was pretty attached to his cell phone, something which drew Susanna nuts (yes true, this indeed was one of such characters). And guess what, he was bumped of as well because of his attachment to his phone. Unbelievable! No wonder, Vishal had to replace him and introduce an entirely new character in the form of Keemat (Annu Kapoor) which was just a passing reference in the novella.
There are some other changes as well which Vishal made in his screenplay (for better) where he fleshed out Neil's army man character much more than what the novella suggested. So he took the entire 'whipping bout with 'Goonga' episode out of the Russian husband's character and handed it over to Neil, hence justifying his evil traits. It's touches like these at different places in the screenplay which did actually give some ground for Vishal to play around with but as stated earlier, it's the basic idea of 7 Khoon Maaf' itself that was a warning sign to begin with.
All said and done, the book would make for an interesting read only for those who have seen the film and would want to know from where did it all begun and ultimately ended - not in a very happy way of course. Also, it would make many a budding writer reconsider their thought of getting enticed by a short story, only to be more careful about considering it for a full length feature film.
Price: Rs. 250/=
Rating:
BOLLYWOOD NEWS
Catch us for latest Bollywood News, New Bollywood Movies update, Box office collection, New Movies Release , Bollywood News Hindi, Entertainment News, Bollywood News Today & upcoming movies 2020 and stay updated with latest hindi movies only on Bollywood Hungama.