'The Girl In Room 105', latest offering from Chetan Bhagat, is just the perfect material for a Bollywood romantic thriller. A 300 odd page book which has romance, thrills, humor, drama, suspense and then a couple of neat twists in equal measures, it makes for an easy-breezy read that is simple, uncomplicated and yet pretty engaging.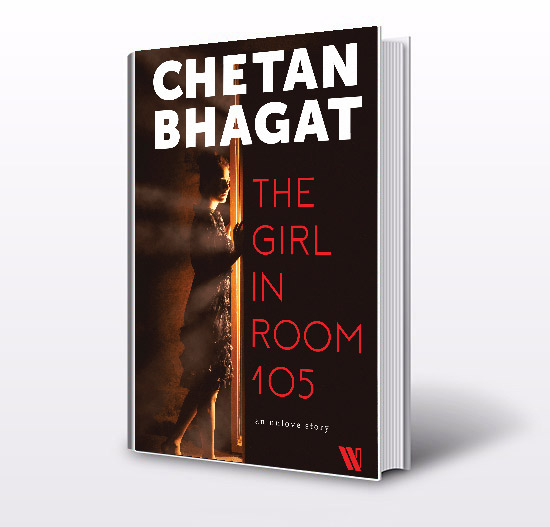 At the end of it all, everything that happens is for love! This is what Chetan Bhagat wishes to tell through his first ever romantic thriller which tells the story of Keshav, an IITian, who finds love in Zara, only to lose her, find her again, and then lose her all over again even as his world comes crashing down. It is just that all of this and a lot more happens in the first 20-30 pages itself and as the saying goes, 'abhi toh kahaani shuru hui hai'.
(Spoilers ahead) Even though you get to know about it at the very onset, the twist right at the beginning is that Zara offers reconciliation to Keshav, who responds promptly but to his horror realizes that she is dead now. So who killed her after all? Was it a family member? Was it a Kashmiri extremist? Was it his family which had a bone to pick with this relationship? Was it the other guy in Zara's life? Was it the watchman who stalked women in Zara's hostel? Was it an accident? Or was it himself, and what that you heard was a made up tale?
There is a lot that Chetan Bhagat packs in this book and though the suspense is not as nail biting as one would find in many a pulp fiction outing put together by legendary novelist Surendra Mohan Pathak, the fact also remains that you are engrossed in the book and wish to know what happens next. The good part about the whole writing though is that it is quite simple and could well be comfortably grasped by a 15 year old who is not interested in literary gratification but just wants an entertaining tale to be told.
A story about a murder, especially that of a loved one, could have well turned out to be a morose outing. However, Chetan does well to introduce a close friend of Keshav and this is what turns out to be a relief in the tale. It is their humorous banter, most of it which is dry, which ensures that the entire narration doesn't become a tragic outing.
No wonder, even as the story moves on from a murder site to a police station to encounter with terrorists to the valleys of Kashmir where dead bodies pile up to a mysterious army officer with an agenda of his own to a mystery man who is not quite what he seems, the presence of Zara and her memories ensure that there is some beauty still hidden in this poetic tale.
That said, while one would have expected romance to take the center stage here, that doesn't quite turn out to be the case which means the 'heroine's part' is restricted in its appeal. Yes, you get to see and hear a bit of her in pieces which are scattered around, but by and large this is Keshav's tale and pretty much from his point of view. Had this been a voluminous novel which aimed to bring in all aspects of this love story, may be a few chapters would have been devoted from Zara's point of view as well. That doesn't quite happen though in this case.
Moreover, somewhere in the first and the second act, the urgency of reaching to a conclusion seems a bit lost. Though it won't be fair to say that the story turns stagnant, it isn't as fast moving either as one would expect from a thriller. However, the last 50-60 pages are what bring pace to this storytelling and this is where Chetan reserves his best. Also, the grand finale is laid down well in a full on filmy style, something that makes you truly believe that the written material could well be befitting for a mid-budget feature film as well.
So who in Bollywood would really want to pick this one fast?
Price: Rs. 199/=
Rating: ***1/2

BOLLYWOOD NEWS
Catch us for latest Bollywood News, Bollywood Movies update, Box office collection, New Movies Release & upcoming movies info only on Bollywood Hungama.