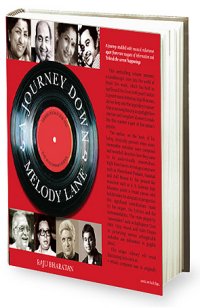 '.......I feel bewildered when I find a slew of writers and commentators (both in print and electronically) today presuming to hold forth on the nitty-gritty of hindustani cine-sangeet as if they were 'there' when it all happened in the golden age of film music. If they were there, I never saw them.'


These priceless words appearing in the very first page of the book 'A Journey Down Melody Lane' pretty establish the fact that modesty isn't what one can expect from this book by veteran author Raju Bharatan who prides himself on being India's 'topmost music historian' (this is what his opening introduction reads). Well, not that it is the most pleasant dimension that a book could have taken considering the fact that one would have wanted the content to do most of the talking. However, one still keeps this comment in stride while hoping that the pages to follow (around 300 of them) would actually substantiate this claim.


Well, as one realises on flipping over the pages, the content is definitely present in abundance here but the way it is presented is so voluminous, so tiresome, so user unfriendly with such an abundance of self indulgence (with an ample dose of first person account, not really a best way that a book would be enjoyed by a reader) that it all turns out to be one of the most tedious Bollywood books that one would have ever read.


Really, Bharatan has tremendous knowledge of facts from the past but the way it is all presented with almost zero editing and lack of any attempt to make it all a little crisp at the least, 'A Journey Down Melody Lane' turns out to be an effort that is hardly enjoyable by a reader. One can understand that the author here wanted to bring his entire knowledge into a single book here. Alas, it is the way that this presentation is made is what kills any interest whatsoever that one may have had in the book before 20 odd pages would have passed by, hence leading to immense boredom.


Bharatan has an excellent background to boast of though. A contributor with major publications/websites like Filmfare, The Illustrated Weekly of India, Screen, Mid Day, Rediff etc., Bharatan has been around for close to half a century and (rightly) boasts of being the privileged one to have been in personal touch with greats like O.P. Nayyar, Kalyanji-Anandji, Shankar-Jaikishan, R.D. Burman, Asha Bhonsle and Lata Mangeshkar to name a few. This means that one has all the reasons to assume that he would have carried with him first hand account of what really transpired inside the studios and behind the scenes.


This is what one gets to read as well with Bharatan spilling the beans around a decade long relationship between O.P. Nayyar and Asha Bhonsle, how Naushad clearly sided with Rafi when it came to rivalry with Kishore Kumar, the squabble that Waheeda Rahman had with Guru Dutt during the song shoot of C.I.D. and dozens of more such anecdotes. All of this mean that the iconic status that Bharatan gained for himself as a 'historian' wasn't quite misplaced.


However, the trouble here is excessive information which just appears never ending and also exasperating after a point in time. It clearly seems that the author here was inclined more towards proving a point around what 'he knew' and in the process didn't quite take into account of what an average reader would 'actually want'. If the intent here was to present an Encyclopaedia then well, Bharatan does succeed but when it comes to bringing a book out of a library and making it reader-friendly for an average cine-fan, then unfortunately 'A Journey Down Melody Lane' doesn't work at all.


Another major reason behind a reader getting totally put off by the written material of 'A Journey Down Melody Lane' is the sentence formation that Bharatan adapts for the book. Agreed that he is a historian, has terrific command over the written language and is obviously a learned man. However the fluency that an average reader would expect from the written word is definitely missing here. Really, the way this book is written is not just peculiar but is also terribly tiring as at number of instances, one just can't fathom where the content had really begun and whether it would end at all or not. It just goes on and on and since it isn't quite an easy read, one only ends up loosing interest quicker than what Bharatan would have imagined.


This is where one ends up remembering another book titled 'The History of Indian Film Music' written by Rajiv Vijaykar which had released around a year back. It didn't have the kind of detailing that 'A Journey Down Melody Lane' has. However it was simple, brought facts that were relevant and was to the point with the biggest advantage being that it boasted of a simple read. Now if only 'A Journey Down Melody Lane' could have struck a balance here, it would indeed have been a collector's delight.


Price: Rs. 399/=


Rating:
BOLLYWOOD NEWS
Catch us for latest Bollywood News, New Bollywood Movies update, Box office collection, New Movies Release , Bollywood News Hindi, Entertainment News, Bollywood News Today & upcoming movies 2020 and stay updated with latest hindi movies only on Bollywood Hungama.