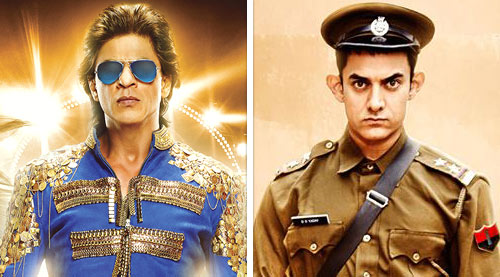 Last three months have given a jolt to Bollywood like never before. With more than half a dozen prominent films struggling to even reach the 50 crore mark, the only success since the release of Happy New Year has been PK. While that is good news indeed for the makers of the film, the industry in general is yet reeling with the kind of failures that have been encountered for an extended period of time.
Bollywood seeing lesser number of biggies go on floors? Industry speaks up
No wonder, the production of many films is halted too. The common refrain is that there is hardly any cash in the industry which can be actually churned around to result in multi-crore extravaganzas to be put together. One wonders though whether the business scenario is actually as bleak as it sounds or is it just a passing phase with better things round the corner.
"Well, there are multiple factors that have led to the scenario that we are witnessing currently. At the macro level, the economy in general isn't witnessing much liquidity and virtually all business sectors barring the stock market are looking down," agrees Akshaye Rathi, film exhibitor & distributor, "The cash-flows are stagnant and thus, with the shortage of disposable income, people aren't spending much on entertainment avenues such as films."
However, not all from the industry are willing to go by the argument. Filmmaker Ramesh Taurani, who has been around in the industry for long believes that it is just a passing phase.
He says, "The overall sentiment is down because big films are not doing well. This quarter has seen some of the biggest setbacks ever. Thankfully, the year ended on a bright note with PK and future should be good too. All saleable heroes are booked and shooting for some film or the other. We too are working on scripts for two to three films and are set to start in near future."
Tanuj Garg, CEO, Balaji Motion Pictures, too believes that a change is round the corner. He says, "We have had such phases in the past as well. In a sense, these phases are great reality checks that remind us to constantly adhere to commercial viability and economics. I am sure we will be out of it."
While this gives a positive signal indeed, there is no denying the fact that the jitters are being felt in the inner circles of the industry. Says trade expert Atul Mohan, "There is no denying that 2014 will go in the history of Hindi cinema as a bad year. With big names failing to deliver I guess the makers are on their back-foot now and are donning think caps to give something new. The industry is bleeding definitely."
The future is not looking much exciting when it comes to newer films being announced and put on floors.
Says prominent distributor Rajesh Thadani, "The last few weeks have been very dismal for the film industry in terms of performance of films, barring PK, at the box office. Also with the satellite market not improving, the film industry is indeed going through a deep crisis. That is the reason we hardly see any announcements of films these days."
"Of course, not many so-called big films going on floors, but does that really account for bleeding? Naah, I don't think so. Perhaps it is a sign of good revival of sorts," filmmaker Vikram Bhatt brings in a different point of view here, "What's the point of such biggies that come with poor content? Whose coffers get filled in such a scenario is anyone's guess. The bubble had to burst and when crores are lost, it takes time for someone to invest back crores as well."
The 200 crore rupee question though is - 'where are these crores'?
"Exactly," rues filmmaker Siddharth M Jain, "There has been no new infusion of funds on the production side since almost two years. The bulk of the revenue collected from the box office goes to the government, theaters, distributors and then finally trickles down to the producers, who have to spent it on the expensive actors & directors. Most of this money is not pumped back into the system but is invested in real estate & similar assets."
Now that turns out to be a revelation in itself, considering the fact that it has always been passion, and not intentions to earn money, that has been a driving force for Bollywood to be up and running for over 100 years now.
"But then reason for the kind of fall we are seeing is simple - there are very few 'visionary' producers! The current trend is to see more 'projects' and 'proposals' being made, and in the process less 'films'! Of course, better things are always around the corner and one can only hope for the best," says director Sanjay Gadhvi.
There are others who believe that it is about time the industry got a reality check and learnt from its mistakes.
"The industry was always bleeding. There was only one party making money irrespective of the fate of the films - the stars. And the ones responsible for this are the studios," filmmaker Sanjay Gupta doesn't mince any word here, "We individual producers always worked out some kind of a deal where everyone was paid, but also the risk was minimized. However, the studio model has deliberately made the single producers, barring a few, totally redundant. Now everyone is paying the price for that. Let's remember, it is pricing and costing that fail, not films. That has always been the case; that would always be the case."
We hope that indeed turns out to be the case.
BOLLYWOOD NEWS - LIVE UPDATES
Catch us for latest Bollywood News, New Bollywood Movies update, Box office collection, New Movies Release , Bollywood News Hindi, Entertainment News, Bollywood Live News Today & Upcoming Movies 2023 and stay updated with latest hindi movies only on Bollywood Hungama.