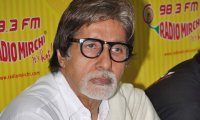 Yesterday was yet another dark day for most Mumbaikars as they journeyed home in the evening with blasts at certain key populated areas, the resilient Mumbaikar was put to the test yet again. Bollywood Hungama takes a look at how some of our filmi folk responded to the terror.


Amitabh Bachchan: "Prayers! And more prayers! Is that all we can ever do in situations like this...? Feel helpless and frustrated ...!"


Ram Gopal Varma: "When he heard about last nites blasts I wonder what kasab felt?"


Priyanka Chopra: "I'm so saddened by whats happened in Mumbai... My heart wrenches at the thought of what the families of the victims r going thru...its so wrong. Why do we have to always accept this terrorism...why are we always told to move on. I WONT STAND FOR TERROR ANYMORE...and I WILL NOT FORGET! I wish I was back in my city to share this grief... MUMBAI MERI JAAN..!"


Tarun Mansukhani: "Mumbai bleeds yet again! We're all angry... But I pray that this time we don't do the cursory candle marches and demand answers... In these times of violence the way forward is still the same - Gandhigiri! By that... I don't mean stand back and show the other cheek! I mean that we must do what Gandhi did... All Mumbaikars must stand together and tell our govt that we are not going to pay taxes anymore!"


"Be it income tax, corporate, service, sales, VAT, or any other kind. We will not add any money to the central govt that doesn't value us! And hopefully then... the central govt will realise what the value of our city and its citizens are to this nation!"


Preity Zinta: "My heart goes out2 all the families that have suffered losses. How many times are we supposed to bleed & how many times are we supposed to forget? I hope we as Indians & people of the world collectively fight terrorism & make sure this does not happen in are neighbourhood or backyard again! May god give peace to the souls of the departed and strength to the people who have been left behind in grief!"


Shah Rukh Khan: "En route India and Mumbai...I am devastated and saddened by the loss in my city. May Allah bless us...want to be there as quickly as possible."


Sophie Choudry: "These blasts don't just rip through our beloved city but thru our hearts! How many more times? How many more innocent lives? We can't bleed anymore! British world war motto "Keep calm & carry on" seems to have become ours! But we need action!! My heartfelt Prayers go out to victims & families!"


Sonakshi Sinha: "May god be with us."


Ameesha Patel: "Feeling awful for all innocent lives lost. Don't know why the hell we are spending time and money keeping that jerk kasab alive."


Anubhav Sinha: "Congrats!!! Our Hon'ble Home Minister has 'Inferred' that this was a coordinated terror attack. ONE Constructive/new statement sir???"


Shankar Mahadevan: "Let's pray for all those families whose lives have changed in just one moment... Really frustrating"


Celina Jaitly: "Is the life of Indian citizens So Damn expendable & CHEAP that we constantly are victims of bomb blasts like some bloody seasonal sale?"


Farhan Akhtar: "I hope the Central and State government wake up to Mumbai's continuing woes and do something to help our city get its confidence back."


Javed Akhtar: "The death toll has reached 21. What kind of animals commit such heinous acts."


Uday Chopra: "Just heard the news...are we going to just get used to this! I pray for Mumbai."


Karan Johar: "Prayers are strong but cannot replace accountability...resilience cannot be considered as back up!"


Lara Dutta Bhupathi: "Sad to see this city go through this again and again!! Also sad to see that people have resigned themselves to dealing with this!"


Gul Panag: "Woke up (in Toronto) to the shocking news of blasts in Mumbai: ( Deepest condolences to the families of victims. So if we were Israel, and these blasts had happened, what would we do? Or if we were America & these blasts happened, what would we do? We invaded Afghanistan even though 9/11 was by 'Non state actors'."


Tusshar Kapoor: "Completely resent what has happened in our city. It's high time these cowards are hanged and don't just languish in our jails. Let's not spread rumors and unrest, we must get together and help our city return to normalcy."


Hrithik Roshan: "Feeling sad, angry and helpless! I pray for the families of the victims. On a resilient note, I need to believe that there are some good leaders, some good men in position of power out there in the govt to guide this city, to do the right thing without getting entangled in the web of politics! Wherever you are please come forth and fight for this city! Rectify the wrongs! Show us the way! The common man needs assurance that you exist! My MUMBAI needs YOU.... NOW!"


Madhur Bhandarkar: "Resilience of Mumbai again put to test because of d blasts. Heart aches for the victims. Condemn such cowardly acts of terror."
BOLLYWOOD NEWS
Catch us for latest Bollywood News, New Bollywood Movies update, Box office collection, New Movies Release , Bollywood News Hindi, Entertainment News, Bollywood News Today & upcoming movies 2020 and stay updated with latest hindi movies only on Bollywood Hungama.