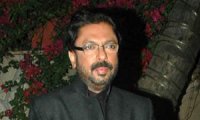 Lukewarm success to My Friend Pinto - his first film as a producer (which he didn't direct) - notwithstanding, Sanjay Leela Bhansali is bubbling with excitement, what with two of his films already on floors. No wonder, he is amused with the oft repeated accusation of him revelling in films that are designed as 'depressing films', case in point being his own efforts like Guzaarish and Black.


"Sanjay is enjoying every moment of his association with Akshay Kumar and Prabhu Deva in Rowdy Rathore, the First Look of which would be finally unveiled with Agneepath next weekend. He is also gung ho about Shirin Farhad Ki Nikal Padi (with Boman Irani and Farah Khan - who incidentally makes her debut as an actress) which is again a very happy film", informs a close associate, "He has delved into massy entertaining films in a big way. He doesn't wish to take long breaks between his films now."


With so much happening in his professional life, one can well see that Bhansali is opening up quite a lot when compared to years in the past.


"But then I was never a closed individual", immediately responds Bhansali, "The thing is that at some point in life I may be in my private space because I could be utilising it for writing a film of mine. Unfortunately, the fact of the world is that there is no respect for your privacy or reclusion here. I too feel now that guess I have lived that kind of life enough so it would be best to show the world what I really am."


One wonders though whether films like Rowdy Rathore and Shirin Farhad Ki Nikal Padi stem from the fact that he was through making 'depressing' films.


Says Bhansali after a hearty laugh, "Come on, I make intense but not depressing films. For that matter even Black wasn't depressing. I may make films that explore the darker side of life but while making them I don't get depressed. Even Guzaarish had a lighter way of looking at things. The film was simple, it had it's moments but they were never overwhelming enough for me to balance some dark intensity by making a My Friend Pinto, Rowdy Rathore or Shirin Farhad..."


We would like to take your word on that.