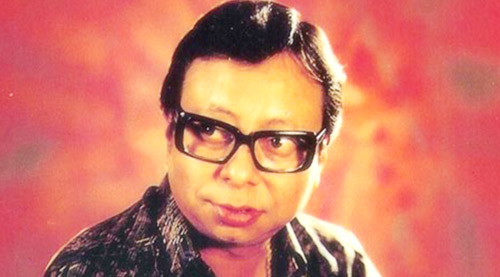 The 76th birth anniversary of R.D. Burman just went by on June 27. Like every birth and death anniversary of this great composer, it was hyped…oops! We mean celebrated… all over the place-in newspapers and other publications, online, in special live concerts, on radio, television and social media.



Celebrated by those who know little of what R. D. Burman actually was!



Many newspapers or websites, for example, carried "10 Must Listen (sic) songs of RD" that perpetuate the myth that RD was the only veteran worth recalling, while also (re-)exploring the same, oft-repeated tiny fraction of the genius.



As Sonu Nigam told a publication over a decade back, "The fabulous R.D. Burman has become a fashion statement. It is completely unfair to every other composer that today, old music only means R.D. Burman." Yes, there are so many composers whose 10th, 20th, 25th or even 50th birth and death anniversaries are totally forgotten. And the sensitive Pancham, had he been an observer today, would have hated all this fake hoopla from the core of his simple soul.



A quick survey of what was "celebrated" this year as well indicates how deep this miasma has spread. Gimmicks adorned the felicitations and hosannas that come Pancham's way even now, even as he never received his true due in his lifetime.



One article, for example, speaks for the 100th time about how he made music with everyday objects, and another recalls how his father 'stole' his tunes. Do these 'fans' know that every composer had some inventive and innovative streak within him, or that assistants had to compose songs for their bosses, even if (as in Pancham's case) it was a father!



As film writer and archivist-historian Kiran Kotrial opines (Quote-Unqoute), "Sadly for a lot of people, composers like RD, SD, LP etc. are all about some 50 odd songs. The proof is in the innumerable 'musical concept' live shows that happen every weekend!"



The limitless ocean of Hindi film music has been reduced to a not-so-sparkling pond of stagnant creative waters in which the same RD creations are recycled ad infinitum, most of which are either from cult movies, filmed on superstars or are rhythm-heavy and thus considered "ahead of their times" and "timeless". But, as singer Kavita Krishnamurthi Subramaniam says, "Here was a genius who, at 21, composed the semi-classical 'Ghar Aaja Ghir Aaye' in his debut film Chhote Nawab. I would personally go for his weightier compositions."



Now that's exactly where we are coming from! Ninety percent of all those who utter the term "R.D. Burman" like some holy mantra need to first get an education-on R.D. Burman himself!

For a start, here are (only) ten stunners that they need to hear, absorb and remember. And they are all among the finest, most ingenious compositions of the maestro, as genuine Pancham addicts will enthusiastically agree!



1 'Jaago Sonewalo' (Kishore Kumar / Bhoot Bungla / Hasrat Jaipuri / 1965)

Those who go hysterical over the Kishore-RD combo are not even aware of what their first-ever collaboration was all about. Designed for an almost futuristically-conceived situation, this beauty remains the stunning ace of the composer's second film, never mind the popular 'Aao Twist Karen'.


2 'Kis Kaaran Kamini' (Lata Mangeshkar-Usha Mangeshkar / Chandan Ka Palna /Anand Bakshi / 1967)

What a unique command over an instantly rhythmic and playful folk-oriented composition! Do note the minimalistic musical accompaniment in the first antara!


3 'Chekhush Nazarein' (Mohammed Rafi / Pyar Ka Mausam / Majrooh/ 1969)

This daisy-fresh Rafi solo was lost in the 'Tum Bin Jaaoon Kahaan' melee along with the other unique songs in RD's finest-ever score for Nasir Husain between Teesri Manzil in 1966 and their last films together in the '80s. The unique structure was typically-RD innovation.


4 'Aayo Kahaan Se Ghanashyam' (Manna Dey / Buddha Mil Gaya / Majrooh / 1971)

This classical masterpiece from Hrishikesh Mukherjee's suspense thriller was drowned in the euphoria of 'Raat Kali Ek Khwab Mein Aayi'. But it was so richly textured and nuanced with Manna Dey's spellbinding expertise.


5 'Aao Jaan-E-Jahaan' (Asha Bhosle-Kishore Kumar /Gomti Ke Kinare / Majrooh / 1972)

Soft and sensuous, yet irresistibly foot-tapping, this Asha-Kishore number proved beyond doubt that the power to galvanize soul and sole lay in a powerful composition and the orchestration rather than in frenzied decibels.


6 'Jaaoon To Kahaan Jaaoon' (Asha Bhosle / Anamika /Majrooh / 1973)

This divine romantic song styled as a bhajan is a must-hear to know what so-called pop icon R.D. Burman was all about in his solid grasp of Indian raags.


7 'Main Hoon Diya' (Lata Mangeshkar / Jal Mahal / Majrooh / 1980)

R.D.'s version of the 'haunting spirit' song -a genre famous since 'Aayega aanewala' times. Note the highly-individualistic touch blended with the standard pattern of such compositions, with the music scales varying according to the brief for the visuals.


8 'Pal Do Pal Ka Saath Tumhara' (Asha Bhosle-Mohammed Rafi /The Burning Train / Sahir Ludhianvi / 1980)

This qawwali was popular at its time, still is, but few realize its true métier-that it is the most ingeniously layered song in this genre since the qawwalis of Barsaat Ki Raat, which remain the benchmark for this Sufi genre in cinema. Lyricist Sahir was common, by the way.


9 'Ek Aap To Maare Dunk' (Asha Bhosle / Qayamat / Majrooh / 1983)

This was a sizzling sangam of Indian melody and Western rhythm that had Asha Bhosle in total command. The mukhda alone was to die for, especially in its use of whatever technology was used at that time for the overlapping vocals. Pancham created such marvels without digital software.


10 'Aasmaan Se Ek Sitara' (Asha Bhosle-R.D. Burman / Raahi Badal Gaye / Gulshan Bawra / 1985)

In many ways, the most unusual dance number filmed on Rishi Kapoor. R.D. Burman sang for him in a straight fashion with minimum gimmicks with this snazzy tango having Asha Bhosle smoothly coming in midway. As the octaves rose and fell, the swinging quotient never stalled.
BOLLYWOOD NEWS
Catch us for latest Bollywood News, New Bollywood Movies update, Box office collection, New Movies Release , Bollywood News Hindi, Entertainment News, Bollywood News Today & upcoming movies 2020 and stay updated with latest hindi movies only on Bollywood Hungama.