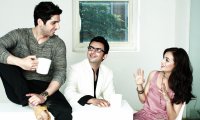 It's next to impossible to transcribe an interview of Dia Mirza. More so, when you are not meeting her in flesh...but on the internet. I try to do the most unpredictable, never-before-tried task. I go on her twitter page and click on her picture, where you see her looking bright and right in your eyes through that thumbnail. A symbol of perfection and prettiness draped in a yellow dress. I go close to my screen and blink, sit back, take a breath and...well, that'll make me write better. And that's how I begin...It's only in her ordinary looks that she looks extraordinary. Dia Mirza is not one of those actresses who set out to grab attention. She is unassumingly pretty rather than stunning and she doesn't go in for melodramatic pouts or look-at-me histrionics. She is unaffected and unpretentious and that's what draws a man in her direction. For starters, she is already surrounded by two: Zayed Khan and Sahil Sangha. The reason: Born Free, a production house set up by three powerhouse personalities with gifted ingredients of beauty, brains and bravery - Dia Mirza, Sahil Sangha and Zayed Khan. The trio are all set to roll their first feature film as producers in a few weeks from now. But then suddenly a question pops on her side of the screen - Does Dia have a new man in her life? Is his name Sahil Sangha? On meeting her in person, you'd expect her to be unnervingly silent or astonishingly fast - but she thinks carefully about each question and often has many stabs at a reply before settling on a finished sentence - she is intelligent and engaging. In truth, like many women her age, she's probably just a little bit embarrassed to answer my question. But it's not about embarrassment at all, oh no! Dia is as fiery and feisty as oppose to calm and composed. A cat in every sense. Then again, it's a steely nerve of patience and perseverance that got her mind fielding about 'Born Free'. Mirza is at a stage in her career which can perfectly be termed as 'a sharp learning curve' - a path less travelled, a journey less experienced, but a confidence more garnered from the industry she loves the most and a firm credence - that she is here to start her second innings. Making the transformation from small-town girl to nation's sweetheart wasn't all plain sailing...and if anything, the experience has made the actress more determined to continue entertaining. Come 2011, it's entertainment 'Born Free' eshtyle. God Bless Dia! God Bless Born Free! God Bless Bollywood!


How do you do this Dia? I mean, social causes, ramp shows, hosting, acting and now producing, and after all this cake and watermelon, you still come out looking like a trifle pudding.

Well, I think it's a combination of many variables. (And right now I'm not sure whether I should be flattered you've called me a pudding because they are usually plump! Ha! Ha!) Perhaps it has to do with the fact that I'm a woman. And I think women inherently are brilliant at multitasking. But that said, I also think it's in my genes. The German blood I'm sure contributes to the stickler, the planner in me. I honestly don't take on more than I think I can handle! I end up saying no to so many jobs because there are so many other things I want to do. So yes, even though it might appear I'm all over the place, I am not scattered. I've found my balance and I enjoy every minute of everything that I do! Including burning up the dance floor on occasion! It helps I don't drink alcohol. I eat well. I exercise and keep a checklist!


It's a tough choice thrown to you. You need to pick your favourite - you being crowned Miss Asia Pacific, your debut film and 'Born Free'.

Even though I'd easily say winning the Asia Pacific title because it brought about such a radical shift in my life and brought abundant opportunity I'd say setting up Born Free! Because with Born Free, even though it is in its nascent stages, I think what makes it truly momentous is that this time round, I'm in a position to create opportunity to further my goodwill, my karma. To bring to it all the experience I've gathered over the decade.


...and what do you see when you look back at 2010?

I think 2010 was year of awakening. A year that propelled me in a direction that is resilient and fearless. It's a good place to arrive at. Because it's only from here that true truth and creativity can and will emerge. We chose the name Born Free for a good reason. I think 2010 unfolded some very precious moments that will define me and my aspirations in the years to come. My social work found direction through the coca-cola foundation 'Anandana'. I put my production company together with two of my best friends. I got to travel the world, meet incredible people. I helped some people along the way... So so so much has happened in this year. And for every moment, good and bad I am grateful.



My social work found direction through the coca-cola foundation 'Anandana'

Tell us a bit about your Born Free inception days. I mean your first spark in your head, your first coffee discussion with Zayed or taking Sahil on board

Born Free was born because it was just meant to be. I had an idea for a romantic comedy that I had discussed with Sahil, he wrote it over a year and when it was ready I felt like he had plunged into my brain and stolen every nuance, thought, character and story from it. It was everything I had hoped it would be. It was endearing, real, rooted and straight out of life. In the meanwhile Zayed and Sahil were working on an Action Comedy (Boys Will Be Boys). When Sahil narrated the romantic comedy to Zayed and me, we instantly loved it. And I convinced the boys to drop the idea of going with the action film and getting to work with the rom-com. In a matter of minutes, we decided that we wouldn't take this out. Simply because we were all in on it together, we were passionate about making it and we believed that the best way to do it would be ourselves! We got to work putting our company together, from naming it, to all the legality, finding the right partners in Sahara Motion Pictures and hiring the right talent, to being underway full blown pre-production. What amazes us all is how quickly everything just fell into place. Which I guess reaffirms our faith in the fact that we were just meant to be BORN FREE!


You'll be making your debut in a few weeks with Born Free. We need to know your experience working with your co-stars Zayed and Sahil

I couldn't have asked for better partners. Zayed is family. One of my dearest friends and we share a lot in common. And Sahil and I have an uncanny similarity in thought. The three of us together collectively have our own strengths and what binds us is the fact that we recognize these strengths. We respect one another and have a fierce loyalty toward each other.


How do you intend to announce projects? Are you going to churn cinema left right and centre or make them slowly but surely?

The mission for BORN FREE in 2011 is to set a standard of quality entertainment. I use the word entertainment because we are very clear that we are desirous of making cinema that is honest, rooted, and universal in its appeal and must above all, entertain. We will commence filming our very first feature in February 2011 and we are rearing to go. We've spent the last 5 months in pre-production and the New Year brings in the most important leg of this process and we are excited and well prepared.


All debutant directors of 2010 have given a decent hit or a critically acclaimed film. Do you think the time is apt for Born Free to start at a stage where industry needs experimenting?

In Shabana Azmi's words our "timing is perfect!" We don't want to make any tall claims about how we think a film should or should not be made. But what we do believe is that honesty in any form of creativity is paramount. We want to make films because we are passionate about cinema. The process leaves us exhilarated! So we do want to be a production house that continually makes films and gathers repute along the way. Slow and steady and with absolute dedication. I would hate for us to turn into some kind of film churning machine.



Long before I realized it'd like to produce films, I knew I'd love to direct and write

Is Dia planning to direct a film soon or write a film for Born Free?

Long before I realized it'd like to produce films, I knew I'd love to direct and write. So yes, most certainly will write and direct someday. It only makes me happier that now I will be able to lead from the front!


Your quick re-cap and take in one word


Best film of 2010- Udaan

Best song of 2010- 'Pee loon' (Once Upon A Time In Mumbaai)

Best actor of 2010- Hrithik Roshan (Guzaarish)

Best director of 2010-Prakash Jha (Raajneeti)

Best actress of 2010-Aishwarya Rai (Guzaarish)
BOLLYWOOD NEWS
Catch us for latest Bollywood News, New Bollywood Movies update, Box office collection, New Movies Release , Bollywood News Hindi, Entertainment News, Bollywood News Today & upcoming movies 2020 and stay updated with latest hindi movies only on Bollywood Hungama.