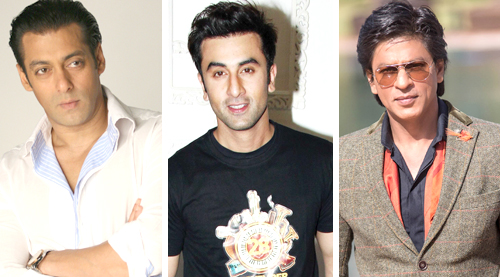 The year 2015 has almost come to an end. While most of us are scurrying with last minute New Year plans and making New Year resolutions, we look back at the year that was.
15 Things we learnt from Bollywood in 2015
Interestingly 2015 saw a lot of events that confirmed and contradicted some of our beliefs in Bollywood. Here's looking some of the attention-grabbing trends of 2015.


1. 'Court'ing a superstar: We just had to start with the topic that kept the media tongues wagging right through the year, and it of course was the long running Salman Khan's hit and run
case. Though Salman maintained that he 'wasn't driving the car that night' and the court bought it too, some of the 'masses' on social media thought deeper into the verdict came to the conclusion
that maybe the car was drunk that night.


2. Do not take your audiences for granted: Every movie star goes through low phase in his career and unfortunately in case of Ranbir Kapoor, it has lasted for longer time period. After his
last hit Yeh Jawani Hai Deewani in 2013, the actor has been struggling to strike back at the box office but hasn't been able to do so, courtesy the poor performance of Bombay Velvet
and Tamasha at the box office. Though the trade experts have blamed the poor content of films that Ranbir Kapoor has been part of lately, Salman Khan's fans out there have a different
explanation of their own for Ranbir's struggling career. 'Whoever dates bhai's ex fails in movies,' they say. What say Vivek and Abhishek?


3. Salman Khan is always bankable: Take Salman Khan, put him into any movie and you have Rs. 200 crores minimum guaranteed. Though Salman and a bad script can still work magic at the box-
office as seen in Prem Ratan Dhan Payo, no other star including Shah Rukh Khan can replicate that, as seen with Dilwale. So now we know who is the real 'Bigg Boss' of Bollywood.



4. Dharma earned more from presenting rather than producing films: This year Dharma Productions' biggest box office success were not its big starrers Brothers and Shaandaar but
a south Indian dubbed film with unknown faces which was acquired and presented by Karan Johar. Guess its high time that the directors in Dharma start having 'Koffee with Script Writers'.


5. Never underestimate Hollywood: Multiple big ticket Hollywood films raked in the moolah like Fast and Furious 7, Spectre, The Avengers 2 and rocked the Indian box office despite
competing with a few other big name Bollywood releases. If this isn't a sign to the Bollywood filmmakers to stop giving us melodramatic formula films, we wonder what is.


6. Indian star can have a mainstream career in the west: This was definitely something that no one saw coming. Priyanka Chopra continues to be one of the biggest stars in Bollywood, but she
surprised one and all when she managed to bag the lead role in one biggest TV shows on American television called 'Quantico'. And yes though many of us didn't buy her fake American accent
initially, we have to give it to the Chopra girl for creating a rage in the west with the success of her debut show. 'You go gurlll!' PS. For those who missed out on 'Quantico', PC will be seen as
an Indian cop in Jai Gangaajal next year.


7. Arranged marriages aren't just for celluloid: Throughout his career till date, Shahid Kapoor has been linked with several actresses in Bollywood. The actor finally decided to show the
world what a 'good boy' he is when he married the girl of his parent's choice earlier this year. Ironically, his marriage was followed up with a colossal flop this year with a film based on the
theme of an expensive arranged marriage. Karma is a bitch!


8. Music videos are the way to go: This year saw an interesting trend of music videos featuring movie stars. Stars like Hrithik Roshan, Sonam Kapoor, Emraan Hashmi, Esha Gupta, Sunny Leone
and Yaami Gautam were seen featuring in some of the singles. Add to that some stars like Sonakshi Sinha and Ayushmann Khurrana recorded their singles and also featured in the videos. So if your
parents didn't believe you, you now have proof to show them that YouTube monetization is a real thing!


9. Exes can still be friends: Well obviously we are talking about the once lovers turned 'just friends' Ranbir Kapoor and Deepika Padukone who left no stone unturned while promoting their
ill-fated venture Tamasha. We don't think the audiences are at all interested in seeing these two trying to sell us 'eternal love'. Tattoo anyone?


10. Superstar actresses often make a failed comeback: It is never easy making a comeback and more so for a superstar actress who once ruled the box office. Case in point being Aishwarya Rai
Bachchan's much talked about comeback film Jazbaa that tanked at the BO. Interestingly, she isn't the only big ticket actress who has faced this. In the recent past Madhuri Dixit faced a
similar fate with her comeback film Aaja Nachle. However, Sridevi was an exception to this rule with her Bollywood comeback English Vinglish winning over the audiences and critics.
Interestingly, both Aishwarya and Madhuri played single mothers in their comeback films while Sridevi played a homemaker. Moral of the story… Stop pretending to be single!


11. AIB Roast controversy: In January this year, India witnessed its first ever 'Roast' session with Karan Johar and AIB going all out. But rather than getting applause for their jokes, the
show earned the organisers and stars involved a lot of criticism and a series of FIRs from the overtly moralistic Indians. Moral of the story, Indians seem to prefer Roast chicken over Roast Karan…
and yes, it's now proven that we don't have a sense of humor.


12. Star mentors and producers do not ensure BO success: It is said that to succeed in Bollywood an essential must have is endorsement by a veteran. Bajrangi Bhaijaan continued his
Being Human act off screen this year too when he launched Sooraj Pancholi and Athiya Shetty with Hero remake. Sadly though, Sooraj's real life 'Villain' reputation in the media overpowered
his onscreen image. This coupled with bad acting and extra fluffy hair there was nothing more than a zero awaiting him (and Athiya) at the end the release weekend.


13. Success is a fickle mistress: In Bollywood you are only as good as your last release, an adage that is echoed from every rooftop. However, this success much like the audience can be a
fickle minded mistress, a lesson best learnt by Vikas Bahl who after the stunning success of Queen expected his next venture Shaandaar with Shahid Kapoor and Alia Bhatt to go the same
way. But as 'Phantom' would have it, Shaandaar managed to give the audience way more headache than entertainment. With this Anurag Kashyap and team completes its record of delivering flops
with every successful production house in Bollywood. In his defense, Kashyap had released a song with clear cut message to one and all in Bollywood, 'teri keh ke loonga'.


14. Intolerance and Award Wapsi: Celebrities are by far the best influencers when it comes to setting trends, launching products and of course coercing the general public to rally behind a
cause. This year we witnessed multiple artists and philosophers returning their National awards as a mark of protest against the growing intolerance in the country. But eclipsing the entire
movement of the 'Awards Wapsi' campaign were Aamir Khan and Shah Rukh Khan who quite literally bore the brunt of the peoples' rage when they decided to comment on the topic. Both the stars learned
soon that the masses can 'Hate you, like they Love you'. PS. We audience should demand 'Paisa Waapsi' for every terrible film they make us watch and test our tolerance.


15. Ranveer Singh beats Shah Rukh Khan at the box-office: This has to be the most historic event of this year in Bollywood. While Shah Rukh and Kajol with their coloured hair pretended to be
teenagers in love with 'Gehrua' (whatever that means), Ranveer Singh made the ballsy move of going bald for almost a year to play the role of a celebrated Maratha warrior. Rohit Shetty's
heavy VFX and flying cars Vs Bhansali's stunning visuals and strong content, we guess the choice for the audiences was simple to make.
BOLLYWOOD NEWS - LIVE UPDATES
Catch us for latest Bollywood News, New Bollywood Movies update, Box office collection, New Movies Release , Bollywood News Hindi, Entertainment News, Bollywood Live News Today & Upcoming Movies 2023 and stay updated with latest hindi movies only on Bollywood Hungama.