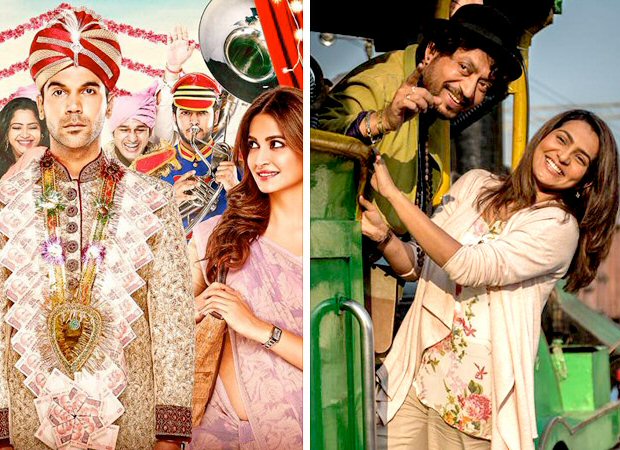 November 10 saw the release of two reasonably priced films – Qarib Qarib Singlle and Shaadi Mein Zaroor Aana. Qarib Qarib Singlle was directed by Tanuja Chandra and was a road trip film starring Irrfan Khan and Parvathy. The film's opening wasn't great and this was expected since the film is meant for niche audiences. It sustained well in the weekend but sadly it remained steady, on low levels, in the weekdays. This prevented the film from doing exceedingly well at the box office. Thankfully, it got an extended run after Padmavati, which was to release on December 1, was pushed ahead indefinitely.
Shaadi Mein Zaroor Aana meanwhile was a romantic drama starring Rajkummar Rao and Kriti Kharbanda. It had a poor opening and moreover, the response of the film was mixed initially. Again, thanks to Padmavati, it managed to run at the box office for a longer time. Also, the awareness and liking for the film grew a bit late and this helped the film to not crash completely in the subsequent weeks.
Till the fourth week, it was Qarib Qarib Singlle that was collecting more than Shaadi Mein Zaroor Aana. But the tables were turned in the fifth week wherein Shaadi Mein Zaroor Aana collected Rs. 64 lakhs while Qarib Qarib Singlle raked in a paltry Rs. 19 lakhs. The collections of Qarib Qarib Singlle and Shaadi Mein Zaroor Aana by the end of fifth week are Rs. 17.04 crore and Rs. 10.59 crore respectively.
Qarib Qarib Singlle box office at a glance
Week 1 – Rs. 12.15 cr
Week 2 – Rs. 2.50 cr
Week 3 – Rs. 1.20 cr
Week 4 – Rs. 1 cr
Week 5 – Rs. 0.19 cr
Total – Rs. 17.04 cr
Shaadi Mein Zaroor Aana box office at a glance
Week 1 – Rs. 6.35 cr
Week 2 – Rs. 1.80 cr
Week 3 – Rs. 0.90 cr
Week 4 – Rs. 0.90 cr
Week 5 – Rs. 0.64 cr
Total – Rs. 10.59 cr