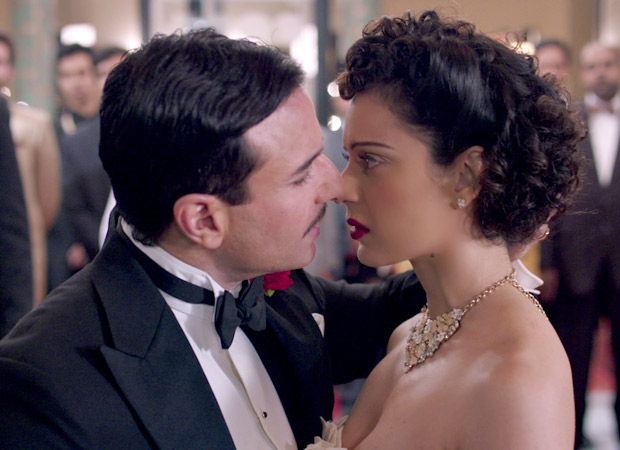 EXPECTATIONS
When you pick up a soundtrack that has names like Vishal Bhardwaj and Gulzar attached, you do expect certain quality to it. There is no place for anything frivolous whatsoever and originality also holds true. However, when the film is in a commercial arena with names like Kangana Ranaut, Saif Ali Khan and Shahid Kapoor in there, and a mainstream producer like Sajid Nadiadwala, you expect good entertainment quotient to music as well. No wonder, when Rangoon arrives with as many as 12 songs in there, you brace up for a solid musical in store.
MUSIC
Fearless Nadia was nicknamed Hunterwali when she appeared in films back in the 30s. It is the sound of a hunter being unleashed that plays right through the four minute playing time of 'Bloody Hell'. Sunidhi Chauhan is just the right singer for a song which carries the kind of fun element to it that carries the nostalgia of the era gone by and yet has enough power in it to go well with today's commercial sensibilities.
Next to arrive is an Arijit Singh solo 'Yeh Ishq Hai'. A love song which is right from Vishal Bhardwaj's territory, it carries a quintessential sound that the composer has time and again created in the two decades gone by. While Arijit (and later Rekha Bhardwaj in her solo version) take it upon themselves to lend a laidback rendition, the team behind the sound of 'Yeh Ishq Hai' does the rest to keep it all soft-n-subtle.
As for those looking forward to some fun element, there is 'Mere Miyan Gaye England' which is a spin-off of legendary track 'Mere Piya Gaye Rangoon' [Patanga - 1949]. Considering the fact that the film is titled Rangoon, it is good to hear an inspiration with Rangoon changing to England. Rekha Bhardwaj does quite well to sing in a manner that has made the Shamshad Begum sung track so popular even after 50 years.
From here on, Rekha Bhardwaj practically takes over as the female singer in almost all songs. Remember 'Chai Chappa Chai' from Suniel Shetty and Tabu's Hu Tu Tu which again had Vishal Bhardwaj collaborating with Gulzar? Well, a similar sound is adopted for 'Tippa' which has Sukhwinder Singh going unconventionally low key with good company of Rekha Bhardwaj, Sunidhi Chauhan and O.S. Arun. A very good song.
The fun element continues with Rekha Bhardwaj going solo for 'Ek Dooni Do' which could well have been a cabaret number set in the 40s. This one has a clear Geeta Dutt inspiration and if you have loved songs like 'Mera Naam Chin Chin Chu', 'Tadbir Se Bigdi Hui' and 'Jata Kahan Hai Deewane' amongst other such gems from the era gone by then you would pick 'Ek Dooni Do' as well. Looking forward to its picturisation.
It is back to hardcore Vishal Bhardwaj zone soon after with Arijit Singh rendering 'Alvida', a pathos filled number. This could well have been sung by Vishal Bhardwaj himself as Arijit carries similar tonality and pitch in this Gulzar written number that is about separation and the loss of love attached to it. While the song has a soulful feel to it, one just hopes that it doesn't slow down the narrative of the film.
Thankfully, it is back to a spirited outing soon after with Sukhwinder Singh going what he is best at. He gets into a full throated avtar for 'Julia', presumably a song set as a stage number. Though the song starts on a slow note with a horde of singers coming together [K.K., Kunal Ganjawalla, Vishal Bhardwaj] in their tryst to introduce the character of Julia, Sukhwinder binds it all together with his forceful rendition.
As for those who wanted the mood and fervor of 'Ek Dooni Do' to continue, there is Rekha Bhardwaj's 'Chori Chori'. This one could well be inspired by Geeta Dutt's 'Jaane Kahan Mera Jigar Gaya Ji' as it pretty much carries the same flavor and takes you through the nostalgia lane. As a matter of fact the song has such kind of programming that if presented as a forgotten 40s song, it could well have been accepted.
What follows next is 'Rangoon Theme' and while it sticks to the oriental sound that goes well with the mood and ambience, surprisingly it lasts under 100 seconds. Wish it was more as it ends just when it had begun to grip the listener. There are a couple of English songs to conclude the album and both are written by Lekha Washington. First to arrive is Dominique Cerejo rendered 'Be Still'. A jazz outing which could well be the one playing in the background at a posh dining hall for a dinner outing, it truly holds you 'still'. On the other hand Vivienne Pocha's 'Shimmy Shake' is good fun with a jingle sound to it and stays lively.
OVERALL
It is always a pleasure to have a single composer/lyricist 'jodi' for a soundtrack as it promises certain consistency. Yes, variation is always the need of the hour, especially when there are a dozen songs in there. However, even that needs certain consistency to it, which is what turns out to be the core strength of Rangoon. Of course it takes time to get used to the sound, considering the fact that it is set in the period era and also it is largely unconventional. However, as you listen to Rangoon on a loop, you do get immersed in its sound. This one is set to find greater appreciation after it has been seen and heard in the film.
OUR PICK(S)
'Bloody Hell', 'Yeh Ishq Hai', 'Mere Miyan Gaye England', 'Ek Dooni Do', 'Julia'